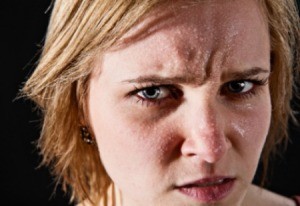 I have been using Certain-Dri 72 hours roll on for a couple of weeks, but I see little result. Sometimes it works and sometimes it doesn't. I take showers every night and than apply it after an hour, like the directions say. I could use some help. I am starting school in September. Last year was horrible always having to use a jacket to cover it up, but still have the wetness under it.
By Emma
Answers
By Sally Pifer (Guest Post)
June 15, 2007
0

found this helpful
Best Answer
Have your doctor give you a prescription for Drysol. This was originally used for sweating feet. However, it works under your arms too. I had a terrible sweating problem for years, but the Drysol did the trick. Apply right after a shower. I think you will only have to use it once or twice a week, but check the directions. I always recommend Drysol. It was a lifesaver for me. I found out about Drysol from a Dear Abby column when a reader had asked Abby for advice to stop sweating.
August 3, 2010
0

found this helpful
Best Answer
I've found that not all of the "clinical strength" antiperspirants work the same. I've found Secret to be the best with Degree an acceptable alternative. The directions on all of them say to apply before going to bed. I usually take a shower before bed, then immediately apply the antiperspirant. I don't get dressed right away, I let it dry a bit first. If I know it's going to be a particularly hot day, the next morning I will apply again.
Towards the end of each shower I gradually start to turn the water to cold to bring my body temperature down a bit. It's nearly cold by the time I step out. I dry off right away and then use Shower to Shower body powder on those spots where I tend to sweat a lot. Baby powder doesn't work nearly as well as the Shower to Shower.
If you have trouble with sweating under your bra, you might find placing a triangularly folded washcloth placed between the bra band and your skin keeps away a lot of the excess moisture.
Every chance I get throughout the day I use a very cold, wet facecloth and press it against my face and neck to bring my body temperature down.
Sorry this got so long, I hope it helps!
August 13, 2010
0

found this helpful
Best Answer
I have heard that Botox injections can help with over-active sweat glands. Go see your doc. Good luck, I can see how this would make you feel so bad.
Answer

this Question
I have a real problem with sweating and it is really embarrasing. I take dance lessons and within the first 2 minutes my clothes are wet and sweat is running down my face, it seems like anything I do causes this. Has anyone else had this problem and what can be done about it?
Thanks so much,
Helen
Answers
By Wendee (Guest Post)
September 29, 2005
0

found this helpful
Hi, Helen,
I'm in the same boat! It IS embarrassing. I'm always happy when summer is over and the cool temps come back, but shopping or indoor activites are just as bad in the winter as summer. I don't own a single sweater, I'm too warm to wear them. I think I'd feel cooler if I lost weight, but then, when I think back, I was just as sweaty in high school and I was skinny then!
I'll be checking in to see if someone has some suggestions. I'm glad to know I'm not the only one, thanks, Helen.
September 29, 2005
0

found this helpful
Hi Wendee, Thanks for the comeback, I too am a bit overweight , but had the problem when I was a "twigee"and much younger, I am 65 and just starting to get involved with some of our communitee activities. This isn't helping me to feel at ease especially with new people, although it isn't a nervous thing , the sweating does make me feel uneasy. Let's hope someone will be able to help us both and anyone else who has the same problem, Nice to know too that I am not alone.. Thanks
By jean in GA (Guest Post)
September 29, 2005
0

found this helpful
Well, I have company. I used to go to the gym, until one day the lady behind the counter thought I had been in the pool and told me I should always dry off before walking around in the lobby. I sweat buckets. In the house, working in the yard, you name it. Will check back here to see if someone has a suggestion.
By annie (Guest Post)
September 30, 2005
0

found this helpful
What you need is a deodorant stone. If you search with google you will find one. They work !!!!
By Syd (Guest Post)
September 30, 2005
0

found this helpful
This could be a hyperhydrosis problem. Many times it involves the hands and feet where water pours off. Very embarassing! Thinking about it seems to make it worse. It's something you are born with!
September 30, 2005
0

found this helpful
I agree with Syd about the possibility of Hyper Hydrosis (I have a cousin that had it). Here is a site with some good information on the subject: www.thebharat.com/.../hyper.html I was surprised to read about the use of "botox" for this problem. It's certainly something to talk with your doctors about. God bless all of you that deal with this problem :)
By (Guest Post)
October 5, 2005
0

found this helpful
try certain dri at your local drugstore, im a teen and i sweat while im just sitting in class and iif it doesnt work get your doc to write a prescription for dry-sol its 5 bucks a bottle adn you can put it all over yourt body..and it works, saved my life! :)
October 11, 2005
0

found this helpful
Hi Helen, me too. Mine is from hot flashes. I can't take any estrogen type replacements, not even over the counter due to estrogen positive breast cancer. I feel dirty all the time. I change during the night and all. It's just awful. I hope you find some help. I wish I could.
By Marina A. Skinner (Guest Post)
October 12, 2005
0

found this helpful
I tried a lot of things and spent a lot of money. For me the cure was so simple. Just balance the body's pH. Go to www.gohtn.com/marinaskinner. Try a free 30 day supply and let me know. Good Luck!
Marina Skinner
www.triad.rr.com
By Tara (Guest Post)
January 24, 2006
0

found this helpful
It's called hyper hydrosis. Excessive sweating. I suffered from it for 15 years (15 to 30 yrs old) and i'm 5'8 and 115 lbs. It has nothing to do with body weight or exertion. I resorted to wearing only black up top or skimpy tank tops in the summer since i would sweat thru any article of clothing about 5 min out of the shower. I tried every type of deodorant to no avail. Don't waste your money or time. Ask the pharmasist for Drisol. Its over the counter and availble in roll on or stick. You clean the area thoroughly, dry thoroughly, then apply. I am allergic so it burned like a son of a .... for the first while. But I didn't care. I followed the directions (only continuied to use a mind deodorant daily for regular odor even tho the bottle says not to). I now use it about once a month. I have never shopped so much in my life. I cannot believe the choices out there! I immediately went out and bought a closet full of colorful tops and threw out all my black clothes!
By (Guest Post)
March 23, 2006
0

found this helpful
Ok, same issues but for me, I can be cold, still sweat. And, it was so bad for me, i could not wear shirts that were tight in my armpit area. cause, especialy if it was a lighter color, within a few hours, id have large wet marks.
so, i have discovered something, im doing searches now to share cause i knwo how much this sucks..
so, not sure if this will help everyone but....
I had been sick and normally sweat puddles. I had been eating alot of ice this time cause i i was so dehydrated. Noticed the 2nd day, i was sweating very little. Didnt think much of it... Long story short, next time i got sick, same thing.
So, i was like, ok, im going to try eating ice at nice (just a cup full) and then see what i feel like. So now, i eat ice everynight. Just a cup, thats all. I rarely sweat. Today I am in a shirt that is tight on my armpits, i have not had a single spot all day. Ive been doign this for about 3 months now. Its so great. Its the only difference ive done. Its not even like drugs or anything. Just ice...
I did test it, i went 2 days with out ice, next day, i was sweating on my drive to work with my car still so cold i could see my breath....
So, hope this helps you guys out there...
By Lindy (Guest Post)
March 23, 2006
0

found this helpful
I am SO happy that I am not alone with this problem. Like Wendee, I'll be checking this site every day. When I am shopping.....by the time I reach the check out....I am soaking wet. My hair is completely wet....like I just got out of the shower and hadn't towel dried it yet and my face is bright red. A couple of times the clerks did not want me to leave the store. Once, a manager called for an E-Unit thinking I was having a heart attack. It is really embarassing.
March 25, 2006
0

found this helpful
I am a veteran sweater - and have adopted certain strategies. For example, wearing natural fibers as much as possible, as synthetics make me hotter. I also wear layers as much as possible, as it allows me to adjust to the temperature. When it is hot, sometimes, on the other hand, synthetics can be good because they don't wilt. I sometimes carry around a battery operated pocket fan, to cool myself off, and also spray myself with cologne on my wrists, at my neck, etc. (the alcohol is cooling.) I also have decorative handfans for warm weather.
I blot my face with ever-present Kleenex, and use replaceable cotton squares as powder puffs, because they absorb moisture & are easily replaced. I like my hair long enough to put up, so I can keep it off my neck, too. I also don't have hair around my face - (like bangs) because it would get wet. If I fluff my hair out with my fingers, it will dry fairly quickly, especially as I try to get a good hair cut, in long layers. I also used to wear bandannas and scarves on my head sometimes - but that doesn't go so well now as I get older - even though it has come back in style.
Read More

Answers
I'm so glad I'm not the only one. I will suddenly break out with a fine sweat on my hairline, cheeks, and neck, for no rhyme or reason. It happens in the middle of the night, or as soon as I get up, or even while writing this email.
I had a hysterectomy when I was 46 and now I'm 62, so it's not menopause. I exercise, avoid sugar, take my supplements, and still. I tried selenium sulphide shampoo for some time and it worked, but now its back. Why? Please help!
By susheila
Read More

Answers
I am not sure where to put this question, but I have head and facial sweating so bad that I look like I take a shower every time I move around and sometimes when I am just sitting here. I am so embarrassed and the older I get the worse it gets.
I can't do my make up or my hair and I don't want to go to the gym because after a while from my head getting so hot and the rest of my body sweating, I look like a drowning pig. Yes, I am over weight, but I have had the problem even when I was skinny. I have been to the doctor, the neurologist, the dermatologist, and the cosmetologist and guess what, nothing has been done.
I read on here something about putting Sea Breeze on your scalp and alum mixed with water, but I am unsure how much to use and how often. If anyone has any suggestions please email me through this site. Thank you.
By Angie Lucas from Caledonia, MI
Read More

Answers