(Guest)
Gold Post Medal for All Time! 846 Posts
January 15, 2009
0

found this helpful
I don't understand why you don't mention it to your doctor, Pat, and especially since your mother has Raynauds Disease :-(
It is your responsibility to let your doctor know it bothers you in order to find out the what and whys.
By Joyce (Guest Post)
January 16, 2009
0

found this helpful
Possibly Reynaud's or some kind of autonomic neuropathy (dysautonomia). Your doctor can help.
By (Guest Post)
January 16, 2009
0

found this helpful
I didn't notice that you mentioned sweating. Raynauds will turn fingers and toes white because there is no blood flow. You sound as though you have blood flow but poor oxygen supply.
That was my mother's problem. If your hands are warm, it's not a circulation problem as is Raynauds. You should definitely bring this up to your doctor.
By Ty (Guest Post)
January 23, 2009
0

found this helpful
I have the same problem as most of you, red hands below the neck, normal above. Turn purple in the cold and are almost always cold anyways. The doctor I went to didn't know what it was or how to treat it. I don't have any of the sweating problems you guys mention though. Very embarrasing I'm trying to just ignore it.

January 27, 2009
0

found this helpful
Hubby has this also. His is Raunauds Phenomenon. He sees a Rheumatologist for it. Please, I just read all the posts here, see your Doctors.
Sandy/Pittsburgh

March 2, 2009
0

found this helpful
I do not experience the sweaty hands I have the top of my hands from almost my wrist to my fingers that are red all the time. They are really red in the winter but when I get sunburnt in the summer it will go away until it gets cold outside again. I cover them up all the time in winter and it still doesn't help. My hands are warm and are rarely cold. They sometimes feel a little rougher in the darker red areas and I just don't know what to do.
I keep my hands lotioned all the time as soon as I wash my hands I put some on. Does anyone know what I might have doctor wise could you diagnose what I have? This picture is minimal to how dark it has been. It has not been white at all and my hands have been like this for probably 4 years now.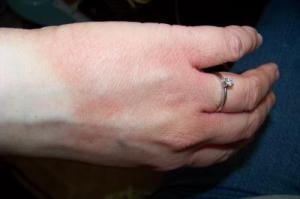 April 22, 2009
0

found this helpful
My teenage daughter's hands look the same as the picture posted. She has had red hands for 3 years now. She has had some testing but, not sure what it is from. The Doctor stated that it might be a form of Raynaunds, but not sure.
It is a mystery for us, too. She uses a perscription cream called: Protopic 0.1% which does help lessen the redness.

June 1, 2009
0

found this helpful
My 11 year old daughter suddenly has bright red hands, not just the palms. When I press on the skin it turns bright white and then within a few seconds right back to bright red. If she holds her hands above her head they go back to a normal color. The backs of her hands are dry, never sweaty. Her feet are normal. I have read all the posts and am going to start with Benadryl to see if it's histamines. She has never used deodorant. I also think maybe it's estrogen as she's approaching adolescence. If I find anything that helps I'll post it and I REALLY appreciate all of these posts. Thank you.

July 17, 2009
0

found this helpful
My hands get blood red and swell a little whenever I get upset about something and they also feel hot. It is very embaarrassing when around other people and they ask what is wrong with my hands and I do not know what to tell them.
I have high blood pressure, but I have it under control with medicine.

January 5, 2010
0

found this helpful
Hello,
I am 48, have lived with hyperhidrosis my whole life, and with hands and feet of various shades of red, purple, even blackish, and a very strange temperature mechanism, usually being a lot colder than other people. Horrible, but am happy to tell you that the hyperhidrosis is not nearly as bad as it used to be- hands are OK most of the time, feet ok unless I have to wear shoes without socks, or go barefoot [then fear of the noise of sticking to the shoes or leaving a footprint on the floor makes me sweat as quick as the thought], also Ok on rest of body most of the time except if I am wearing something that would show if I sweat - then again its nearly as quick as the thought that it happens. I rarely get it like I used to where I would drip and soak my clothes all over in no time at all. I realize that my body responds to perceived 'threat', usually emotional - by sweating - when my mind doesn't perceive the situation as fearful at all.
I haven't read from other posts whether the condition improves with age for other people. It affected me very negatively for a lot of my life as I felt disgusting, and couldn't touch others.
Anyway, its nice to know I am not the only one with these conditions, although I feel sorry for others with them. Anyway, for you younger ones - if it improved for me, I am sure that it will for you! I still have the redness and funny colours and coldness, and I think that may get worse with age. I am OK, normal colour, if I am warm, and a glass of red wine also helps. So at home, in the evening I am usually OK.
So a detailed post - have never done one before. I may upload an image one day of how my hands get.
All the Best, Grania

April 1, 2010
0

found this helpful
I was wondering if anyone had discovered what the cause of this is as I have suffered with it for years. Thanks.

October 17, 2010
0

found this helpful
The photos uploaded by Red look just like my hands when I have my "red attacks". The soles of my feet get that way at the same time. It is triggered by being a little warm, like in a warm shower, or getting warm under the covers at night. It'll wake me with intense burning frequently between 2 and 4 AM, but can occur in the daytime also.
The redness in my soles started first, and it was followed about 5 years later by my first attack of white, blue and red Raynaud's. The redness started in my palms about 2 years ago, and so I'm expecting that Raynaud's will appear in them in about 3 more years.
Although I do not yet have skin hardening, I've now been diagnosed with limited systemic scleroderma, and my scleroderma specialist says that the redness that appears without a preceding blue phase is likely erythromelalgia, which can co-exist with Raynaud's in people with scleroderma.
Anyone with Raynaud's is suspect for having scleroderma, and skin hardening may come late in the disease, or even never, as in scleroderma sine scleroderma (scleroderma without skin hardening).
You should get to a rheumatologist and ask for an ANA test by the old IFA methodology (newer methods miss the scleroderma antibodies). Your doc will need to specify that it be done by IFA, since most labs are now using the newer multiplex or ELISA assay. Also ask for the anticentromere B. test as a separate test. Also ask him to check your nailfold capillaries for the changes that take place in scleroderma.
Red palms and soles can also be from liver damage, but I have never been a drinker. I have the ultra-high ANA and anticentromere antibodies, and the nailfold capillary changes. Other signs of scleroderma are gastric reflux, swollen fingers, burning/hurting hands and/or feet, tendonitis, rotator cuff inflammation, body aches, alternating constipation and diarrhea, loss of hair on the limbs, huffing and puffing with mild exertion, chronic dry cough. I have all of this, but it all came on very slowly over a period of 25 years. In other people it can come on quickly. It's highly individual.
Here's a photo of my red soles after a warm shower.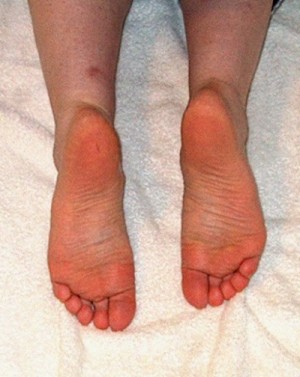 November 12, 2014
0

found this helpful
I have the exact same problem as VenSpa. Does anyone have any suggestions? This problem appeared about 6 months ago, and is making me feel embarassed and suicidal. Any remedies, cure, why didn't it happen before?