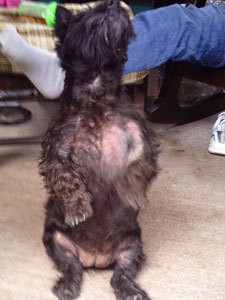 It works! Steep 2 tea bags in 1/2 cup of boiling water; add 1 cup of alcohol; dissolve 2 aspirin tablets in the solution; apply to the area with a cotton ball; let dry thoroughly. Apply 2 to 3 times a day as needed.
By Tammy from Fort Mccoy, FL
Read More

Comments
My yorkie/poodle 10 yr old dog starting getting hot spots about a year ago. It is destroying his life, his skin, his fur and I don't know what to do. I have tried used tea bags, still working on that. Maybe it takes time.
The vet used to give him cortisone injections but it barely worked at all and only for about 2 days. I don't know how my dog even sleeps, poor thing. I have always kept him healthy, he's strong, active, and on Frontline for fleas. At one time the frontline seemed to stop working so i took him off for a month, put him on Advantage, that didn't work well and now he's back on Frontline. But he still has a small case of fleas.
I think that is causing him to chew at his back and have red skin and lose hair. All of his life he was flealess. Now I can't seem to figure out what is going on. Here is the strange thing!! I know that fleas when dying may have a slight odor. But when I give him a bath and I have tried baby shampoo, oatmeal, and other shampoos, his skin starts to bother him. He whimpers so I just pour more water on him to comfort him. He loves to be warm... But I have noticed every time that the lather of soap has a very unpleasant bleach smell, almost that of gasoline.
As soon as he is bathed and brushed and pretty he goes back at his skin and looks like a dirty mangled up mess. He knots up his hair from excessive CHEWING.
Can somebody tell me what is going on?! This dog is my baby, and this time I don't have any way of helping him. I have a feeling that baths now hurt him. Sorry about the drawn out problem. Just thought all those details were important.
Julie
Answers
Read More

Answers
I have a Pit Bull. What can I use for hot spots? She is loosing hair at the back of her legs and her tail. Any home remedies at all out there?
By Sherry
Answers
March 5, 2015
0

found this helpful
Best Answer
If your dog is losing hair, the irritation has been ongoing for awhile so she needs help that you can not provide. Your dog's problem requires a vet examination to determine the cause and probably medication to treat the area.
Answer

this Question
Hot spots, or moist eczemas can result from allergies, bites, stress licking, and more. As your pet continues to chew and scratch the irritation progresses. This is a page about using corn starch for dog's hot spots.