What can I do about a stinky dog? He smells like toe cheese. Help.

Darolyn
Answers:
Remedy For a Stinky Dog
I bathe my dogs weekly; I have a Yorkie and a Jack Russell and they do not stink. I picked up a doggie smell good spray at Walmart much cheaper than at pet stores and use it if needed to smell pretty.
I bathe them with doggie shampoos and rinse with warm water and splash of white vinegar.
Good luck. (09/18/2006)

By meoowmom
Remedy For a Stinky Dog
I would never use a fabric softener sheet on my dog. They groom and will ingest the residue. If you bathe frequently like I do, use an oatmeal dog shampoo. This doesn't dry them so much. Not dish soap. That's made for dishes not dogs. It strips too much natural oils from the skin and your dog will develop dandruff and get itchy.
They have many spray shampoos for dogs for spot cleaning. I use that on my Molly's face, bottom, and feet in between shampoos. Also take to the vet and get his teeth and ears checked. They can really make a dog stink. One question I have about the "raw" diet. With all the parasites in meat is it really wise to feed raw? (10/05/2006)
By valery
Remedy For a Stinky Dog
Some one told me this recipe and it works great for all four of my smelly dogs Chocolate Lab, German Shepard, Sharpei-Lab mix, and Lhasa Apso, and it also works great on my five cats (Yes, I live in a big house in the country). Ready?
1 part water
1 part Hand Cream
1 part Listerine
Mix it together in a spray bottle and spray it on their coat and rub it into their skin, too. The Listerine is anti-bacterial and takes away any smell from that, the lanolin in the hand cream makes their hair shiny and softens their skin. It sounds weird, but it really works, trust me, the pet lady of Milford, Nova Scotia, Canada (10/24/2006)

By Stacey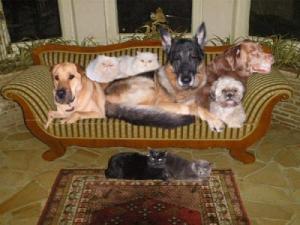 Remedy For a Stinky Dog
A product called "Smelly Dog". Available online at MaryEllenProducts.com is absolutely amazing, and it is odorless. (12/06/2006)

By Brian
Remedy For a Stinky Dog
What you describe does sound like a health issue. Try adding more green leafy raw foods to build up immune system. Organic, no dog needs pesticides/herbicides. My dogs love Romaine lettuce, lightly cooked green beans, chard, English peas.
And buy food that does not have wheat or barley, they can't digest it properly, and will eventually develop GI and nerve problems. (03/01/2007)

By Zuni
Remedy For a Stinky Dog
I found a stray like that and fed it canned mackerel everyday with home made dog food and it turned out beautiful. Fish oil helps also. I would take it off of commercial dogfood for a while, because some dogs are allergic to it. Hope this helps. (03/05/2007)
By creetabell
Remedy For a Stinky Dog
I have a long-coat chihuahua and an affenpinscher who I had the same problem with, it seems like the more wiry the hair, the stinkier they can get. Lemon Joy or Dawn works good for my dogs, it is not harmful to them, we use it in our dogs bath water (rinse them with clean water after if they tend to have dry skin). We use oatmeal dog shampoo and conditioner from Petsmart. They also sell dog perfume, too (I use it on my affenpinscher who has the worst smell problem, we ended up having the vet squeeze her anal sacs and that seemed to help a lot).
I like using the Dawn, it kills fleas if your dog has them and you can actually see the fleas in the water after they are done bathing, this way we've never had to use any flea collars or other pesticides on them. It was a big concern for me, because of their toy breed size. I would try any of that and if the problem still persists, take them to the groomers or the vet to get their anal sacs emptied that can be a big contributing factor to their smell. (08/03/2007)
By Bella
Remedy For a Stinky Dog
The reason for the smell is PH imbalance on the skin, in the digestive tract, the mouth, or in the ears.
That is why the vinegar rinses and ladies douches work to clear the odor. The acidity restores the PH balance. With regard to diet, change to meat and bones or as "natural" as possible commercial foods without dyes and additives.
Use a supplement. Yeast Fighter capsules which are available in health food stores and most places where good vitamins are sold. Y. F. capsules contain acidolpholus and garlic and it restores the candida in the body to a healthy balance within about a week. Give one week to two weeks at a time as needed.
Do not overbathe or the skin will become out of balance and become irritated. In between baths, wipe down with "Baby Wipes for Sensitive Skin". Works like a charm.
(08/23/2007)
By cadreamin
Remedy For a Stinky Dog
I had a 2-yr old retriever who began to "smell like a dog". I took him to my vet. She said:
"A "normal" healthy dog is odorless. When a dog starts to stink, it can be a malfunction of the sebaceous gland, because the dog is getting inadequate fat in his diet. Put him on a higher-fat-content food. And give him additional fat, like chicken skin, bacon grease, butter, even a tablespoon full of vegetable oil, if you do not have animal fat on hand."

I had him on the Nutro-line which was about an 11% fat food. I changed him to a +-15% fat-food, and liberally give him fat I should not eat. Inside 1-month, the odor was gone.
Give it a try. Hope it helps you, as it did me. (09/25/2007)

By Shelley
Remedy For a Stinky Dog
I would "not" give my dog bacon grease. I have seen dogs who have been given high fat table scraps and when there blood is drawn it is looks like a strawberry milk shake. Try medicated shampoo instead, it's safer. Also it may be an under active thyroid. Check with your Vet for the best remedy. (09/28/2007)

By VetTechUF
Remedy For a Stinky Dog
If all is medically OK then I have found lavender scented baby shampoo is great. It is even good for my very sensitive Jack Russell. (10/24/2007)

By gogogadget
Remedy For a Stinky Dog
"Do not" use dryer sheets on your dog. Would you rub it on your child's head to make them not stink?
I've had various vets (tree huggers and non tree huggers) get very upset with people who do this.
(02/20/2008)

By RC
Remedy For a Stinky Dog
(submitted via email)
You need to squeeze his glands to get to oil out. Take a paper towel, fold it about 3 times then put it over his butt push up into the butty area and squeeze the fluid out. Make sure you wash your hands well after. The oil that comes out is what other dogs smell. I hope this helps. Your vet should have told you this.
Bert (03/24/2008)

By jess
Remedy For a Stinky Dog
If anyone needs a good shampoo, Buddy Wash, is the best! It smells like lavender and mint. Our bulldog smells yummy. (07/30/2008)

By Paula and Joe
Remedy For a Stinky Dog
Well I just took mine in after 1 1/2 weeks of stinkiness. After reading these posts, I checked his rear end and sure enough there was some stuff around his butthole. He had a bath 4 days ago and has never been "foul" smelling. The vet said he had an infection in his anal gland. He is on antibiotics and we have a recheck next week. $200 bucks afterward. (10/07/2008)

By Reaganator
Remedy For a Stinky Dog
One of my Pekes has a horrible smell almost all of the time that her nickname is now Stinky. The smell is coming from the space between her eyes, above her nose. The groomer told us to clean it regularly with peroxide, which helps with the smell most of the time. You have to lift up the skin and fur above the nose to clean it out. However, sometimes it gets really bad and is probably infected.
The vet said she can get antibiotics, but it will only go away for a short period of time. Constant antibiotics is not good for a dog. Good luck and if anyone else has any other tips for this stinky Peke, please pass it on. My other Peke has never had this problem. (11/02/2008)

By Peke mom
Remedy For a Stinky Dog
Those brownish stinky tears can be cured with "Angel Eyes" you can find it in certain pet stores, but I just order from angeleyesonline.com. I have a white frenchie and this stuff is amazing. she is not only bright white around her eyes now but no more smell there. It's a powder you put in their food once a day for about 4-6 weeks. You will notice a difference right away. After that, you only need it about 2-3 times a week, and after about 3 months, only once a week. Try it. A little pricey, but so worth it. (12/05/2008)

By amydee
Remedy For a Stinky Dog
Your pets food could be a big contributor to a stinky dog problem. A pet shop owner clued me in on this easy solution. He said he had been feeding his dog Eukanuba dog food. Then he switched to a regular store brand, because the ingredients seemed to be fairly similar. In a week his dog stunk and was scratching like crazy, so he went back to the Eukanuba and his problems went away in a week.

This food was developed originally for mink farms where healthy and beautiful coats are everything. I believe the fats in this product are of a much higher quality than regular store brands. Eukanuba is a little pricey, but a stinky dog sends people off spending lots more and who can stand a stinky dog? (12/06/2008)

By kiki