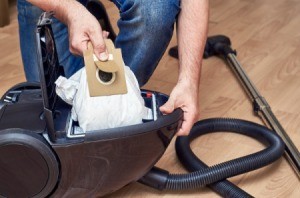 I too have had to deal with stinky vacuums and smells in carpeting from cats and dogs. The best thing that I have found was the enzyme odor cleaner at the local Oreck store. The quart is slightly expensive, but you only need 8 oz to each gallon of water and it really makes the smell go away.
Disassemble your vacuum and wash the outer bag by hand then spray it while wet with the enzyme odor cleaner. Then let it air dry. Remove the brush roller and wash and spray it too. Then wipe all parts that you can get to with an all purpose cleaner mixed with the odor cleaner. It works like a charm. The Oreck store will also do it for a price if you do not want to, and they do a really good job.
The odor cleaner also works well on carpets but you have to keep the spot wet for at least 30 minutes to make it work, but if you are cleaning stinky carpets anyway with a steam cleaner put about half the bottle in the clean water part of the carpet cleaner and it works while it slowly dries. Pet odors are gone!
Source: Myself with the help of the local Oreck employee.
By cathy from Wilkes Barre, PA

My Hoover upright vacuum cleaner stinks when I use it. I have put in a new bag and I have also used baking soda in the bag thinking that might help, but it hasn't. What's going on with it? Got any ideas on what I can do?
Teresa from Richlands, Va.
Answers

Beth
Silver Feedback Medal for All Time! 407 Feedbacks
January 31, 2008
0

found this helpful
Sometimes if you have a dog your vacuum will stink, even if the dog does not. I don't know how to fix it, but at least if you have a dog, you know what the source is.

January 31, 2008
0

found this helpful
I don't know if you have animals but, if you do it's the animal hair. I had that problem and didn't know what was causing it. One day I mention it to my brother. He said it was the dog hair. He went to Sears and got some deodorant tablets for vacuum cleaners.
I don't remember the name. But believe me it works. No more stinking vacuum. I looked for the package, couldn't find it. I remember the cost was $2.50 for 4 tablets. I'm sure other places must have something like that. Sorry to be so long winded :)

January 31, 2008
0

found this helpful
I forgot to tell you that the tablet goes in the bag. Use a tablet with each new bag. Expensive I think, but well worth it.

January 31, 2008
0

found this helpful
I have had this problem at a customers house and I would lightly spray the vacuum bag with a air freshener.
This worked good for me.Then when it was time to replace
the bag I had done it with the new bag too.
By Paula Jo Carr Mebane, NC (Guest Post)
January 31, 2008
0

found this helpful
Good the smell be from the rubber belt burning on the rotating bristles getting ready to burst? My old vacuum (Kirby) did this before the belt broke and man did it stink BADLY and for quite a long time too!
By Teresa (Guest Post)
February 1, 2008
0

found this helpful
I have 2 vacuums that stink, an old Simplicity and an old Kenmore. I have a very hairy dog who sheds profusely. I'm not ready to pay for a Dyson yet so I am trying to make do with what I have. Thanks for the deodorizer tablet info, I didn't know there was such a thing.
By anna (Guest Post)
February 27, 2008
0

found this helpful
My vacuum started smelling like burning rubber, the belt had broken and I had to have a new belt put on the machine. Slowly the smell is going away.
By Louise the house cleaner. (Guest Post)
March 28, 2008
0

found this helpful
VACUUMS STINK OVER TIME BECAUSE OF THE BACTERIA IN THE DUST INSIDE EVERY NOOK AND CRANY OF YOUR VACUUMS!
You Must "COMPLETELY DISASSEMBLE!" Your vacuum every six months and "WASH" every part inside and out with soap water bleach and an old toothbrush, EXCEPT THE MOTOR! Wipe the blades that are part of the motor itself with a damp rag. put some soap water bleach and a small rag into the hoses and plug the ends of hoses with anything!, rubber balls, corks anything to keep the water in and swish, swish, swish, off and on for several hours depending on how dirty your vacume is.
RINSE EVERYTHING WELL. "LET THE ENTIRE VACUUM DRY SEVERAL DAYS BEFORE REASSEMBLING.!"
Don't lose the screws down the drain and draw yourself a diagram of how you took it apart if your not sure you can remember how to put it back together. I like clorox cleanup in the spray bottle and a cleaning product called Awesome. I only find awesome at dollar stores and via the internet. BEFORE YOU START CLEAN IT. "UNPLUG YOUR VACUUM!" You can do it! Have fun! Look at it this way, if you don't try to do this, your going to end up throwing it away anyways. So just go for it!

February 24, 2019
0

found this helpful
The Dyson vacuum stinks too
Answer

this Question

I have a Hoover Elite sweeper made for pets (no bag). When I use the sweeper the odor is bad. I have tried carpet powder, baking soda, nothing works! Any ideas?
Answers

Judy
Gold Post Medal for All Time! 677 Posts
July 30, 2019
0

found this helpful
Invest in some Nok-Out. You can get it on amazon.

Pghgirl40
Bronze Feedback Medal for All Time! 196 Feedbacks
July 30, 2019
0

found this helpful
We had this issue with a different model of Hoover. I took the entire thing apart using a YouTube video and cleaned it and the smell went away. There was "gunk" in various places that was causing the smell.
I found the YouTube videos to be very helpful. I have had to take mine apart three times now--twice because I sucked up things that got jammed, and once because of the smell.
You can just put the make and model in YouTube and sort through the videos until you find one that is clear to you!
Hope this works for you as well as it worked for me!
Post back with an update!!

Pghgirl40
Bronze Feedback Medal for All Time! 196 Feedbacks
July 31, 2019
0

found this helpful
Post back with an update! Be sure to keep a cup nearby to hold all the screws!
Answer

this Question