My dog has dry itching skin to the point that he has begun chewing on him self. Is there a home cure for this?

By Red from Frankfort, IN
Answers:
Remedy for Pets Dry Skin
Our vet recommended oatmeal shampoo found at pet stores, but this can not get into their eyes. We've also used human quality cooking oats (quick oats) and added them to a tub full of warm water and worked them onto his fur. Just rinse well after you have bathed the dog. (11/30/2009)
Remedy for Pets Dry Skin
Tried the Baby Oil, Listerine and water for dry skin on my dog. Works immediately but my dog is not real wound up about me applying it to him. Not real sure how often to apply it to him and can't see anything anywhere in hear on that issue. (12/01/2009)

By James
Remedy for Pets Dry Skin
Our vet had us use Ivory dish soap to wash our puppies in. I had a kennel and had to wash them once a week at times to get pictures and never had a problem. It didn't hurt their eyes but I was careful and washed their heads with a cloth.
The photo is of Max drying off on my lap. Who wouldn't love that Bullmastiff face?
(12/02/2009)

By latrtatr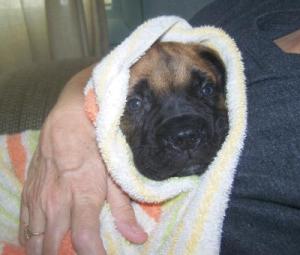 Remedy for Pets Dry Skin
I would spritz him with extra virgin olive oil and massage it into his skin. It is also a skin softner for adults or children with dry skin, I use it mostly during the winter months when furnace makes my skin dry and itchy. (12/02/2009)

By Paula Jo
Remedy for Pets Dry Skin
Also just add dry cooking oatmeal into a tube sock and use that to wash doggie with.
Brewer's yeast is good for dog's coat so I give my doggie one tablet daily and he likes it. I get mine at WalMart, as the price is the best there.
(12/03/2009)

By meoowmom
Remedy for Pets Dry Skin
Yes! Diet! Internally, once in awhile, (depending on the dogs size about once a month or so,) I cook an egg or two for my dogs. Also, have you checked out the brand of dog food you feed your pet? My vet only recommends 3 brands of dog food, and there are many brands on the markets.
I have a dog with arthritis, and after many talks with the Vet,(and expensive shots,) I have him on one omega 3-6-9 capsule a day. It alleviates the arthritis, and helps his coat. His coat was kind of oily, and actually got less oily, and softer when I put him on one Omega 3-6-9 capsule (the kind we buy for ourselves.)

Even though everyone knows that getting too much fats in the system are bad, there are good fats, and those fats can help the skin and coat, and alleviate arthritis pain.

Feeding a pet dry food all of the time may or may not aggravate dry skin, and promote arthritis.

Also, in the winter, when we are using a furnace, the air is much drier, and I like using a humidifier to help moisturize the air. It could be that simple. Also, I give my dogs table scraps, like drained hamburger, turkey, chicken (no bones,) I never just let them eat dry (cereal) food. I also let them eat some veggies--like green beans, corn, sweet potatoes, regular potatoes, and peas, and carrots. I've heard that garlic, onions, mushrooms, grapes, can really mess up their metabolism to the point of needing an emergency vet, or worse.
I hope this helps your dogs itchy skin and chewing. Even though a dogs metabolism is different from ours, they still need some good oils in their system.

Since all of the expensive (30 dollar shots every two weeks) for our dog with arthritis, he is happy with one omega 3-6-9 capsule a day, no more shots, however, he does weigh in around 40-50 pounds. So, you really need to consult your Vet about your dogs dry skin. It really isn't just a matter of bathing, it really could be a matter of what the dog is getting to eat and not getting in their diet.

Dry winter air does cause dry skin, but diet is really important when it comes to dry skin. And if a pet isn't getting the right nutrients to begin with, a ton of oatmeal in the bath won't solve the problem. I'm not knocking people that have found relief with oatmeal, I'm saying it may not be the solution, like with my dog who has to have an omega 3-6-9 for arthritis, and the strangest to me, is that my dog had oily skin and fur prior to the omega 3-6-9, then when I put him on the omega 3-6-9,(which is a type of oil,) his fur stopped being oily, and became soft. Really nice and soft. Instead of oily, and he hasn't complained about his arthritis anymore. (12/08/2009)
By Carol L.