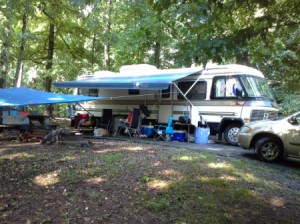 We have an older motorhome, and were thinking of upgrading. The bedroom is NOT a good layout for arthritic older folks with bad backs. The cost and effort of selling ours or trading for a new new one, then MOVING IN was just too much for me to do.
One camping trip this summer, I could not sleep that first night. I lay there thinking how I could redo our camper to make it what we were looking for in a new one. I had a brainstorm. We hated our bed, and its layout in the back bedroom! That's where I came up with my plan! When we got home, we stripped out the old bed, and right over the top of its frame, we made ourselves twin beds. We got 2 air mattresses from Coleman, and a pump.
At home, we have a bed that raises up and down, and we sleep with an incline. I brainstormed that too! I went online, at Walmart.com, and purchased us 2 Wedge Memory Foam pillows. We recently tried the new beds out on a weekend trip. OH, MY, how much better we slept, and now Hubby can get in and out of his own bed without crawling over me to do so. We only spent about $100 on the new bedroom layout, and no telling how much we saved by not swapping our camper out for another one!
One other nice factor: we left the old bedframe intact under the new one, because there were little doors there where things could be stored. We simply put in plyboard, that was reinforced underneath, in place in the area between our 2 new beds, and hinged the plyboard from the back. Now we have 2 options for the storage area - we can still use the little doors, or we can raise the plyboard and get things in and out a little easier. We used a piece of carpet to cover the plyboard, so it looks nice, feels nice when we stand on it, and it is very convenient.
Finally, if we ever want to do so, we can replace the full bed, by just removing the framing over it, and it will be same as it ever was.