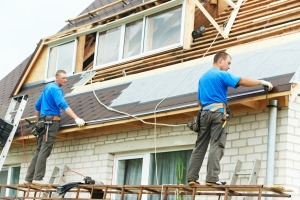 Home improvement projects can break a budget. However, thanks to many on-line services, the average homeowner can tackle many of these projects alone. A cornucopia of knowledge can be found at Lowe's on-line site. Whether you shop at Lowe's or the neighborhood hardware store, utilize the corporate chain's information to do it yourself and save money. Scroll through the Project Center at www.Lowes.com for help.
How-to Clinics
For every homeowner who feels that the number of the local handyman is not all there is to know about home improvement, most large chain home improvement warehouses like Home Depot and Lowe's offer clinics in the stores to teach the basics of home repair. Offered for approximately an hour each Saturday, these clinics span the realm of home maintenance from painting to decorating, attracting wildlife, and re-tiling bathrooms. Most of these clinics are free or ask for a nominal fee with prior registration requested.
Involve the Kids
Not only will children learn valuable skills but they will also be entertained at the children's clinics offered by these chains as well. With small fees for supplies, children can build birdhouses or create rubber band powered cars.
Got to the Library
While the traditional library is always useful, it may lack the specifics needed for projects such as deck building. Log onto Lowe's.com and scroll through the articles in the How-to Library. Each article features needed diagrams and step by step instructions written in basic language. While some projects still may be challenging to master, the library gives a feel for what needs to be done and allows the homeowner to choose which projects are able to be tackled alone and which need help.
Lowe's also includes Interactive Design Tools which allow you to 'build' your project with help. Featuring a Closet Maid closet designer as well as deck designer, the site allows you to 'see' the end product and evaluate the needs and costs of such a project. Jump to the Project Calculator and cost as well as material needs can be estimated. This allows proper budgeting even for small projects such as mulch application.
Get a Guide
Buying guides for projects are available on-line or in person at most large chain home improvement stores. Tablets line the aisles at these stores, and by tearing a sheet from the tablet you hold a list of needed supplies for a specific project. For instance, when buying a tub surround, not only are most of the needed supplies located within the same aisle as the surround, but the paper guide also lists the tools needed such as a cutting blade and tape measure. Guides aide in sizing and measuring for purchases as well.
The home improvement warehouses are on your side. Their business is improving your home, so they want to help you do just that. Although contractors do make up a large portion of their business, they're more than happy to allow you to save the contracting costs and do it yourself. After all, won't you be able to afford the second project if you do?
Read More

Comments

I'm in the process of remodeling and rather than going and buying new stuff, I'd like to see what's available used (and less expensive!). Does anyone know where I can look?
Meari
Answers
By erica (Guest Post)
June 27, 2005
0

found this helpful
join your county's freecycle group and put up a wanted post.
erica
By Grandma Margie (Guest Post)
June 27, 2005
0

found this helpful
Go to the website for Habitat for Humanity. On that site.....find your state........and then your county. They have "stores" full of donated, used items ranging from building materials, bathroom fixtures, kitchen cabinets, kitchen appliances, paint, furniture, light fixtures.......you name it ......it's probably there! The stores are called "Re Store". All items are donated. The staff is volunteer.
All proceeds go to the Habitat for Humanity program to build homes. Just be sure to check your location's operating hours. The one in our city is open three days a week. Anyone can shop there. Also, if you have items to donate they are a good place to consider. They do so much good for communities and low-income folks who'd appreciate a "hand-up" rather than a "hand-out".
By (Guest Post)
June 29, 2005
0

found this helpful
I agree with freecycle.com. It's a great place to give and get things for free. You might also try craigslist.org and click on the city nearest you. It is world wide now. There you can post things to sell, trade and give or get for free.

June 30, 2005
0

found this helpful
If your town or one near by has a salvage yard, I would look there. Goodwill or the Salvation Army stores in our area sometimes have items too.
By Becki in Indiana (Guest Post)
July 8, 2005
0

found this helpful
Is there an expensive furniture store in your area that offers "free removal of your old furniture" when you purchase new? If so, chances are very good that they take that old furniture that they remove free, spiff it up and resell it in their "bargain basement" or a back room.
Call and ask if they sell any "reconditioned" furniture -- they don't usually advertise it, because they want you to buy the more expensive, new stuff! This also applies to appliances -- I bought a "reconditioned" refrigerator for $50 that lasted for years!!
By Rose (Guest Post)
May 10, 2006
0

found this helpful
interested in used security bars for windows
Answer

this Question

Coreen Hart
Bronze Feedback Medal for All Time! 153 Feedbacks
We are remodeling, and do not have wallboard or wiring up in a couple of the rooms. It looks like it will be a year or more before we get it finished. What can I do to cover up the walls so they don't look so much like a dungeon?
By Coreen Hart from Rupert, ID
Answers

July 15, 2009
0

found this helpful
I have used flat sheets before... just staple them up over the unfinished wall. A king size flat sheet from a dollar general/family dollar is pretty cheap and if removed carfully; you can reuse it later.
Hope this helps!

Beth
Silver Feedback Medal for All Time! 407 Feedbacks
July 16, 2009
0

found this helpful
I thought of sheets too, but I think I'd go the whimsical route if it's only temporary, and put up designs. Since they probably won't reach floor to ceiling, put the whole sheets from the floor up and put a "border" of other sheets across the top.

Allison
Bronze Feedback Medal for All Time! 231 Feedbacks
July 16, 2009
0

found this helpful
What about an inexpensive fabric drape? You don't have to sew it, but could just hang it from a rod on the wall.
Answer

this Question