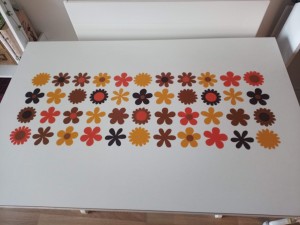 Hi everyone. I'm hoping someone can help me! I have bought a 60s dining table, which is in pretty good condition apart from some bubbling (as seen in the close up picture).
Could someone advise how I can fix this? I'm not 100% sure what the surface is made from, possibly formica? The bubbles only appear on the flowers.
Any pointers would be gratefully received!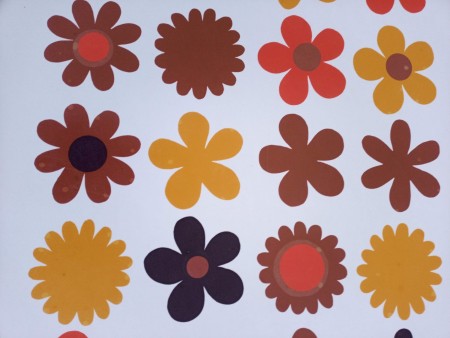 Answers

May 21, 2021
0

found this helpful
Best Answer
Place a cloth or tea towel over the bubbles
Turn your iron on to a low setting
Iron over the top of the bubbles
The bubbles should have disappeared.

DianaHM
Silver Answer Medal for All Time! 440 Answers
May 27, 2021
0

found this helpful
Best Answer
Your desk has Formica top. I found several tables with patterns from the 60s, the description says that they were made from Formica www.vinterior.co/.../vintage-pair-of-terence-conran-for..., modernicaprops.com/.../round-dining-table-orange-flower
Formica Laminate is a laminated composite material invented at the Westinghouse Electric Corporation in the United States in 1912. The word Formica refers to the company's classic product: a heat-resistant, wipe-clean laminate of paper or textile with melamine resin https: //en.wikipedia.org/wiki/Formica_(plastic) Melamine resin is often used to saturate decorative paper that is laminated under heat and pressure and then pasted onto particle board; the resulting panel, often called melamine, is commonly used in ready-to-assemble furniture and kitchen cabinets.
Thus, at your table there is a separation of the resin from the pattern, possibly due to poor contact of the melamine resin with the paint of the pattern.
The problem of bubbles appearing under a glued Formica can be solved by heating. Bubbles appear where the glue dries. Heating reanimates the glue and helps the Formica stick again. But in your case, there is a separation of the covering resin. There is no glue.
Unfortunately, it seems to me that this cannot be fixed without damaging these bubbles. And in this case, there is a risk of further damage to the Formica top.

Judy
Gold Post Medal for All Time! 677 Posts
May 21, 2021
0

found this helpful
You may have to scrape off the bubbles and refinish.

May 22, 2021
0

found this helpful
Bubbles under Formica?
It could be enamel.You cannot see bubbles in your picture so you'll probably have to take the table to someone who knows about paint.
You might try madders suggestion first as it may work.
Otherwise I would suggest showing your table to someone at an Ace hardware store and ask them for help.
It is strange that bubbles are only under the flowers.
The flowers were probably not 'glued' properly before the outer coat was placed on the tabletop so air was trapped and whoever did the finish did not pop the bubbles to release the air before the last coat was finished.
Hope you do not have to redo the job. An Ace employee can probably help you find a solution.

May 24, 2021
0

found this helpful
Sorry - Ace is one of the 'smaller' hardware stores in the US. You may have something similar but, if not, take your pictures to a store that has a large paint department to see if they can help.
Sometimes it can be a simple fix or it may be a major redo.
I only mentioned the table itself as you did not seem to know if this was Formica or? Maybe some pictures of the sides and underside would help find a solution.
Answer

this Question