I just bought these two pieces, both Brandt, both display glass tops and sides, with padded area inside to display your collection, but cannot find anything online about them or their value?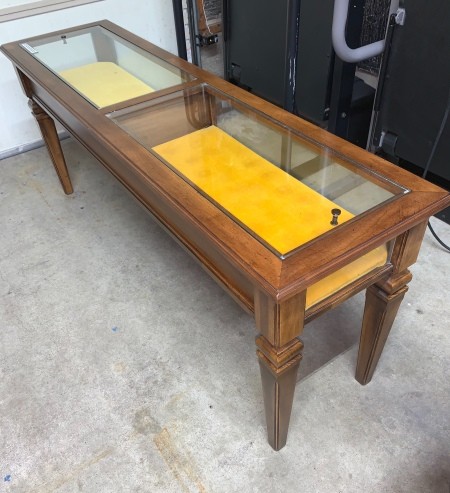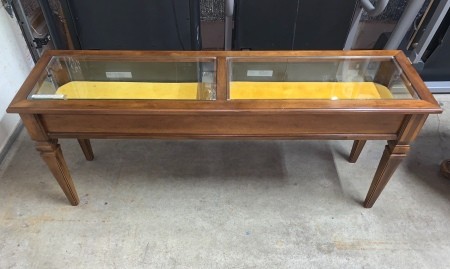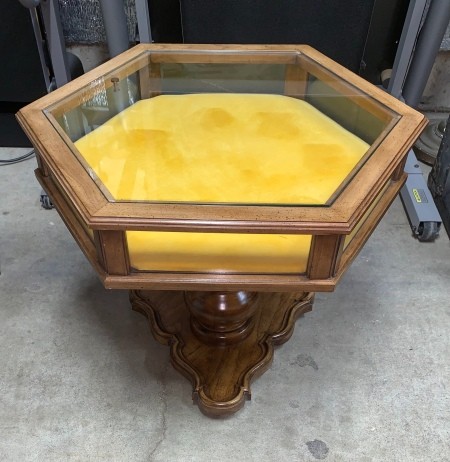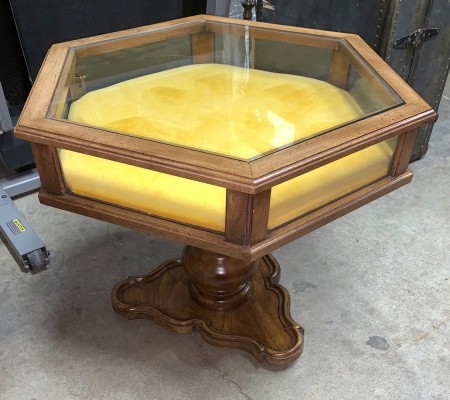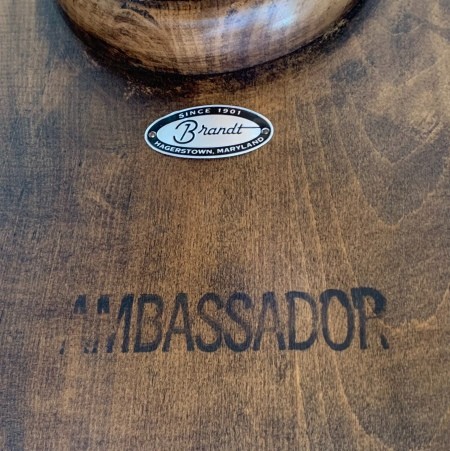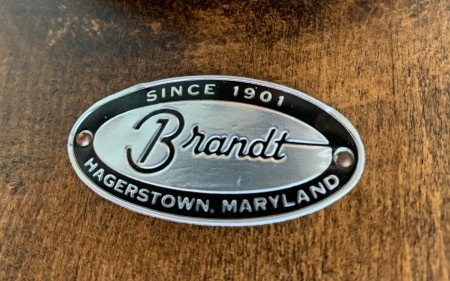 Answers

Iceskater
Silver Answer Medal for All Time! 320 Answers
April 23, 2021
1

found this helpful
Best Answer
Wow these are beautiful! All I can really offer is that they're formally called "vitrines" and that Brandt is out of business but their pieces, in good condition like yours, often sell for hundreds of dollars U.S.

April 23, 2021
2

found this helpful
Best Answer
From your picture I believe these were called 'curio' table but may not be a common name and display may be used.
Furniture value depend a lot on where the pieces are located so if you got a real good deal then it's possible your area is not a good selling area and the price you paid may be close to the 'current value'.
It would seem that Ambassador is the name of the series but I only found 2 tables (not like yours) using that description. I did not find any ads with this name either.
I found one sold table like your long table but it had one broken glass and maybe flaws. This table sold for $14 in 2020.
This can happen but this is very low.
auctions.transitionaldesign.net/.../BRANDT-FURNITURE-DIPLOMAT-SOLID-CHERRY...
This curio table is a different style but it sold for $169.
thedesignersconsignment.com/.../20940
I'm sorry but this is all that could find on these tables.
You can always try asking your question on some of the free sites.
Reddit is good but not sure about furniture group/forum.
Ask on Reddit if you wish to know more.
There are other sites offer free information:
www.reddit.com/.../
www.myantiquefurniturecollection.../.../ask.html
antiques.lovetoknow.com/Free_Antique_Appraisals_Online
instappraisal.com/
Hopefully, other members, PGHgirl and Diana will be able to provide more details.

DianaHM
Silver Answer Medal for All Time! 440 Answers
April 25, 2021
3

found this helpful
Best Answer
Brandt Furniture Co. was established in Hagerstown, Md., in 1901 and went out of business in 1985. Former employees re-opened the factory in 1986 and continue to operate it as a small family business.
This company also produced collections of furniture, for example, Embassy Collection, Medici Collection, Diplomat Collection, Barony Collection. The Brandt furniture from the Collections had a mark with the name of the Collection, as for example here: www.chairish.com/.../20th-century-asian-brandt-furniture..., www.chairish.com/.../italian-provincial-brandt-furniture....
Your tables have the Ambassador mark. This means that your tables are part of the Ambassador Collection, for example like this Brandt Cabinet:
www.thriftyfun.com/Value-of-a-Small-Brandt-Table-with...
.
Your tables are named differently.
The first table is Glass Display Case Sofa Table Console, here you can see this very similar to your table, but from the Diplomat Collection, cherry wood: www.worthpoint.com/.../vtg-55-brandt-diplomat-french-styl....
The second table is Display Curio Table Pedestal Base. Here you can see exactly the same table as yours from the Ambassador Collection: www.worthpoint.com/.../brandt-furniture-ambassador-display..., www.worthpoint.com/.../unique-mid-modern-brandt-ambassador...
The Brandt Ambassador Collection manufactured in the 1970s. This whole collection was made in the Mediterranean style, oak pecan wood, finish silver.
The price of the same as your table, but from the Diplomat Collection is about 350-400$ picclick.com/BRANDT-Furniture-Diplomat-Solid-Cherry..., the price for furniture from the Ambassador Collection is about 170-300$: www.lofty.com/.../brandt-silver-cabinet-1-47p85v, www.chairish.com/.../brandt-ambassador-hollywood-regency...
So, you have Brandt Furniture Ambassador Collection Oak Silver Display Curio/Case Sofa Table Console 1970s and Brandt Furniture Ambassador Collection Oak Silver Display Curio/Case Table Pedestal Base 1970s. The price is about 300$ (one table).

Pghgirl40
Bronze Feedback Medal for All Time! 196 Feedbacks
April 29, 2021
1

found this helpful
Best Answer
These must not have been super popular pieces (which is crazy because they are lovely!!).
I say this just based on my searches of old newspapers. I see them advertised in 1979-1985 (which I believe corresponds to the Ambassador period of the company.), but very few references so they may not have been popular pieces around the US. There were a few for my town (Pittsburgh), Tallahassee FL and Sacramento CA. That surprises me...of course, they may just have called them curios or something other than their "real name" of vintrine.
every
Also of interest They were on sale at almost 1/2 off in the ads. Here is a sample of an ad. Sadly there were no photos or sketches to match yours to the ad...so this is just a general information tidbit for the history!
Are you asking value to sell or restore? If selling, you have info from the other posters. If it is to restore and sell, don't, leave them as is and sell as is unless you are an expert refinisher. If you are going to do chalk paint or some other finish, normally I say go for it and enjoy your piece, but these are really unusual pieces and deserve to be left as is mostly because they were not hugely popular and the people who love them most likely will want original.
That said, either way you are not going to retire off of one sale--so it probably is a wash and do what you wish with them as long as you enjoy them! Thanks for sharing!! They are neat pieces!
Answer

this Question

I have searched the internet and cannot find any matches that come close to this desk. Does anyone know the value of this beautiful piece?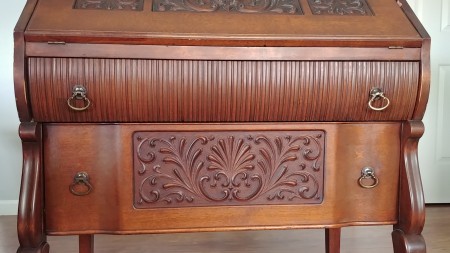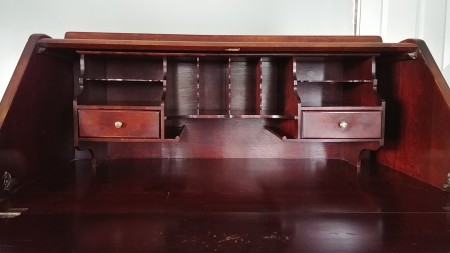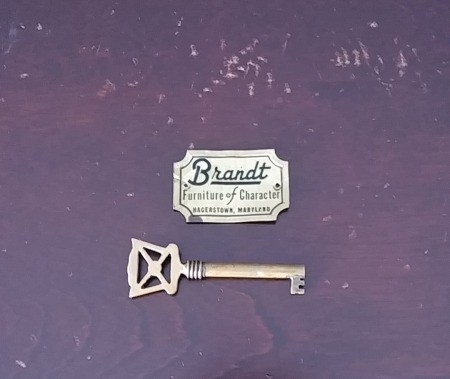 Answers

poehere
Bronze Post Medal for All Time! 105 Posts
June 27, 2020
0

found this helpful
Best Answer
I have found a website in the UK that has a lot of roll-top desks listed on the site. Unfortunately your desk is not listed there. The desks on this site are selling for $750 to $5000 each. If you look on the site you can see some of the desks have a similar design to your desk. www.sellingantiques.co.uk/.../
On Esty they do have one desk listed that is not a roll-top desk and the asking price here is $625. Charish is another site that you can find a few listing for Brandt furniture on the site. They are not currently listing any type of desks right now. The furniture on this site is normally pricy and goes for quite a bit of money. EBay is yet another site that people sell Brandt furniture on and they don't have any desk listed on this site either.
I would like to suggest that your speak to an antique furniture dealer in your area to find out how much this desk is actually worth. You can take the prices of other roll-top desk and some desks that are listed online from Brandt and figure out the real price or the price you'd like for this desk. If this is for the insurance company to insure the desk I would go to a dealer and get a written appraisal for your insurance company.
Answer

this Question

I have a Brandt Federal style mahogany drop-leaf dining table with 5 leaves, pads and 6 chairs. It extends to 10 feet and seats 14. It was my grandmother's and we had many family dinners at that table. She embroidered the chairs.
The condition is definitely used. Can you please give a value? I am thinking of selling.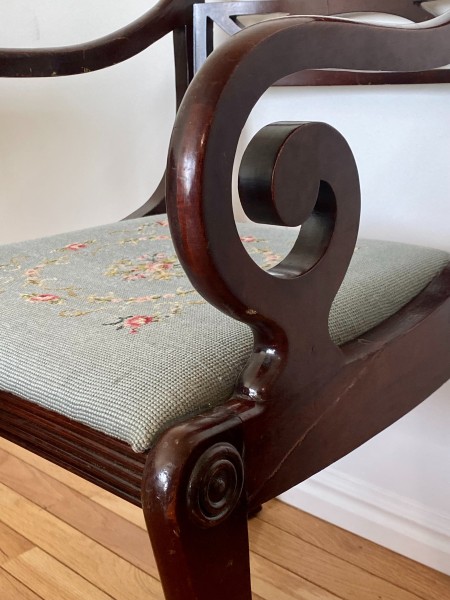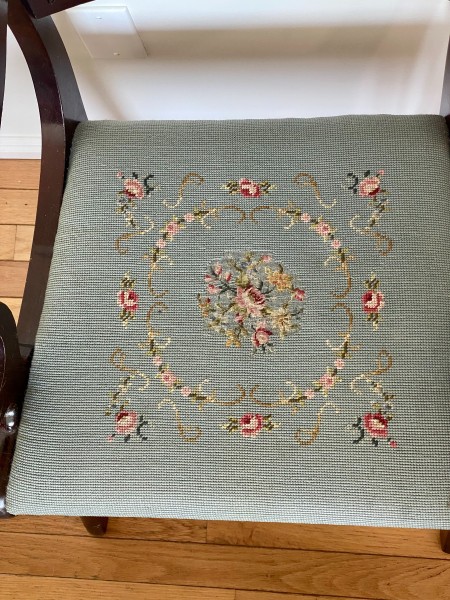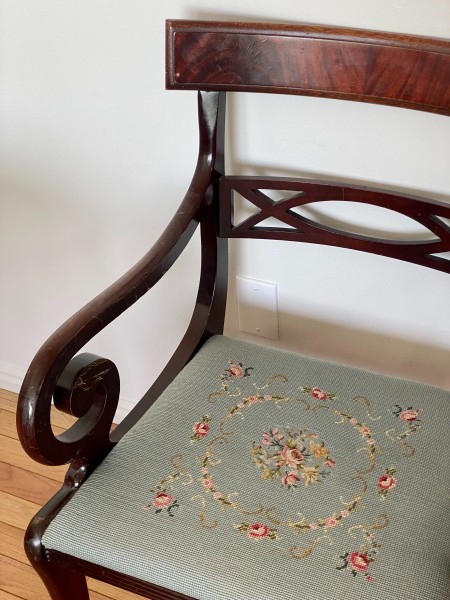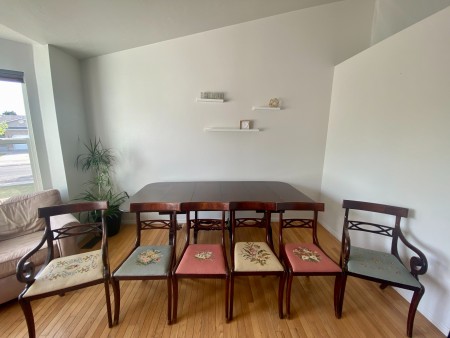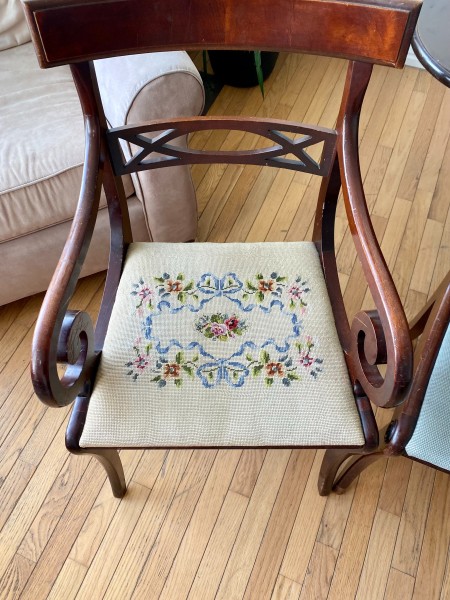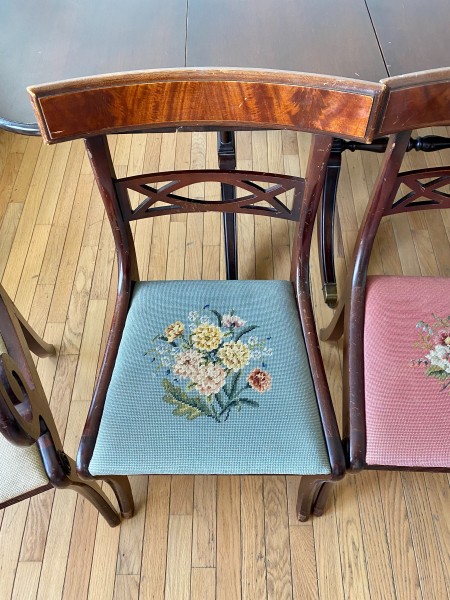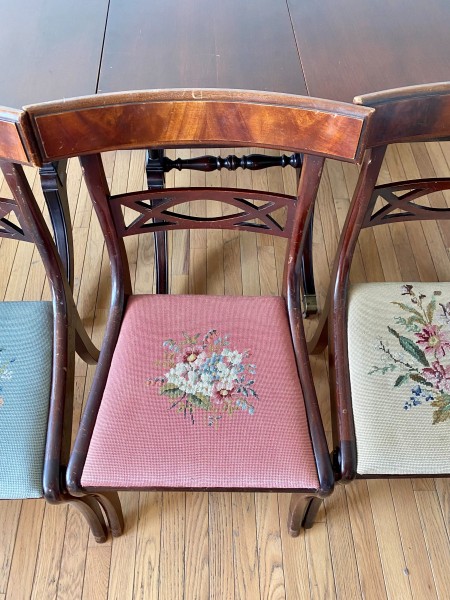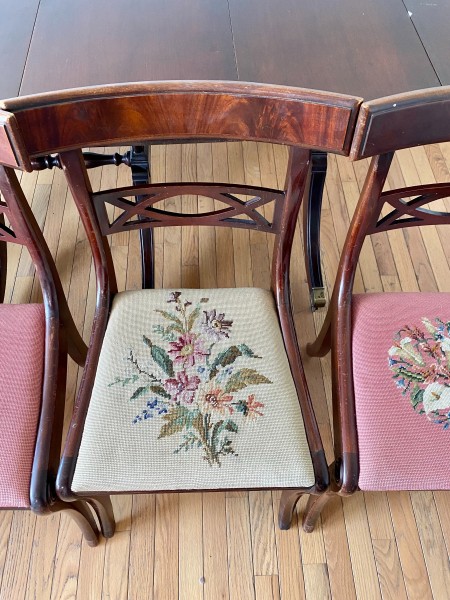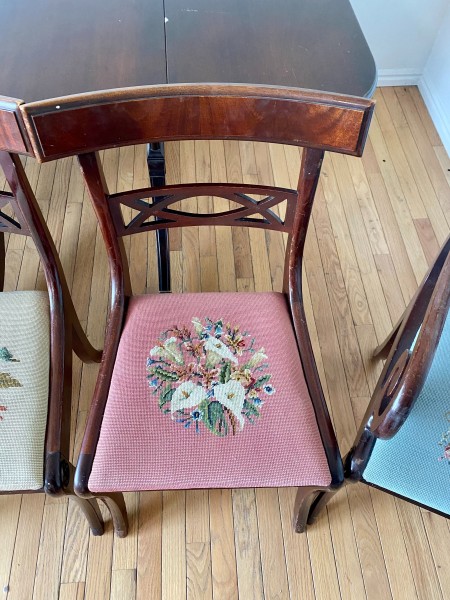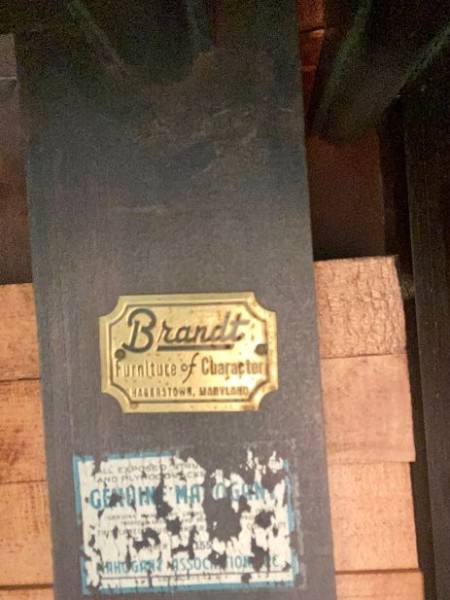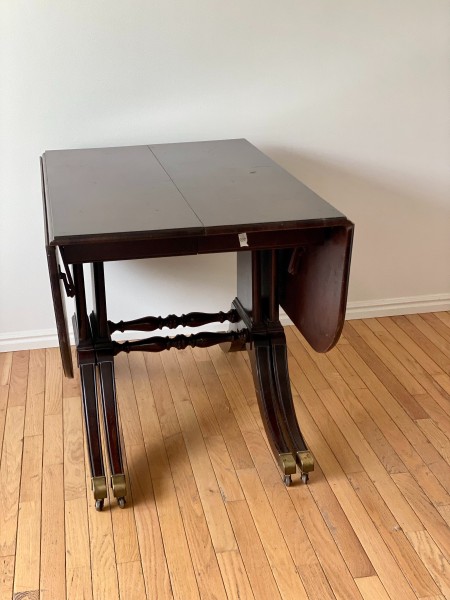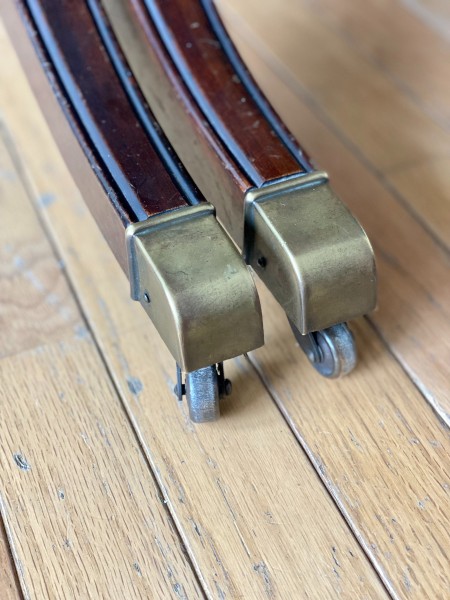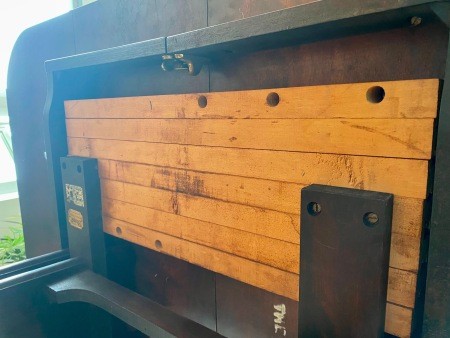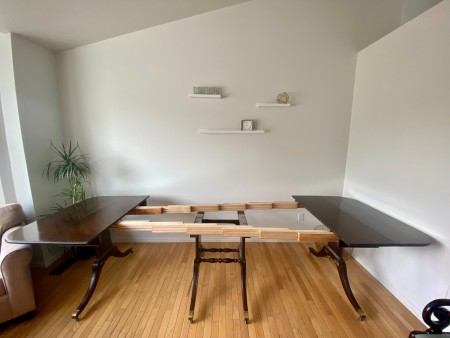 Answers

June 6, 2022
1

found this helpful
This looks like a really nice set although this type seat covers may not be to everyone's taste, the rest of the set is a stand-out.
Brandt is a good brand name and seems to have held its value where some other brands have gone down in value.
To be able to offer possible value, research would have to show what a set like this has sold for over the past few years, and without access to an official appraiser's work programs, the outcome of auctions is not usually available to the general public.
I might add, that suggestions most lay people like most ThriftyFun members can provide may not be a good idea for you to consider/follow.
Your set may be more valuable (or less) than what can be found so I would suggest that you try to get an official appraisal; either from someone in your area or you might try several of the free online appraisal sites first.
These are very good and even free they will offer good information as well as suggestions on where to best sell your set.
You may have to take the set to one of the auction sites to get the most money.
One reason; shipping can be very expensive and best arranged by a buyer on-site.
Otherwise, you may be looking for a buyer who lives within an approximate 50-100 miles radius of your location (local pick-up ads). This may narrow the field but can still be done.
You have good pictures but a most important picture you do not is the table from the end as we cannot see the leg style.
You should also provide the provenance information if available(year purchased?)
www.whatsellsbest.com/.../antiques.html
Other members may have good suggestions so be sure to check back often.

Judy
Gold Post Medal for All Time! 677 Posts
June 6, 2022
1

found this helpful
Brandt tables are worth several thousand dollars. Look on eBay until you find something similar to know what it sold for

CDC
Bronze Tip Medal for All Time! 59 Tips
June 6, 2022
1

found this helpful
A similar Brandt mahogany 1930's drop leaf table & 6 chairs is listed for $2000 on Etsy:
www.etsy.com/.../duncan-phyfe-mahogany-1930s-drop...
Read More

Answers