Finding the Value for Your Antique Furniture
Questions
Ask a QuestionHere are the questions asked by community members. Read on to see the answers provided by the ThriftyFun community or ask a new question.
Answers
March 13, 2017
1

found this helpful
My husband auctions part time, and I sometimes clerk for him. In my area, at a general auction this would probably go for around $40. But, if it were at a vintage auction, closer to $60. If in one of those antique malls that the city people come and pay inflated prices for things, it may even for for $100-$120 if in a booth with vintage 1930-1970's items.
March 13, 2017
1

found this helpful
You need to know who manufactured it. Look under and behind for markings.
March 13, 2017
0

found this helpful
Without markings or names of manufacturer it would be almost impossible to help you as even an experienced antique person may have problems with just this photo.
Markings can be found in different places but look very carefully on the back and on the bottom for any type of name or numbers or symbols.
You will also need several (better) photos, particularly from the front (clear - no person), sides and back. You could take some nice photos and maybe show them to an antique dealer near you as they will know more about furniture from your area.
March 19, 2017
0

found this helpful
Here some more pics
March 19, 2017
0

found this helpful
This is a lovely glass cabinet but without maker marks/name it will be very difficult to place a value.
I still believe you should take these pics to antique dealers in your city (along with measurements and any information you have as to where it came from) as most likely it came from somewhere in your area and these dealers will maybe know the maker.
Once you have any more information then you may be able to find a date and more about the value.
Answer

this Question

...
I am cleaning out antiques and have no idea what this piece might be worth. We bought it at an auction years ago.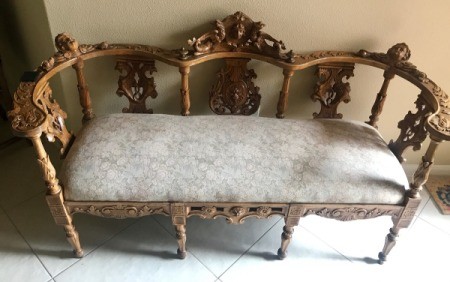 Answers
May 11, 2017
0

found this helpful
Look under the piece for an manufacturer. That will give you something to get your research started.
May 11, 2017
0

found this helpful
Any markings on it? I can't find anything similar online but it is BEAUTIFUL!!! :)
May 12, 2017
0

found this helpful
I'm sure you have already checked for markings but it is not unusual for furniture to not have markings.
I feel sure you will have to have this appraised by an expert in this field that can tell you who made it, when it was made, insurance and selling value, as well as where the best place to sell might be located.
If you wish to get an on-line appraisal first - I only know one site that has a very good reputation:
Answer

this Question

...
My husband and I bought this bedroom suite many years ago at an estate auction sale. Does anyone know what kind it is and what it may be worth?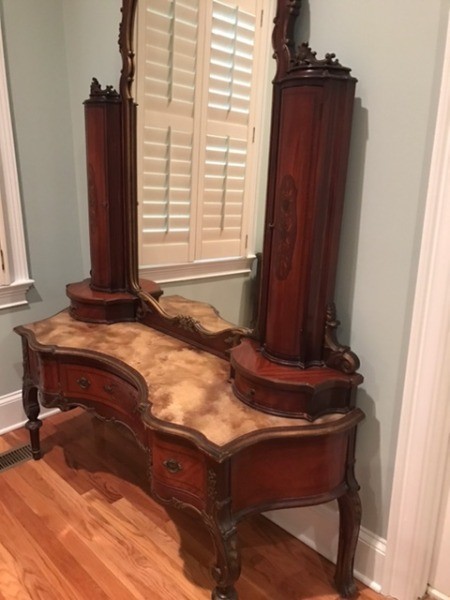 Answers
August 28, 2017
0

found this helpful
It looks like either Italian or French provincial. You need to find the manufacturer. Open one of the drawers and look on the side. Once you have that you can write back.
August 28, 2017
0

found this helpful
It isn't possible to tell you how much it is worth or who made it. Normally on the bottom of the drawers or under the table you should find a label. This will help a lot to identify the set. If you have the complete bedroom set you can also check on the bed for who manufactured this and a date.
Answer

this Question

...
I recently found a table at a thrift store here that was made pre 1920. The company was Arthur A. Marer & Co. from Chicago. I found them online and he died in 1922. The table was beautiful and was made when the company was transitioning into using a type of wood glue and what was almost like panel board. It's starting to come off on the legs, but the wood underneath is solid. The table still looks amazing and it adds a unique quality (except the holes), but is it restorable? And is it worth $250 in the condition it's in? That's the asking price. I would love to know your thoughts. Thank you.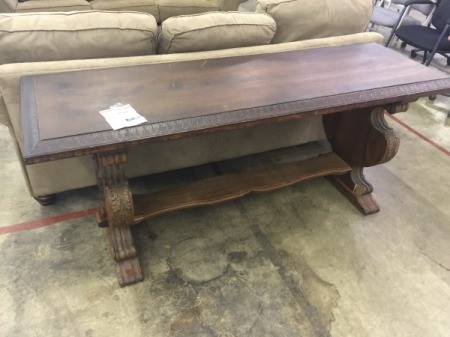 Answers
August 16, 2017
0

found this helpful
If you are in love with this table and think you can fix the small cosmetic damage I would buy the table. You will need to find a wood that matches this type of of wood, cut the shape, and glue it back in place. Now the hard part is to find the right color stain to stain the wood. You can always try asking for a lower price because of the damage.
August 16, 2017
0

found this helpful
I found a newspaper ad from 1929 advertising an Arthur Marer table for $169. I think $250 is a good price, but offer less and see what they say
Answer

this Question

...
April 10, 2015
0

found this helpful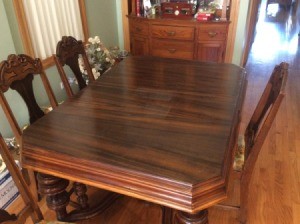 How can I find out if an antique table and chairs are worth anything? The chairs all need to be repaired.
By Nel M.
Answers
April 12, 2015
0

found this helpful
Don't be surprised if your antique dinning room set isn't worth as much as you hoped. Unless it's a really unique brand in mint condition you will find that people can buy a brand new set made in China for less money. I suggest you call around to antique shops and tell them what you have & see if they take consignment furniture. Good Luck!
April 12, 2015
0

found this helpful
I don't think it matters if it is worth anything or not. If you like the furniture, or if it is family furniture that has been handed down, and has sentimental value, get it repaired. If you don't like it, then contact antique furniture shops and consignment shops to see what something like it will be worth. I would never trade either of my antique/vintage tables & chair sets for something new made in China. On the photo it looks like a very nice, good quality table. I would do the repairs. Cheap modern things are seldom made to last.
Answer

this Question

...
I have an antique dining table and 6 chairs and would like to know how I can find out how valuable they are? They need refinishing. Is there a website where I can get more information from or who would I call?

Ace from Nashville, TN
Answers
January 15, 2007
1

found this helpful
When you say "antique", could you clarify a bit? Do you mean that they are over 100 years old?
If they are, then they could be very valuable and I would track down an expert before I considered having them refinished.
By guest (Guest Post)
January 15, 2007
0

found this helpful
They were antique & over 25 yrs old when the set was bought in W Germany in 1976.
Editor's Note: To be a real antique, something must be 100 years old or older. This still is a vintage set and over 50 years old. Refinishing furniture quite often lessens the value so I would take some pictures of the set and show them to a vintage furniture dealer to get an idea of the value.
Answer

this Question

...
February 25, 2015
0

found this helpful
We need to sell a 17th century, upholstered love seat with a pecan wooden carved frame in excellent condition. It is a family heirloom of a good friend from Canada.
By Marilyn
Answers
February 25, 2015
0

found this helpful
You can try a search online with the specifics of the love seat for possible values, however, there are so many variables with old furniture that may or may not be relevent.
Suggest that you search your local area or nearby cities for auction houses. The auction houses will probably request you bring the love seat to them for their evaluation.
Answer

this Question

...
I have an Aberk-lock 3-in-1 chair. I was wondering how much it might be worth and who made it.
By Sharon from Louisville, KY
Answers
December 2, 2010
0

found this helpful
Are you talking about the 3 in 1 commode type chair or the 3 in 1 step stool or ladder conversion chair?
Answer

this Question

...
How much is a #405 Huguenot Dresser worth?
By hock2429 from Woodstock, VA
Answers
July 20, 2009
0

found this helpful
Why not take it to an appraiser and if you can't take it then take some pictures of the dresser and maybe they could give you a pretty good idea what it would be worth. They may also be able to give you some additional information as well. Sometimes you could find an value in a book but how old is the book and is that value for dressers in excellent condition?
Answer

this Question

...
I'm trying to find a price on a Brandt table. We think it's a night stand. The metal plate said it comes from Maryland.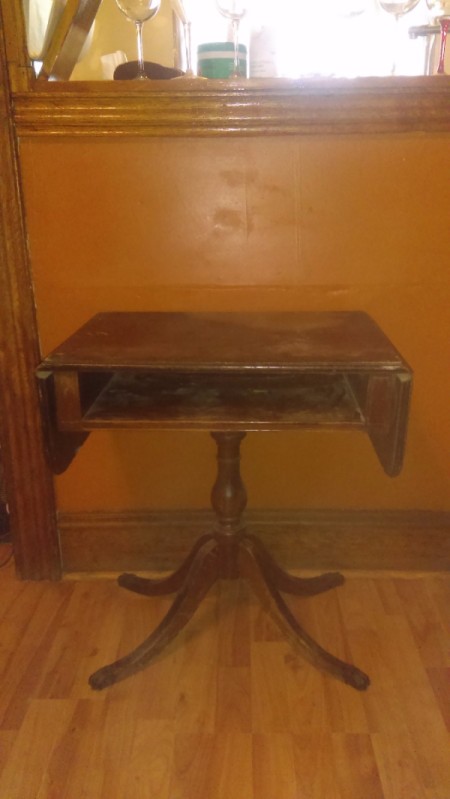 Answer

this Question

...
Related Content