I bought a beautiful 1890s Murphy bed all original. It has wax build up in all the crevices. It even appears to have been waxed over old dust so it's bumpy around the decorative scrolls.
How can I safely remove the build up without damaging the piece?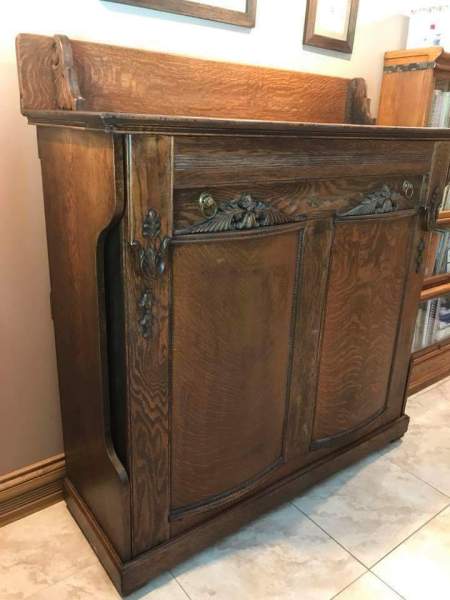 Answers

Judy
Gold Post Medal for All Time! 677 Posts
March 3, 2018
0

found this helpful
Best Answer
I would start cleaning with Murphys Oil Soap.

poehere
Bronze Post Medal for All Time! 105 Posts
March 5, 2018
3

found this helpful
Best Answer
If this wasn't so old, I'd tell you to strip it, sand it, and refinish it. But considering this is really old that one won't work.
You're basically going to need a soft bristle brush, buck, vinegar, and water. This will take a lot of time to clean. Mix 1/2 water and vinegar in a small spray bottle. Spray a small area on the wood, let it sit for a few minutes and now use the brush to start cleaning the deep crevices. You'll need to have a clean cloth to wipe this off.
You can try some small pieces of steel wool to get the hard parts off. Don't rub too hard because you can remove the finish and leave marks behind.
Answer

this Question

I have an old piece of Tiger oak (probably from the 1920s) that was made into a coffee table. The oak is due for a refurbishing. I don't want to get into anything more than a good cleaning and polishing. I had heard to try using a detergent and water to remove the dirt and grease, let dry, and then apply polish works well. I want to use dark Old English polish, as it is made to hide scratches, which there are a few, but nothing major.
Are using soap and water for cleaning safe on the wood, or would Murphy's Oil soap be a better choice? I never thought Murphy's soap actually cleaned very well. Any and all tips are much appreciated. Thank you all.
By Luann DeLuca from Corning, NY
Answers

Judi
Bronze Feedback Medal for All Time! 239 Feedbacks
March 6, 2010
2

found this helpful
I wouldn't use soap and water on wood. I always use Murphy's on my wood. Recently I found a product called Feed-N-Wax. It's by Howard (never heard of it.) and the instructions are to apply with a cloth, wait 20 minutes, then buff off. I garnered quite a bit of dark dirt from my clean furniture doing this. It's made of beeswax and orange oil.

Cyinda
Bronze Post Medal for All Time! 213 Posts
March 7, 2010
0

found this helpful
I'd recommend going to an antique store or an antique mall because they usually have the very best wood cleaners for sale & they also could answer your questions. But I've heard the orange-oil wood cleaner is some of the best & have seen one brand of the orange-oil wood cleaner sold at my local antique mall. Also, you can't beat that wonderful orange smell!
As far as the Old English scratch remover goes, it does work wonders, but be sure to buy the one made for light-colored wood! I once stripped a bunch of old & gunky furniture polish mixed with lots of nicotine (from years of cigarette smoke) by using straight Ammonia (not the sudsy kind) but straight ammonia is only for those rare cases where the furniture wax &/or oils have built up over many years & have turned really sticky & yucky. You MAY be able to use a tiny bit of ammonia mixed with water if you have a huge build-up of wax & furniture polish, but use care, Ammonia is strong stuff & water isn't good for wood!
After I used the straight ammonia & the piece was rinsed & dry, I followed it with the dark Old-English scratch remover & this old furniture cabinet from the 1950's looked so wonderful & new, my mother-in-law thought it WAS brand new! She couldn't believe it was her original piece of furniture!
---> But for your nice antique oak coffee table, I would use a cleaner made to clean & polish wood... Not something from the grocery store. Buy a good wood cleaner from an Antique store near you.
* I agree with the previous post, if it were up to me, I wouldn't use the Murphy's Soap to clean your table! Her product sounds good, but once you use wax, oil will not penetrate. But furniture wax can REALLY protect a table & it's especially nice when you eat & drink on the table!
Scratches:
* If the Old English doesn't work, you can hide your scratches by taking a set of thin-tip $1 store, kids water-color markers & match the colors in the wood with the markers, then simply fill-in the scratch with a blend of the colors that look best, if you make a mistake, you can remove with a little alcohol & a Q-tip. The same goes for the permanent markers, they also can be blended or removed with alcohol.
* For deeper scratches use melted brown crayons.
Another hint: For super dry wood, a tiny bit of Mineral Oil can be applied to the wood then left to sit for 10 minutes or so then buffed off (really well!) with a soft cotton cloth. Never use vegetable oils because they eventually turn rancid.

March 11, 2010
0

found this helpful
I would NOT use Murphy's Oil soap on antique furniture. My mom has an antique mahogany hutch she was going to use it on & her brother-in-law( who spent his entire career as a cabinet maker) told her to never use that stuff on wood that you value!

March 30, 2010
0

found this helpful
Last Year I've revamped our main bedroom and I really like the warmth look oak furniture brings into a room. But at the same time oak furniture takes high maintenance. Stains that set into your oak furniture may be hard to get rid off. You must clean them as soon as they happen, or it will soak into the oak. Below is an examples of where you can get some quality oak furniture at really good price and how to keep this looking new.
www.pinesolutions.co.uk/oak-furniture.html

April 18, 2010
0

found this helpful
I don't like Murphy's much either. I prefer the orange oil, but I also seen somewhere to give wood furniture a face lift you can use very thick instant coffee! Just make a sort of paste out of it put it on with a clean soft cloth then wipe it in like you would a stain. Then afterward treat with mineral oil. The piece that they did this to looked amazing afterward!

November 13, 2018
0

found this helpful
I used olive oil on my new antique dresser just the other day. I wiped it down really good after. What is rancid??
Read More

Answers

Can I use linseed oil and bee's wax on an antique oak vanity and not ruin the patina?
Answers

Judy
Gold Post Medal for All Time! 677 Posts
June 26, 2018
0

found this helpful
Cleaning antique tables
Step 1
Start off with a cotton cloth and mild soap and water solution.
Step 2
Use Goo-Gone for sticky stuff.
Step 3
If you use wax, the edges of the table need it most. Start at the edge and work towards the center.

Pghgirl40
Bronze Feedback Medal for All Time! 196 Feedbacks
June 26, 2018
0

found this helpful
I remember my nana using linseed oil on furniture, but it terrified everyone because it was so flammable to have around the house.
Bees wax is new to me. There is a lot of literature that says it is a good option.
My go to is just dusting and the occasional Pledge rub down. I do feel like I am not feeding the wood like my nana did. I am going to do some more research on bees wax now that you brought it up! Thanks!!
This website addresses both as options is www.si.edu/.../coatings.html
That said, safety first if you go with linseed. abcnews.go.com/.../story?id=11328546
If you use either, test it on an inconspicuous place, as you never know how it will react based on previous cleaning methods.
Hope this helps!

June 27, 2018
0

found this helpful
If this is a valuable or cherished vanity I would suggest you try the very mildest solution and definitely in an inconspicuous place. Wait a few days after first try to see if it still looks okay.
You will have to be very careful of any scratches or nicks in your vanity as you do not want to get any liquid in those areas as there may be bare wood and if so, it will swell.
Also, there may be a difference in cleaning procedures if your vanity has a veneer finish (may be over solid wood and difficult to detect). I am not sure about that so maybe someone else will know about this.
I just know that I have seen some very nice pieces messed up with someone trying to clean without sufficient knowledge of the wood and finish.
Most all antique dealers recommend using a little dish soap in water with a soft cloth (wring cloth well) and wipe surface gently and keep changing cloth to new place as you remove some of the grime/dirt. Always have a second soft cloth to dry wherever you clean. If very dirty, wait a few days and do the same again. Use only mild dish washing liquid and not any other kind of soap. Also, some recommend using distilled water instead of tap water (or use bottled water?).
After you are sure it is clean and dry, use a good furniture wax but use it exactly as directions dictate.
I have not heard of bees wax being used but if it is a good choice, I'll bet there is a furniture wax made with bees wax.
Using Linseed oil may be your choice but be sure to follow instructions carefully:
homesteady.com/how-7731310-clean-furniture-linseed...
Answer

this Question

Our bedroom furniture is over 50 years old and has never been refinished, just dusted with Pledge. Any suggestions on how to get rid of "sticky" and dull finish without completely redoing pieces?
By Karen Tracy from WI
Answers

Judi
Bronze Feedback Medal for All Time! 239 Feedbacks
June 4, 2009
0

found this helpful
They make a furniture restore product that I used on my husband's antique rolltop desk. It doesn't remove the finish, just removes the years of accumulated polish and stuff. I've thrown my empty bottle away so don't know the exact name but look for it where other paint/refinish products are sold.

June 6, 2009
1

found this helpful
Use hand cleaner, I used GoJo, just rub on with a soft cloth and let it sit for about 5 minutes , then wipe it off. Years of goo and gunk will come off . I then wiped it clean with a damp cloth.

susan
Silver Feedback Medal for All Time! 472 Feedbacks
June 6, 2009
0

found this helpful
Scrub it with Murphy's Oil Soap. Use an old toothbrush if it has any hard-to-reach places. It will take some elbow grease, but will be worth the time.
Answer

this Question

How can I clean fine, antique maple furniture without hurting the finish?
By Susan Wolfe from Clinton, TN

Answers

October 8, 2010
0

found this helpful
To do that you need to know what type of finish is already on the timber i.e. is it a wax finish or is it beetle varnish shellach like a french polish or just varnish. If old more likely to be shellach that will determine how you clean it. If its valuable I would suggest talking to someone in the trade. My gut feeling is just a wipe down would suffice the value of antiques is the patina which is the natural aging of the timber. If you clean the surface, highly likely that you may damage the patina and therefore decrease its antique value. It's your call and I don't know all the details. I would get more advice. brentnz

October 8, 2010
0

found this helpful
You really need to read this article -
www.refinishwizard.com/cleaning_antique_furniture.html
Answer

this Question
I acquired an old wood credenza. It has possibilities, but is very dirty. It could be build-up from furniture sprays or just neglect. What is the best way to clean this piece?
Judy from IA

Answers:
Cleaning Old Wood Furniture
Murphy's Oil Soap. (03/02/2009)

By Judi
Cleaning Old Wood Furniture
I like the way Murphy's smells, but my husband (who is a carpenter and floor refinisher) says its terrible for the wood. If its really grimy, use naptha or denatured alcohol, available at your local home improvement store near in one of the paint isles. Regardless of what product you use, try a small amount in an inconspicuous area of the credenza to be sure it does what you want it to. (03/09/2009)

By Aili
Read More

Comments