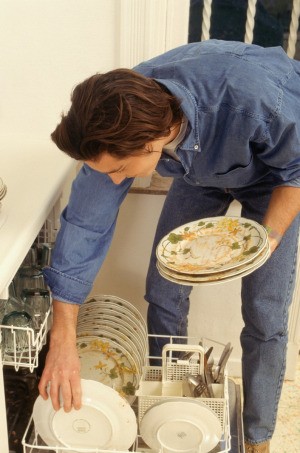 After cooking bacon, I put the cooking plate in the dishwasher. The plate was loaded with grease. When I ran the load, the grease from the bacon cooker got all over all of my dishes. I've run several loads since then and even washed the sides of the dishwasher with a touch of Dawn. I'm still getting grease on the dishes. Is there anything I can do to clean this out once and for all? Thanks for your help!
By Debra from Westfield, IN
Answers
July 10, 2010
0

found this helpful
Dawn is too gentle. It has oil in it to protect your hands. You have grease in the pump and other inaccessible
locations. Wiping the walls and racks won't help. Use an aggressive Citrus based cleaner, even a citrus based engine shampoo works well. Pour a generous amount into the drawer and run a full cycle.
Avoid solvent based cleaners unless you can rinse immediately, because some of them attack the plastic
and make it brittle.
Have FUN!
DearWebby
webby.com/humor
July 13, 2010
0

found this helpful
You could try filling the powder container with baking soda and the rinse-aid container with white vinegar. Then run a full cycle. Vinegar and vinegar are both brilliant for grease.
Lucy
July 13, 2010
0

found this helpful
I do not remember the name of it, but in the same aisle of the market with the dishwasher soap you will find a dishwasher "cleaner." You run the empty dishwasher with only this bottle in the silverware basket. You need to make sure your hot water tank is producing water as hot as it can to melt the plug on the bottle. It clears up a lot of gook.
July 13, 2010
0

found this helpful
Vinegar, vinegar, vinegar. Nothing cuts grease like it.
Read More

Answers