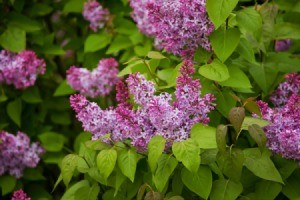 Question:
How do I get rid of lilac suckers from my lawn? I have an urban forest in the making! I don't want to kill the lilacs or dig up the lawn. Will the vinegar, salt, water, and soap solution work? Mowing doesn't help.
Hardiness Zone: 3a
Catastrofy from Winnipeg, Canada
Answer:
Catastrofy,
Each lilac sucker has the potential to turn into a whole new plant, so you're right, it's wise to remove some of the suckers or you run the risk of taking vigor away from the parent plant. Unfortunately, the only way to get rid of lilac suckers permanently (sans using toxic chemical means) is to fully separate them from the mother plant by digging them out.
Although snapping them off or mowing them down can cause them to re-branch and produce even more suckers than your started with, many gardeners find that mowing them regularly is the easiest, most practical (and least time consuming) way of dealing with them. If you're worried about suckers spilling over into your lawn, you might try installing a "weed" barrier (made from copper, steel or plastic) that goes down 6 inches or more into the soil between the edge of your lawn and your lilac shrubs.
The reason lilacs tend to get tall and leggy after a while is because these shrubs renew themselves from their roots. It is important to leave at least a portion of the suckers intact to accomplish this purpose. A good way to keep the canes from getting tall and leggy is to cut the oldest ones down to within 18-20 inches of the ground in late spring right after they bloom. This way you always have some up and coming suckers that will produce larger flower heads on shorter stems.
Good luck!
Ellen
Answers

Judi
Bronze Feedback Medal for All Time! 239 Feedbacks
June 25, 2008
0

found this helpful
The only way to get rid of them is to dig them up...each and every one. Then of course, they'll grow right back.
That's how they are. We have several around our house and that's what I've discovered.

June 29, 2008
0

found this helpful
Are they spreading from roots? then you need bamboo or other barrier plastic. Do they spread from seed? then try removing spent blossoms before they go to seed. Try putting a black plastic barrier on top of the lawn and cover it completely with sand and then flagstones.

August 7, 2008
0

found this helpful
Thank you for the information. Now I have wild plums growing amongst the lilac suckers!

August 8, 2008
0

found this helpful
I know the fact that I now have wild plums growing in amongst the lilac suckers sounds strange. This is what happened..the sewer pipe that connects my house to the city sewer pipe, collapsed last summer and I had to have my yard dug up to fix the sewer pipe. There is a beautiful white and purple lilac hedge separating my property from the neighbor's.
There was also a gorgeous plum tree in my front yard which unfortunately had to be dug out, after the huge construction hole was filled in, a forest of lilac suckers sprung up. Now the whole, previously dug up, area has given rise to another forest of plum suckers, which are now wild, as the tree is gone and any suckers resulting from offshoots of plums are wild. So NOW I have a huge forest, about 3 to 4 feet high, taking over my front "lawn". The area is about 12 feet by 20 feet! There are over a hundred of "the little suckers" and they are spreading! I have given up on ever having a lawn there again, and am planning on covering the whole area with landscaping cloth with river stone and pea gravel on top, so I first have to get rid of the suckers, and digging them all up would be impossible! Does anyone know if something like Roundup would kill them off? HELP. I'm being overtaken by a runaway urban forest!
Answer

this Question