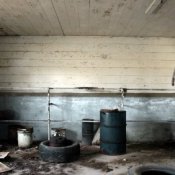 I recently bought a house and I am turning the garage into a workshop. There is a pretty thick oil and grease buildup where the cars were parked and apparently worked on. I have cleaned up much of the surface grease but I still have large stains and oil residue. Anyone dealt with this before? I want to get it as clean as possible. Any tips would be appreciated.
By Joe
Answers
By Julie (Guest Post)
April 22, 2004
0

found this helpful
I have heard from many sources that kitty litter put on the oil and grease stains will absorb most, if not all of the stains. It is also an environmentally friendly way of dealing with the problem.
By Joe (Guest Post)
April 22, 2004
0

found this helpful
Another thing you can do after you try the kitty litter is get the stains wet and then sprinkle some dishwashing detergent on the stains. Rub the detergent into the stain with cleaning brush. Then rinse it with some water. Repeat as necessary.
Another Joe
By Another Joe (Guest Post)
April 22, 2004
0

found this helpful
Also.. Interesting tip on another board says to spray the stains with WD40 before applying kitty litter.

April 22, 2004
0

found this helpful
I have read that Coke (the soft drink) is supposed to work. Pour the coke
on stain and let sit overnight. In the morning rinse with soapy water. Some may be surprised but Coca-cola can be used for alot of different remedies.
Do a "uses for Coca Cola" search and you'd be amazed.
Good luck, Jenny in WI.
By tonya (Guest Post)
April 23, 2004
0

found this helpful
try dawn dish soap and water and scrub with hard bristle broom and water. My husband works at junk yard and this is what they use to clean up their garage. and its enviromentaly safe too
By Glen (Guest Post)
April 25, 2004
0

found this helpful
I had exactly the same problem, I used extra strenghth Era (the liquid detergent) the stain came right off.
By Me (Guest Post)
September 30, 2005
0

found this helpful
try MURATIC ACID from hardware store, thats what masons use.
mix 4 parts water to 1 part acid.
wash off right away, or else the cement will go from white to tan.
Use a power washer before and after if you have one
By chuck mcgee. (Guest Post)
January 17, 2007
0

found this helpful
i removed a bunch of paint soaked into a new garage floor with a whole jug of paint thinner. probably on the eniromentally hazardous side of things, though.
By Pratima Patel (Guest Post)
October 13, 2008
0

found this helpful
sprinkle carpet room deodorizer on the oil spots, the powder will absorb oil, then rub and clean with cloth.

December 9, 2013
0

found this helpful
From my previous experiences and suggestions, my boys say either vinegar solution or clorox should do the job. You may have to repeat a couple times. When you remove the problem, there is a neat sealer at Home Depot.
My son rolled the paint and my dil spread the sprinkles right after he rolled. My garage is showroom ready and I plan to make it my workshop and salesroom for paintings/crafts/crocheting/dolls/deco pots, etc.
Answer

this Question