What is the recipe for removing skunk odor from a dog?

Cindy from Franklin, OH

Answers:
Removing Skunk Smell From A Dog
For any smell on your hands and what not, I personally used straight Pinesol. It kills the smell quite well. I got desperate after dealing with my dog and albeit I smelt like a freshly washed floor, but it wasn't skunk, so it was OK by me (normal soap will get rid of the Pinesol smell). (03/30/2007)
Removing Skunk Smell From A Dog
If you choose to go the tomato route, use large cans of crushed tomatoes - not juice. Rub them in well and let it dry on their fur before you hose them off. Rinse really well, or you may end up with a tomato stain on your floor. (04/11/2007)

By Cath
Removing Skunk Smell From A Dog
My poor cat got skunked and I took a cat owning friend's advice and used buttermilk. Washed her thoroughly with it and left the rest to her. (04/11/2007)

By Mary Lou
Removing Skunk Smell From A Dog
I know that Nature's Miracle makes a product specifically for removing skunk odor. A big bottle in the pet supply stores costs about $15 in Canada. Their products work using bacteria and enzymes that quickly break urine, vomit, feces, and now skunk spray down into scentless byproducts. Good luck. Janet (04/11/2007)
By Janet
Removing Skunk Smell From A Dog
To remove the stink: Mix 1 quart of 3-percent hydrogen peroxide with 1/4 cup of baking soda and 1 teaspoon of mild dishwashing detergent, make sure it doesn't contain bleach or ammonia. Rub this mixture all over your dog's coat. Prevent it from getting into your pet's eyes or ears. Then give your pooch a bath with a mild pet shampoo. Rinse well. (04/12/2007)

Removing Skunk Smell From A Dog
A friend told me to give my dog a bath with Listerine after my dog was skunked and I did. It worked! I was going to use original formula but my daughter brought home Cool Mint, cause she thought the dog would smell better, she was right. No skunk smell anymore! (04/22/2007)

By Kathy
RE:Dog Help
My dog got sprayed by a skunk today, does anyone know if dogs usually foam out of the mouth once they get sprayed? What do I do? (04/30/07)
By CiCi
Removing Skunk Smell From A Dog
My dog has been sprayed in the face, can we use the solution in his eyes? We don't want to hurt him.
Please help.

Editor's Note: I'd call the vet about what you can use for his eye area. (05/18/2007)

Removing Skunk Smell From A Dog
If your dog is foaming from out of the mouth, our vet told me that it's just a natural reaction to having such a horrific taste/flavor in your mouth. My dog actually was foaming and spitting up for the first 10 minutes- after one hour he finally threw up and looked like he felt much better. He stopped shaking and trembling from being sick. We're still working on the smell though.(06/09/2007)

By Guest
Removing Skunk Smell From A Dog
Using mint toothpaste works really well to take out the skunk smell. It also makes a white dog very white. Be careful not to use the toothpaste with whitener other than baking soda in as it irritates the skin. This was recommended by out vet last fall when our 3 dogs got a skunk cornered. (06/14/2007)
By Cassaundra
Removing Skunk Smell From A Dog
I wish I didn't have the experience to feedback. Hydrogen peroxide, baking soda and Dawn dish soap, appears to have worked. The stench is still lingering in the house though. What's the deal with coffee grounds?

Editor's Note: Bowls of vinegar help with the smell in the house, also the fresh (not used) coffee grounds. They both absorb odors. (08/19/2007)

By Craig
Removing Skunk Smell From A Dog
My dog got skunked last Friday night. Sergent's flea and tick shampoo for dogs worked just fine. I suspect any strong dog shampoo would also work. (08/21/2007)

By Mary
Removing Skunk Smell From A Dog
Tomato Juice worked on my black lab and on my husband. The dog liked it better than the husband did, though. (10/08/2007)
By Katy
Removing Skunk Smell From A Dog
Boil Vinegar on the stove and have a fan to circulate the smell around the house. It worked very well for my house which stunk much worst than the dog. I used the peroxide+Baking Soda and Liquid Dawn on the dog and it worked well, but what worked best was liquid Douche/Female Cleaner. (11/24/2007)

By Jeff
Removing Skunk Smell From A Dog
Here's the the magic cure for skunk spray. My vet swears by this. Massingil Douche, no off brands, just Massingil. Easy to buy and keep on hand. Inexpensive.The first women to come into her office with a skunk smell asked if it would hurt the dog's fur. I'm still laughing about that one. Good luck. Chris (03/27/2008)

By Chris
Removing Skunk Smell From A Dog
My Belgian Malinois got sprayed a few nights ago and I have tried everything to get the smell out, tomato sauce, deskunking shampoo, the hydrogen peroxide and shampoo, swimming in lake water, and regular baths. I finally found an awesome solution that actually works! if you use the Gojo hand cleaner (the type without pumice in it) and you let it soak for about 20 minutes then rinse the puppy really well, it will work. Make sure no to skimp on the Gojo, it works really really good. (05/21/2008)
By xtina
Removing Skunk Smell From A Dog
I am astounded to read all the really innovative ways to cover up skunk spray odor. I am sure the dogs involved were impressed as well! Living in the mid west we have lots of dogs and skunks and they get together much too often. As a result resolving skunk smells on dogs has become a priority to many of us. To that end, I have found 2 ways of removing skunk spray from my dogs.

The first thing you have to do is wash the dog with shampoo (detergent type) to break down the oily material that was sprayed on the dog. Then you can use the hydrogen peroxide mixture which works pretty good but does not remove all the odor and is pretty tough on the dogs skin, eyes, ears, and nose. This is a good stopgap while you are waiting for a refill of the stuff the really does the job completely (OdorXit Concentrate).

Yes, OdorXit Concentrate diluted 1 part concentrate to 30 parts water and sponged on all the areas where the dog got sprayed. This does not work if you have not washed the dog thoroughly with detergent shampoo. Even the nose, ears and face need to be shampooed because that is where the bulk of the spray landed and it needs to be broken down to a water soluble material (that's what the shampoo does). The OdorXit really does the job the first time.

The picture is our Akita one day after being sprayed the first time. He's looking for the skunk that sprayed him the night before. (06/12/2008)

By Rahe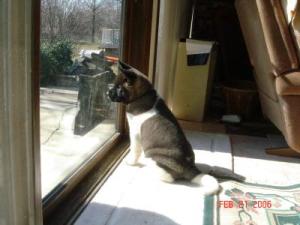 Removing Skunk Smell From house
If you have skunk in your house you have to wash every thing down and air the house out. What I did after that was, I took a bag of charcoal and some tin foil and put chunks of charcoal in the tin foil and laid it around my house. This took the smell from the house and in to the charcoal just don't forget to throw it out when your done. (06/15/2008)

By Crystal
Removing Skunk Smell From A Dog
There is a spray the works wonders. I got it for my dog when he killed a skunk and the sac broke open it was a nasty mess. I got a solution called Natures Miracles it's a deskunker that has natural enzymes. Then when it dries and sits a day it will take the odor out. (06/15/2008)

By Crystal
Removing Skunk Smell From A Dog
I didn't have any baking soda or tomato sauce available when our dogs were sprayed tonight. Nor do they like baths. For that reason I keep "Miracle Coat Spray-on Waterless Shampoo For Dogs" handy to clean up their coats when they get dirty. This stuff did the trick! You spray it on and rub it in/wipe it off with paper towel. My dogs are both part husky and have 2 layers of fur and it still worked great. The skunk smell is 99% gone! (07/10/2008)

By Got THE Remedy!
Removing Skunk Smell From A Dog
The stuff we finally used, that actually worked is a product called Skunk-Off, put out by the Thornell Corporation. It really worked! It claims it's non-toxic and nonirritating and she (our dog) didn't seem bothered at all by it. I know a lot of people rave or recommend Nature's Miracle - for me, it has not done what it claims it will do ever - I don't know why.
Also, I found when our dog was "skunked" if you put your face really close to her you could still detect a hint of skunk months later -but you had to really smell her fur and that might of been before we found "Skunk -Off". (We tried a lot of the above first) I've smelled skunk in the road, but when she got "skunked" I could not believe how much stronger and chemically the odor of the skunk smelled. It was an experience - it made my eyes water to say the least! (07/10/2008)

By Marie
Removing Skunk Smell From A Dog
Our Black Lab was sprayed again tonight (Sprayed 2 years ago) and I swear by using Scope (or probably any other mouthwash). DO NOT wash your dog 1st, it just spreads the oily stink. Soak your dog down with Scope and let it sit on it's fur for about 20 minutes or so. Make sure not to get it in your dogs eyes though, I doubt it would do serious damage but it would sting. After you have let the Scope sink in for 20 minutes or so, then you can go ahead and shampoo. This worked great for me but the smell would come back slightly every time our dog got wet for the next month or 2.
I got this from a vet who uses it for his clients who come in with a dog who's been sprayed. He says in his experience it works even better than the commercial products. (By the way, after our experience 2 years ago, we bought 2 bottles of Scope and had them sitting in the basement, ready for just this occasion!). (07/15/2008)

By Bernie
Removing Skunk Smell From A Dog
My Retriever/Coonhound mix got sprayed 4 days ago and so far a bath and an expensive deskunking by the groomer hasn't worked. We're taking him on vacation with us tomorrow and I'm dreading the 5 hour car ride with a stinky dog. So, I'm gearing up to try every suggestion from this board and keeping my fingers crossed that something works! For those who have towel dried your dog after treating, do you need to disgard the towels afterwards? I'm guessing it's best to use crummy towels but worried that if I toss them in the wash afterwards that the machines will then stink as the rest of my house does!

As far as the house is concerned, the only thing that has helped the odor is Skunk Odor Remover by Clear the Air. I found it on the web. It's granular and you sprinkle it all over your house, leave on over night and then vacuum. I found it at Petco because there was no option to wait for it to be shipped! Vinegar in a bowl, Febreeze and room sprays have only masked the odor. Off to boil some vinegar, bake some cloves and nutmeg and pray my house and my dog will be refreshed! (07/19/2008)

By Heather, NJ
Removing Skunk Smell From A Dog
We have 2 Bichons that got a light spraying. I couldn't do anything right away cause I had to go to work, but on the way home, I picked up a bottle of Nature's Miracle Skunk Remover. Soaked the dogs in it and let it dry for a couple of hours. It took some of the smell away. Seemed to work better on their beds. I read where the skunk spray is an oil, so I was thinking "What do I do when I change the oil in the car and I have greasy hands?" Well, I wash them with Liquid Lava soap! So, I lathered them up in the Lava soap, used a brush to really scrub them, rinsed well, and washed again using their regular grooming soap, and all is well. (07/23/2008)

By Terry
Removing Skunk Smell From A Dog
Visit Paul Krebaum's website to get the specific formula he recommends. He is the person who invented the baking soda, hydrogen peroxide, liquid soap combo. He does NOT recommend Dawn. He specifically recommends Softsoap or liquid Ivory because of their specific properties. I have found that Softsoap does a good job. In terms of house stink, ventilation is the only cure. We set up a wind tunnel with 6 fans. (07/25/2008)

By Cara
Removing Skunk Smell From A Dog
I had 2 dogs sprayed this past Friday night. I read this blog and told my husband of all the suggestions. He went to the store to buy Listerine and while there realized the one common denominator. You need something to breakdown or absorb the skunk oils left on the pet hair. So he thought what better than kitty litter? He brought it home and we rubbed both animals down for about 20 minutes each. We used Arm and Hammer Cat Litter. It took out a huge amount of the odor. We then soaked them really good with Listerine and let them run for about an hour. We then washed them with Dawn dish detergent. The results were amazing. The dogs even jumped in our pool later that day and the smell did not return even after getting wet. Hopes this helps anyone willing to give it a shot. (07/28/2008)

Removing Skunk Smell From A Dog
Our German Shepard loves chasing those funny black and white cats. We have used the baking soda, peroxide and shampoo mix before with success. The best thing to do is wash the dog with some kind of soap or detergent to break down the smell and get some of the immediate stink off. Then we usually have to make a run to the store for either baking soda or a big bottle of peroxide. It works very good.

I think getting some of the immediate skunk off before it odorizes the hair and skin and sets in is important too. I just stopped by to see if anyone had any other ideas. I notice in some of the posts people have said they sprayed their pet with Febreeze afterwards. As a WARNING: the Febreeze bottle clearly says its harmful and hazardous to pets. So, please DO NOT spray your pet with FEBREEZE. Good Luck. (07/29/2008)

By Genn
Removing Skunk Smell From A Dog
I didn't have peroxide on hand. So I made a creation. I used the baking powder, liquid detergent, and Skin so Soft from Avon. When I created the mixture, I made sure the consistency was like the thickness of conditioner. I used about a cup of Skin So Soft. It seemed to work. I may give the pooch another creation the following night. (08/12/2008)

By Nette
Removing Skunk Smell From A Dog
Okay, the tomato juice, sauce, paste (which left my pooch's fur looking like that of a pink stuffed animal) and hydrogen peroxide concoction didn't work on my 130lb Akita. I have now created the perfect solution, a combo of some of your ingredients and used my discretion on the measurements:
White Vinegar
Fresh Lemon Juice
Palmolive Dish Soap
Skin So Soft
Downey
Warm H20
I lathered and massaged this in Kuma's fur, rinsed it out and now he's smelling like a lemon mixed with a couple of spritzes of cheap floral perfume, which is a far cry better the the burned rubber reeking skunk stench he was smelling like minutes ago! (09/04/2008)

By Day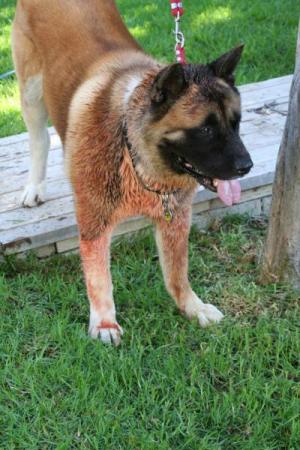 Removing Skunk Smell From A Dog
Just had it happen for the first time! Believe it or not. Summer's Eve Powder works amazing. First I bathed my American Indian dog with regular shampoo and mouthwash, then applied the powder and wow. It works. So awesome, best of luck to all of you! (09/27/2008)

By SpitFire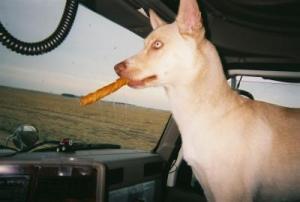 Removing Skunk Smell From A Dog
I had good success with Paul Krebaums skunk odor removal here:
http://hubpages.com/_2s2r4p8l5szx3/hub/How-to-Get-Skunk-Smell-Out-of-Your-Dog
One of my readers and then subsequent people that tried it also said adding beer and vanilla helped alot too:
1 Quart beer
2 Tbsp vanilla
(My cat Zorro just got skunked a few days ago but amazingly he has no skunk odor whatsoever now and I didn't use a thing on him!)

The live yeast cultures in the beer help penetrate the resistant oils in the skunk spray, and the dog's water resistant undercoat and skin, so that the hydrogen peroxide can get in there. The beer adds that sudsing factor you discussed, too. The beer makes all the difference. That's something I can't keep at the shelter, have to go out and get it each time. When I've skipped that ingredient, the results were not as good. The vanilla just adds a nice smell on the inner level and penetrates during the bath. (10/21/2008)

By Dorsi
Removing Skunk Smell From A Dog
My 3 year old Shaffordshire Terrier "Jewal" ran up on the back deck and rubbed her body against the back door, after being sprayed by a skunk. I put her in her dog run and then sprayed my deck and door with "Febreze Extra Strength". I then got my dog out of the run and sprayed her down with the Febreze, let her set for about 3 to 5 min. not long seeing as it was cold and windy. Now I could stand the smell.

So I brought her in the house and directly to the bath room and in the tub where I put the concoction of Apple Cider Vinegar, Baking Soda, and Dawn Dish Soap on her. Rubbed it in and let her set for about 5 min. rinsed her will with warm water and then dried her with an old beach towel. Then put her in a wire cage in the office to finish drying.

I then sprayed my kitchen, dining room, hall and bathroom with the Febreze. When the heater kicked in I put a sheet of Bounce on the intake panel and on the vent of the bathroom. I then made a fresh pot of coffee and set down to see what everyone else was doing for skunk smells on dogs and in their house.
It has been 2 hours since the Skunk ordeal, and there is no trace of skunk smell in my house.

Dog has faint smell on face but I wiped her down including her face with a Bounce sheet and that seem to do the trick. Just don't forget the Febreze and Bounce. I think that combined with the bath is what worked for me. May not work for me next time, but it did this time. Good Luck with your "Skunk Dogs". (11/20/2008)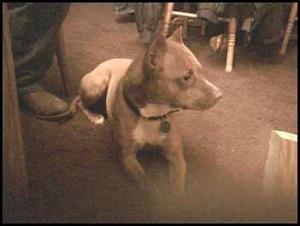 Removing Skunk Smell From A Dog
My Siberian husky loves being outdoors this time of year. I live in California so it is between 50 and 60 degrees outside. It is almost impossible to get her to come inside after I let her out. The other night, she came running to my back door wanting in, which was strange. I should have known something was up but stupid me opened the door before I realized she had been sprayed by a skunk.

I tried the tomato juice and it didn't help much. And the smell around the house was awful! I found a product called BON-CC-41 from BioWorld Products. They sent the product to me right away and gave me very good directions of how to use it. I got it the next day since we are both in California and I was so relieved when it worked.
I don't normally try new things but I was desperate and I have heard a lot of great things about this product. They lady I spoke to from the company said they have been getting many calls from skunk odor. I have never had any problems in the past 10 years at my house with skunks but they just started building new house down the street so I'm sure that is where they are coming from.
I would highly recommend the odor neutralizer from BioWorld because it will get the skunk smell out the first time you use it. I also rented a carpet shampooer and added the product to the solution and it worked. Awesome! (12/29/2008)