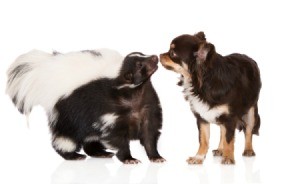 Is being spayed by a skunk harmful to dogs? Two of my dogs was sprayed but I think one was sprayed in the mouth she was drooling really bad and foaming when it happened?
Stacey from Taylor. MI
Answers

September 21, 2006
2

found this helpful
Best Answer
The safest thing is to call the local vet. They will tell you for certain, even if you aren't a client. However, I'm quite certain the answer is 'no'. They can cause temporary blindness, but flushing with water will help that. The whole defense of it is the odor. If it were needed to be poisonous, I'm betting God wouldn't have made it stink so bad. :) Remember that skunks are carnivors, so if they aren't living under your porch or something like that - they're keeping the mice population down. Mice come in for the winter, skunks don't.
By tone (Guest Post)
September 21, 2006
1

found this helpful
Best Answer
If your dog gets sprayed. Immediately wash his body down with water and vinegar (mild) and or tomato juice and even peroxide or even soap and water. Keep it away from the face though. Just flush and flush that face with water. I got sprayed by a skunk as a child and it is painful.
To the person that suggested shooting the skunks I personally think you are twisted. I don't care how much of a nuisance something may seem, we just do not kill it. Skunks are very beneficial to our environment. Just leave them be and they will leave you be,
By Matt (Guest Post)
October 6, 2007
2

found this helpful
Best Answer
My dog got sprayed by a skunk tonight. I took the persons advice above and called the 24hr vet. The nearest one is about 40 miles from me. The vet said no, it is not harmful, but very very uncomfortable. She said to flush the dogs eyes, and wash him with soap or shampoo. To flush the eyes, the vet suggested just to put the dog in the shower, and hold his eyes open with your fingers. Even if the dog doesnt like it, she said you need to overpower the dog and make it stand there for a good couple of minutes. This will relieve some of the pain from being sprayed. Hope this may help someone.

September 23, 2009
0

found this helpful
Best Answer
Skunk spray can be harmful to dogs. If the dog is sprayed in the mouth or eyes. Contact a vet immediately when this happens.
If left untreated a dog can even develop anemia or kidney problems.
Answer

this Question

My dog was sprayed by a skunk for the 2nd time in two months and so I am worried about him this time. Could it harm him at all considering it happened before so close together?
I am really worried about him. Is there anything I should watch for after bathing him?
Answers

Pghgirl40
Bronze Feedback Medal for All Time! 196 Feedbacks
September 18, 2019
0

found this helpful
Poor pup!! Just want for sinus issues--like runny nose, eyes, and heavy drooling. Most dogs are fine (angry and smelly) but have no long lasting effects from skunk sprays.
Maybe going forward it is best to just keep the dog on a leash and away from the skunk zone until they are gone for the winter.
Prayers for the pup!! So sorry you both are going through this. It seems this year skunks are far more aggressive than in past years. Not sure what is up with that! It is a bit scary. You are the second person this week who said their pup had 2 sprays in a short time.
Our friend is now keeping their guy in the house and only taking him for controlled walks because the skunks around them are so aggressive. OY!!

coville123
Silver Post Medal for All Time! 433 Posts
September 18, 2019
0

found this helpful
If the spray hits him directly in the face he can get ulcer's in the mouth or eyes , and tearing of the eyes,and runny nose.It is not permanent.

Judy
Gold Post Medal for All Time! 677 Posts
September 18, 2019
0

found this helpful
There is no permanent damage. It is just a nuisance because of the smell.

Ana
Bronze Post Medal for All Time! 140 Posts
September 18, 2019
0

found this helpful
Yes, watch him! You could call your Vet for assurance!

September 19, 2019
0

found this helpful
What an unpleasant experience for you and your dog - and - 2 times so close together.
If your dog was sprayed in the face you might want to keep close watch to see if it seems to bother his eyes or continues to have a runny nose.
I'm sure you already have a good bathing solution recipe handy but I did read some interesting stuff about skunk spray that I had not heard before. Notes from one vet site:
"Additionally, a second group of chemicals in the skunk spray remain on the hair coat and become activated (and smelly) when they are exposed to water in the future. This explains why pet owners frequently complain about the skunk smell coming back when the pet gets wet long after the first encounter."
"Saline eye drops can be used immediately after exposure to start the decontamination."
Since you are concerned about his health after a second exposure this seems to address that:
A trip to your veterinarian will be necessary if there is a spray in the face, a heavy exposure, or if your pet has red eyes, lethargy, vomiting, or shows any signs of illness after the exposure.
valleycottageanimalhospital.com/.../
Here are a couple of links that have instructions for bathing solutions:
www.humanesociety.org/.../de-skunking-your-dog

poehere
Bronze Post Medal for All Time! 105 Posts
September 23, 2019
0

found this helpful
Most dogs are fine but considering your dog is a puppy I would keep an eye on his eyes and make sure they are not red and runny with some gunk coming out of them. If you see this you should take him to the vet for eye drops or you can wash his eyes out with a saline solution.
Read More

Answers

My Jack Russell mix was sprayed by a skunk last Friday. We cleaned his face and washed him up right away. But two days later he started coughing and throwing up. We brought him to an emergency vet visit and they told us that he has kennel cough. Last night as he is laying in bed with me coughing I was trying to comfort him and I smelt a strong oder of skunk only while he was coughing.
He has done this a few different times today as well. He really hasn't been eating, drinking a little bit, and not quite himself. I am really starting to worry, but don't know what to do. His gums as still nice and pink and he is going to the bathroom regularly. I need help.
Answers

September 9, 2016
1

found this helpful
You are thinking he may have aspirated skunk spray and it is in his lungs. It's likely he actually aspirated his own vomit. This could lead to something worse if not treated, such as pneumonia. Either way, he should still be treated because both conditions lead to fluid buildup in the lungs.
Was your dog boarded recently? Does he spend a lot of time with other dogs, like the dog park? If the answer is no, it is unlikely, though still possible, that he has contracted kennel cough. When a dog is coughing but there is no other obvious reason, vets just assume it's kennel cough.
Whether he has aspirated skunk spray, his own vomit, or has kennel cough, the ultimate outcome is fluid buildup in the lungs and it can become infected. If your dog's cough is productive, he might get rid of this fluid on his own. That may be what the "vomit" you are seeing really is. If he keeps coughing, becomes lethargic, stops eating, runs a temperature, etc. he has developed an infection and needs antibiotics right away. So all i can tell you is definitely keep an eye on it.

September 13, 2020
0

found this helpful
So I just read this guys post About his dog getting sprayed by a skunk and then a few days later his dog started coughing and not feeling well. Well Tues my three dogs got into a fight with a skunk and all of them were sprayed as well. All three of them are coughing now and acting like they have kennel cough. But its from the Skunk. They havent been anywhere knew and they all got sprayed a lot by the skunk. Im worried about them. Im going to go to the vet tomorrow and I guess maybe they should have X-ray to see if they have any fluid built up just in case. I told my husband it sounds like our dogs have kennel cough but they havent left our property at all and they all got sprayed by a skunk a last Tuesday.
Answer

this Question