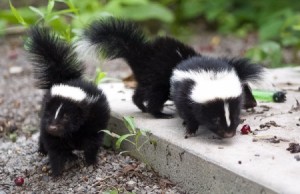 What should I use to wash my car that will help get rid of skunk smell?
By Jessie

Answers
June 25, 2013
0

found this helpful
Vinegar and baking soda remove skunk smell, as well as urine stains. Spray a 1:1 Mix of vinegar and water, spray area heavily, and swab up as much liquid as possible with a cloth. Sprinkle the wet area with baking soda and wipe then vacuum when dry.

March 8, 2014
0

found this helpful
Hi, kumarihpx. That sounds easy enough. A few follow-up questions for you:
1. My dog was skunked, then got in my back seat. Will your solution be strong enough to solve my extreme problem, too?
2. What ratio of water/vinegar do you suggest?
3. My cloth interior has a tan-ish color....does your solution stain?
4. I frequently drive my mother around in my car and she is EXTREMELY sensitive to odors of all kinds.
Now, don't get me wrong...I would rather have a vinegar smell in my car than a rancid skunk odor but, I'm wondering, could you tell me if your solution will leave much of a smell after I complete the process?
I know I have a lot of questions, but I would really appreciate any additional comments you would be willing share. Thanks so much for your help!

November 4, 2018
0

found this helpful
All you have to do is just put up with it(mask with air freshener) for a couple weeks, max. It will eventually dissipate on it's own. Just leave car windows open.
Or you can also buy a plug in(cig lighter or wall) Ionizer. If you get one of those, roll up all windows and let run for several hours(ideally overnight). The Ionizer adds an oxygen molecule to the air. Effectively changing the molecular makeup of the odor itself. And eliminating it.
Answer

this Question

How to get the smell of skunk out of my car? The seats are leather.
By Cathey Sides from Huntsville, TX

Answers

June 3, 2018
0

found this helpful
Get a non oil based tomato paste and soak a rag in it then rub/dab lightly on the leather. Then take a a soapy rag and dab/rub that on the leather and finally rub it clean with a wet rag
Answer

this Question
I ran over a skunk on Saturday night. I thought it was a possum, so I opened up the windows to see if it was a skunk or not by the smell. Of course, it was a skunk, and now my car reeks of skunk. Does anyone know any ways to get the smell out of the interior of my car?
Read More...