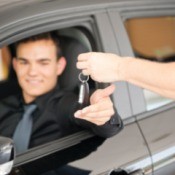 The poll about leasing a car reminded me of our renting cars for long trips. My husband thought it was better to rent a car than use ours. Why put miles and wear and tear on it? So when we travel we rent a car and never worry about anything.
By Great Granny Vi from Moorpark, CA
Comments
By s (Guest Post)
February 17, 2006
0

found this helpful
Top Comment
My husband did the same thing for long trips. It seemed a little extravagent, but at the same time the feeling of relief of not putting the strain on your vehicle is worth it. Especially making wrong turns, etc on a trip would frustrate me to no end, but now knowing it's not my vehicle mileage it's easier to deal with.
I use entertainment coupons for renting and also whatever else I can find, such as a Sam's club membership.
February 17, 2006
0

found this helpful
Top Comment
Dorie, The cost is less if you shop around.It saves on your own cars wear and tear, tires/repairs etc. And if you have insurance on your car it should apply to the rental also..You don't need to pay for theirs.Check with your ins. to be sure.And yes Tedebear ,asking for a discount is always an option, AARP and AAA club both are available in most cases.
GG Vi
By Cindy (Guest Post)
February 18, 2006
0

found this helpful
Top Comment
We took our son on a high school graduation trip in 2001. My brother, his wife and their granddaughter went with us. That made 8 people. We rented a 15 passenger van. This gave everyone plenty of room. When we reached Los Angeles it also allowed the relatives we were visiting to ride with us. We had a 3 week rental with a total of 4500 mile allowed. We had 32 miles to spare. This was one of our best trips ever and the cost was $1200.
By Ashley (Guest Post)
July 11, 2006
0

found this helpful
Top Comment
We rent if we are going on a trip because of gas mileage. Our vehicles are good for short day trips, but when my mom and I went to Lubbock, TX to look at Texas Tech which is 9 hours away from my house, we rented a car. We had a Dodge Ram 1500, and it was much cheaper to rent and pay gas than it would have been to pay gas alone in the truck.
We rent from Enterprise and they have good weekend deals, not sure about rentals over a couple days long. We usually take our car to the rental place and drive both home and do the same to return!
Read More Comments