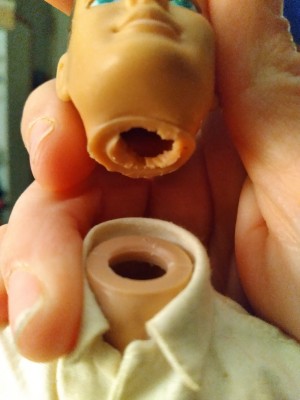 How do I fix my vintage Ken doll's broken neck?

Answers

April 21, 2021
0

found this helpful
Best Answer
If you want it to retain any sort of value (usually it needs to be in great condition and you still need the box) then take it to a doll doctor. Otherwise, use a glue. I am a fan of gorilla glue and super glue.

April 21, 2021
0

found this helpful
Best Answer
You can clean it up and glue it back together but the neck will not move and may be okay for play but cannot be of value if you're thinking of selling.
It looks like someone has already tried to repair by gluing the pieces together? or this is remnants of the neck piece that is now gone missing. Clean all of the stuff from the head neck hole so it will be smooth when you put the head and body together.
The neck 'knob' is broken off so you will have to try to buy another one - this is the piece that goes inside the two pieces. This vintage Ken may have had a piece on the head that sort of twisted on to the body but I believe you will have to try and use a neck knob now.
There are lots of YouTube videos about this subject but not very many actually deal with your problem.
You can purchase these knobs but not sure of the size you need. Here is a site that sells parts so you might contact them to see what they have.
retro-dolls-us.myshopify.com/.../80-s-90-s-barbie-replacement-neck...
You should also check craft stores like Michael's or Jo Ann's to see if they carry these parts.
It looks like Etsy has an assortment:
www.etsy.com/.../doll_joint?ref=cq_tag_raised_image...
YouTube videos are not very good on this subject so you may have to ask for help. If eBay member you can ask on their community site:
community.ebay.com/.../2973947
You can also ask for help on this doll site:
www.tapatalk.com/.../

Pghgirl40
Bronze Feedback Medal for All Time! 196 Feedbacks
April 21, 2021
0

found this helpful
Best Answer
Are you asking to sell or for play?
If it is for selling, I would sell as is and let the new owner repair it to his/her specs.
If it is for play, you could use Gorilla glue, but not if it is going to be played with by a child that could put it in his/her mouth as that adds danger to the doll (first breaking off again and second the glue content.
Some people have much better luck with Locite Plastics Bonding System Glue. I have never tried it...luckily I have never had this kind of damage on my dolls so I never had to, but this is what the pros use.
If you can afford it, a doll hospital is the best bet for a good fix that will enable the doll to be safe and able to be enjoyed!
Post back what you decide!

DianaHM
Bronze Post Medal for 2021. 31 Posts
April 27, 2021
0

found this helpful
Best Answer
If you want to sell this doll, then it is probably best to sell it as it is. I saw how doll heads are sold separately from the body.
If you want to fix it for yourself, then you can glue the head to the neck with any strong glue, but then the head will not move.
To make the head move, you can fill the neck up to the shoulders with modeling paste and screw into the neck (in the paste in the neck) a screw with a head slightly larger than the hole in the head of the doll, or add a plastic spacer of the desired diameter to the screw. The main thing is to decide on the height of the screw head so that the head rests well on the neck.
Smooth the surface and leave to dry very good for a few days.
Then just stick the head of the screw into your head of the doll.
Or, using silicone (for example a general purpose silicone thats used to seal around shower bases), form a bead at the bottom of the head (add inside too), which at the end will be slightly larger in diameter than the hole in the neck of the body: jenjoysalldolleduppage.wordpress.../.../
Let it cure very good for several days. And then force the head back into the body.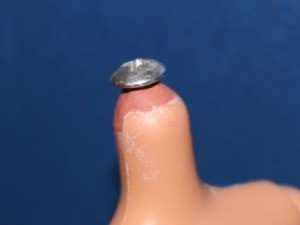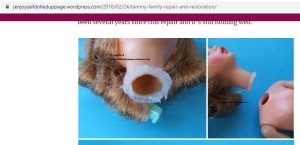 Read More

Answers