Repairing Paint Brushes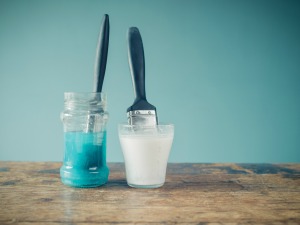 The best course of action for maintaining your paint brushes is to clean them thoroughly after every use. But there are times when this does not happen. Depending on the type of paint used there are ways to revive a stiff brush and remove the old paint. You can even temporarily slow or stop the loss of bristles. This page contains several suggestions for repairing paint brushes.
Solutions
Share on ThriftyFunThis page contains the following solutions. Have something to add? Please share your solution!
Sometimes when I'm painting crafts and whatnot, the bristles of my paint brushes will fall out. I know the easiest way to fix this is to get better quality brushes, but since I don't want to completely waste the ones I have, I have a little trick to temporarily help with the bristles.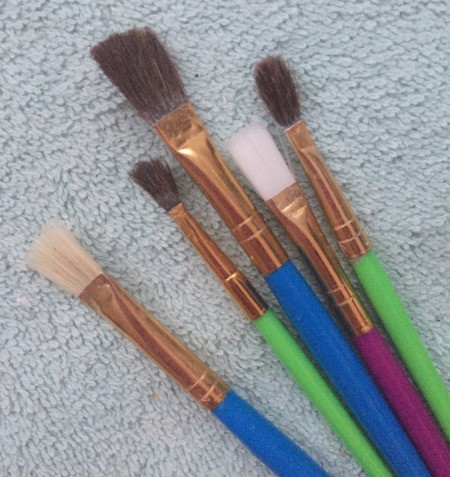 What I do is take a little bit of Super/Krazy Glue and glue around where the bristles meet with the ferrule of the brush. Then while the glue is a little bit tacky, I take pliers and crimp down on the ferrule and bristles. Once completely dry, I've found that I can go a lot farther with painting before I notice any more bristles falling out.
It's always good to clean your paint brushes after each use but if you forget and the paint dries on the brush you still may be able to salvage the brush. Just soak the brush over night in cleaning solvent for the type of paint you used.
If you used water soluble paint, soak the brush in water. If you used oil paint, soak the brush in turpentine. The paint can should tell you what solvent should be used.
Whether you're using oil paints or acrylics, inevitably your paintbrushes will take a beating.
Even if you are doing what you're supposed to with the paintbrushes, they will inevitably become hard, stiff, and eventually useless. There are semi expensive fluids you can buy that will heal brushes, but I found a better option.
Total Time: 1 hour to 24 hours
Source: I had at one point purchased a pricey 'brush restorer' fluid but then I realized the same main ingredient was the same as the one found in common nail polish remover.
Supplies:
dirty, old, tired brushes
nail polish remover
soap
paint thinner/turpentine/turpatine, etc. if needed (only relevant for oil based paints)
Steps:
To restore brushes ruined by dry acrylics, just soak them in nail polish remover for 24 hours and you will be amazed at the results.
To fix brushes damaged by oil paints, only soak for an hour at most; for most stiffness due to not properly cleaning oil brushes, just a 20 minute soak will be enough.
It is important not to leave the brushes in the nail polish solution for too long because the acetone will quickly wear away the brush bristle and make the brush frayed, which you do not want! So, especially if you have expensive brushes, test them frequently and pull them out of the solution as soon as you feel the stiffness go away.
After you have soaked the brushes in the solution and felt their flexibility return, wash them thourougly with soap and warm water. This is important so as to get rid of the chemical that will eventually wear the brush away.
NOTE: please be careful because the solution will wear down the paint of the brush as well. Try to only soak the metal part that adheres to the bristles, i.e. just the part that's showing in the photo.
BONUS: restores paint!
Say you're working on a great project, in acrylic, but you realize that your tube has dried up! Oh no! What to do? Rush out and buy more, or use the magic substance to reconstitute the paint?
Yeah, that's right, the nail polish remover will reconstitute entire tubes of acrylics, gouache, and any other dried out water based paint! (turpentine and mineral spirits work for oils)

Just add a few drops to a teaspoon of the stuff to the paint, stab the paint so that the fluid penetrates, leave it be for a half hour or more, and watch the paint reconstitute itself.