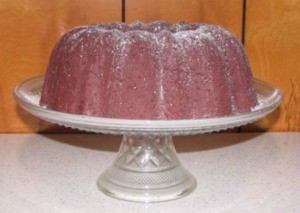 I recently discovered that newspaper can make a great pulp to make faux foods. I've been wanting a faux cake to display on a cake platter. To create this piece, shred a few sections of black/white newspaper (not the shiny ads), and soak in hot water for about an hour.
Then place a small amount of shredded paper in a blender with two cups of water and blend until smooth. If paper is not blending well, add more water. Blend for about 30-60 seconds.
Pour mixture into a metal strainer and press until pulp will hold a shape on it's own.
Once you have enough pulp for your project, add 3 tablespoons of salt and 3 tablespoons of white glue to the pulp and stir well. The salt helps to prevent the paper from spoiling while it is drying and the glue helps to hold things together.
Spray the pan/mold with a non-stick cooking spray and press the pulp onto the sides of a pan/mold so that the edges are about 1/4-1/2 inch thick. Set the mold in front of a fan for several hours a day until the mold is dry. This could take a day or two to dry or as long as a week depending on size of mold and thickness of pulp. Once it is dry to the touch, flex the mold slightly in your hands until the paper mold pops out of the pan.
If it does not come out, it probably needs to dry more. Once dry, project can be primed and painted. If you want a matte look, don't seal it or seal it with a matte sealer.
Decorate as you like. In this case I used a talcum powder to look like powdered sugar. You could also use baking soda or a craft paint to make it look like frosting.
By Dottie B. from Pennellville, NY
Read More Comments
At Sunday School, we recognize the kids' birthdays, but it seemed sort of boring without a cake and candles, so I made a pretend one. Schoolteachers could also use it in their classrooms. Or use it as a table decoration for your child's party, especially if you are serving cupcakes or cookies instead of a big cake. This idea would work for a wedding cake as well.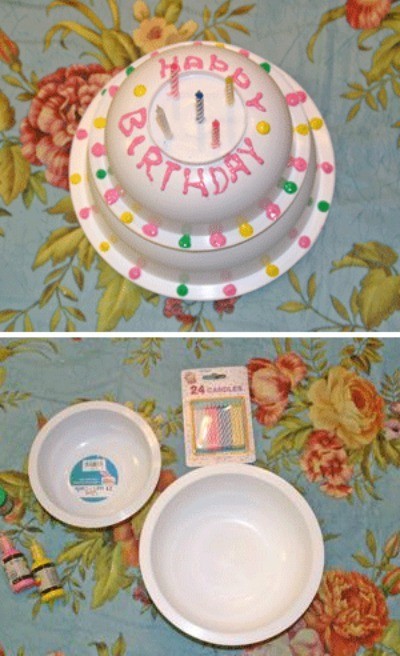 Approximate Time 15 minutes, plus paint drying time
Supplies:
1 white plastic cereal (20 oz.) bowl
1 white plastic serving (40 oz.) bowl
fabric paints in desired colors (We used pink, yellow, and green "Scribbles" brand).
hot glue
awl or ice pick
birthday candles
Instructions:
Heat pointed end of awl or ice pick in flame on stove. (Adults only!)
Turn small bowl bottom side up. Poke five holes in bottom of small bowl to size needed for candles. (Don't make them too big or candles will fall through).
Turn big bowl bottom side up. With hot glue, attach small bowl to the big bowl, resembling a two-tiered cake as shown.
Write "Happy Birthday" on cake with paints. Decorate as desired. I just used simple dots, but you could get fancy, even add rhinestones, tiny roses, etc. Add candles.*
*You could also use this idea to make a wedding cake for a bridal shower. Omit candles, and place plastic bride and groom on top. Decorate with white pearls-by-the-yard, etc.
Caution: don't leave this faux birthday cake unattended within the reach of small children who might be tempted to light their own candles!
By Cindy from Waynesburg, PA
Read More Comments