At Sunday School, we recognize the kids' birthdays, but it seemed sort of boring without a cake and candles, so I made a pretend one. Schoolteachers could also use it in their classrooms. Or use it as a table decoration for your child's party, especially if you are serving cupcakes or cookies instead of a big cake. This idea would work for a wedding cake as well.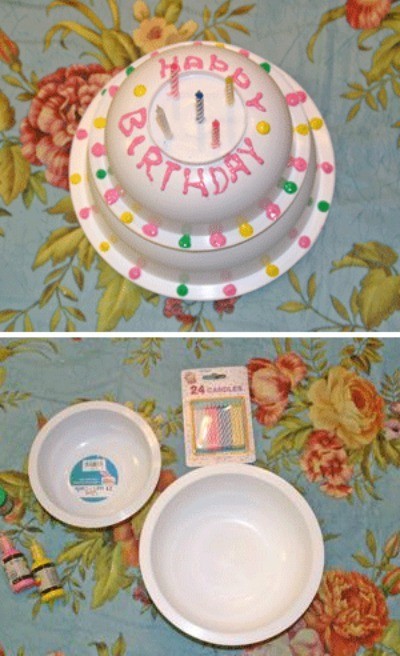 Approximate Time 15 minutes, plus paint drying time
Supplies:
1 white plastic cereal (20 oz.) bowl
1 white plastic serving (40 oz.) bowl
fabric paints in desired colors (We used pink, yellow, and green "Scribbles" brand).
hot glue
awl or ice pick
birthday candles
Instructions:
Heat pointed end of awl or ice pick in flame on stove. (Adults only!)
Turn small bowl bottom side up. Poke five holes in bottom of small bowl to size needed for candles. (Don't make them too big or candles will fall through).
Turn big bowl bottom side up. With hot glue, attach small bowl to the big bowl, resembling a two-tiered cake as shown.
Write "Happy Birthday" on cake with paints. Decorate as desired. I just used simple dots, but you could get fancy, even add rhinestones, tiny roses, etc. Add candles.*
*You could also use this idea to make a wedding cake for a bridal shower. Omit candles, and place plastic bride and groom on top. Decorate with white pearls-by-the-yard, etc.
Caution: don't leave this faux birthday cake unattended within the reach of small children who might be tempted to light their own candles!
By Cindy from Waynesburg, PA