Cleaning Paint Brushes
Solutions
Share on ThriftyFunThis guide contains the following solutions. Have something to add? Please share your solution!
Hardened paint brushes can often be made as good as new by simmering them in boiling vinegar for a few minutes, then washing them in soapy water.
By Ron from Cortez, CO
Here is the absolute best paint brush cleaner recipe known to man:

I take a sherbet-sized plastic container filled 2/3 with water and I add 2-3 drops dishwashing liquid.

Now the secret ingredient: Add I Tbsp. of liquid fabric softener. Mix together (it will take 30 seconds or so for the fabric softener to mix nicely in the water)

Now, take your brush (which you should have already scraped much of the paint off into the can) and dip into the "Wonder-Mix" (I just made that up). Swirl it around, then put your hands in and watch the paint simply disappear from the brush.

See, the laundry softener is a surfactant and pulls paint right off the bristles. Now, remember, never put the metal ferule of the brush in the water or you will have a rust problem.
To clean a 6 inch brush, it takes about 1 1/2 minutes. Rinse the brush in cool water, lay flat on a fluffy work towel to dry and feel the softness of your hands.
Next time you use this brush, the bristles are super soft and will hold more paint without dripping, another benefit of a surfactant.
I've washed plenty of rollers in the exact same proportioned mix, but used a higher bowl and had to dip both ends in the mix - the the paint simply said "bye bye". Isn't it nice not to use those nasty chemicals or spend 2 hours rinsing and rinsing your brush until your hands are all wrinkly and dried out?
Source: I've been painting for years and have tried just about everything to make this tedious task less awful. Then I fell into this. It was a total accident. I thought I'd put liquid clothing detergent in the mix - then found out if was the 99 cent fabric softener!
By Barbara from Wickliffe, OH
Vinegar wins again. I was replacing a few floor tiles. I uses a floor patch that is sort like a cement. I used a old paint brush to feather the edges. The floor patch dried on the brush and parts became hard. I did not want to throw my $1.00 brush away. I am a bit thrifty. It has many other uses to come. I soaked in vinegar water for a day and the brush cleaned up, no more dried floor patch. I will get a few more years out of my paint brush.
By Shirley C. from Calumet City, IL
Use a laundry bottle. Cut the handle at the top just before it curves to join the bottle. You should have a straight tube that connects to the bottle at the bottom of the handle. This is the holder for a brush that has been washed and needs to dry without bending or distorting the bristles. Cut off the main part of the container about half way down. This is the washing/soaking reservoir. Fill with hot water and a little detergent. Insert bristle end of brush and swish around, massage the bristles, maybe even comb them with a wide pronged brush cleaning tool. When clean, rinse with clean water and set handle in the opening to the cut off handle of the bottle and leave to dry.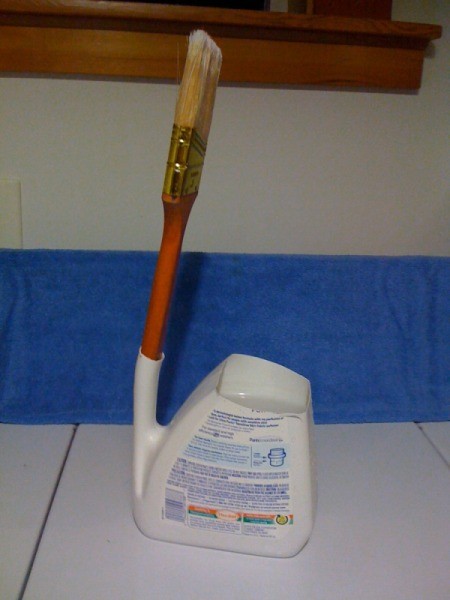 Depending on the shape of the container, the top might be used as a funnel
(plug the hole where the handle was attached) or with the lid on it might be able to be used as a scoop.
Total Time: 15 minutes at most
Yield: one
August 25, 2004
0

found this helpful
It's always good to clean your paint brushes after each use but if you forget and the paint dries on the brush you still may be able to salvage the brush. Just soak the brush over night in cleaning solvent for the type of paint you used.
Read More...
After cleaning your paintbrush, wrap the bristles tightly in a dry paper towel folded in half. The towel will get damp so you can shape the bristles in their original shape.
When it dries, it will hold them clean and straight and ready to use next time.
Vegetable oil cleans paint brushes and keeps them soft and pliable.
Read More...
January 8, 2007
0

found this helpful
Don't mess around with cleaning brushes and paint tools inside your home. Take them directly outside, being careful not to drip inside the house, and clean them on your lawn with a hose.
Read More...
Related Content