Repairing Sandals


Monica
Silver Post Medal for All Time! 297 Posts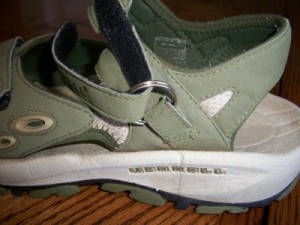 I purchased a pair of sports sandals for $.50 at the thrift store. I hadn't noticed a plastic clasp was broken on one side of a sandal. Since there was no way to wear the sandal and the plastic piece couldn't be fixed, I decided to get pliers and completely break the piece off the sandal and do the same to the other side. I knew I didn't have anything to use for replacement pieces for the sandals and didn't want to throw them away. I didn't have money to pay for their repair either.
I realized whatever I needed had to be something flat, to slip the strap through, and that I needed two of them; one for each sandal. I ended up using a plain key ring, which works nicely. It was tricky to attach at first, but does serve the purpose. I'm glad I can use the sandals for a long time to come and the repair was free, using what I had on hand!
By Monica from Cortez, CO
Read More

Comments
11 More Solutions
Share on ThriftyFunThis page contains the following solutions. Have something to add? Please share your solution!

I have a pair of sandals that I got about 2 years ago at the thrift store. I wore them so much, they got pretty ratty on the part where you put your foot in and the foam part of the padding started coming up.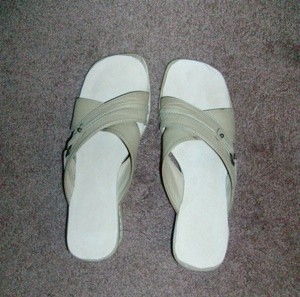 Read More...

Holly
Silver Post Medal for All Time! 364 Posts
I have some rubber after sport sandals that I find to be very comfortable. Unfortunately, the straps disengage long before the sole wears out, rendering them useless.
Read More...

If your sandals are just a little bit to big and won't stay on your feet, just simply use a cork board tack to make a new hole for the buckle to go though. Then they can comfortably stay on your feet.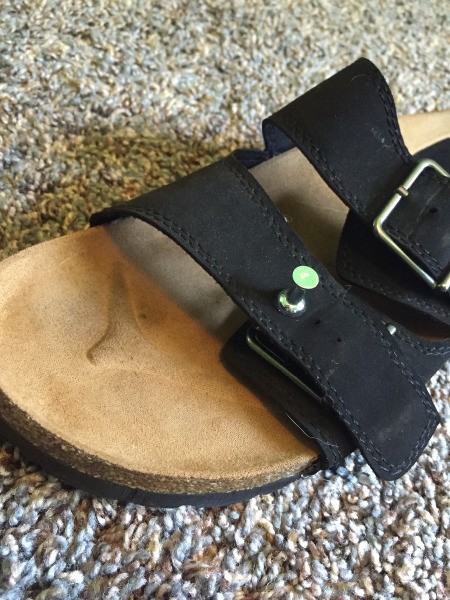 Questions
Ask a QuestionHere are the questions asked by community members. Read on to see the answers provided by the ThriftyFun community or ask a new question.

I got a pair of sandals and the buckle has ripped apart. Shown is a picture of what it should like. They aren't an expensive shoe, but I wanted to try and fix them. I had an idea of using heavy duty glue, but thought that may come off again. Or maybe sewing it? I'm not too sure, I don't know if anyone has any advice?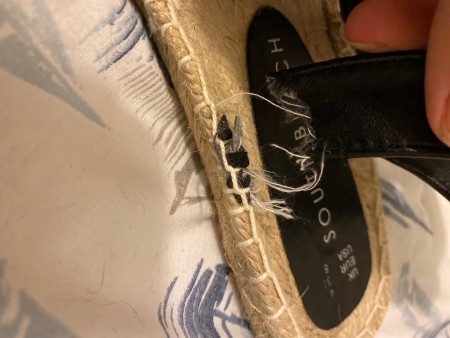 Thank you!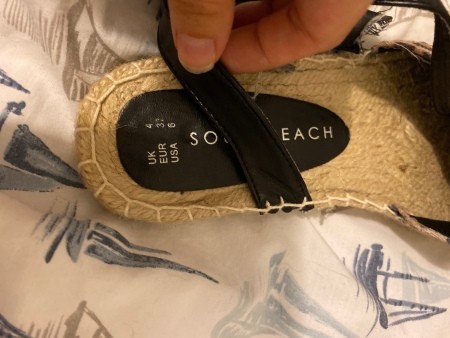 Answers

Pghgirl40
Bronze Feedback Medal for All Time! 196 Feedbacks
August 16, 2020
0

found this helpful
Best Answer
That is a tough fix. You can try sewing with dental floss or some other waxed thread and a curved needle (I got mine at Michaels years ago) and see if it will hold, but sewing on shoes usually does not last long. I can tell you regular thread won't even last a day so use waxed to start and you may have better longevity.
Glue is most likely not going to work on those materials so I would not bother to try that. Post back with an update!

poehere
Bronze Post Medal for All Time! 105 Posts
August 16, 2020
0

found this helpful
Best Answer
They look like they are sewn originally with some jute cord when they ere first made. It also looks like where they punched the holes to sew this was a bit too close to the edge of the leather. You are going to need to get a thin piece of leather and put over the place where it is ripped to reinforce the place where it should be sewn again. Now take a hole punch and punch the holes in the leather again.
You can now do this one of two ways. You can find the knot where they have tied it off and remove the knot and unlace the sewing on the sole of the shoe and attach it again. Second, you can get some more cord-like that is on the shoe already and cut a piece of the cord off, tie a knot, sew it again and then tie another knot.

August 16, 2020
0

found this helpful
Best Answer
I think I would try heavy fishing line as it is about the strongest 'thread' you can buy.
Try to find a large eyed needle and curved might work better.
Try Walmart for the fishing line and some Walmart's still have sewing sections: otherwise you might have to try Michael's or Jo Ann's for a good needle.

poehere
Bronze Post Medal for All Time! 105 Posts
August 22, 2020
0

found this helpful
Best Answer
As you can see by the photo the leather has broken off because the holes were too close to the edge of the leather when the shoes were made. If you are to fix this and have it fit the foot again you can not just sew the leather back to the base of the shoe. The leather needs to be reinforced in order for it to be sewn again and hold correctly on the base of the shoe.
If you do not add another piece of leather to the end of this then it will just break again because it is not strong enough to hold the pressure when walking in the shoe. Adding a little extra leather to end of this strap will give you the room that is needed to sew it again on the base of the shoe.
Answer

this Question

janice
Bronze Request Medal for All Time! 53 Requests
Does anyone have a simple, fast way to repair flip flops? My DD's are slightly torn where the strap goes into sole. The strap will not stay in so she can wear them, and not sure what kind of glue would work on foam rubber flip flops.
They are cheap ones from the Dollar Store.
Answers

June 12, 2008
0

found this helpful
Best Answer
Hi Jmz, I have been wearing flip-flops for years some can be fixed others ya just have to say goodbye. Here's one way to fix them. If the only problem is the hole on the bottom has gotten loose, get a empty two liter Coke bottle cut a circle about one or two in.
cut circle half way- to the middle, then cut small circle from there just big enough for the part that goes between the toe, now turn shoe over slip plastic around toe part. I hope I'm explaning this correctly, I'm still working on my first cup of coffee.
By Artlady (Guest Post)
June 12, 2008
0

found this helpful
Best Answer
My mom would use a large safety pin to fix them. Feed the piece through the hole. Push the pin through the tip horizontally. It should lie flat on the sole. I'm not sure how long this lasts. I just know if we were out and our flip flop broke, she always did this. She would also cut the canvas toes out of our tennis shoes when they got too short! Boy, that was a long time ago. Talk about frugal. This gives me a good laugh!
Answer

this Question

I'd like to know if anyone has found a solution (like an adhesive substance, etc.) to put on the insoles of slip-on sandals (slip-ons, not between the toes, just wrap around top of feet). I've had this problem forever with this style, much as I love them.
My GF just bought me these 100.00 pair of very nice leather slip-ons, they are beautiful, with great soles, etc., but they will not stay put! Every step they just want to fling off out front. Tragic. I was thinking maybe rubber cement, spray-mount (yikes), or God knows what. Mayne I could stick rubber strips in between as I put them on (shims)? Whatever. If anyone has solved this centuries-old problem, please write!
Thanks.
Answers

September 28, 2018
0

found this helpful
Best Answer
Perhaps those anti-skid strips that are put on stairs or bathtubs would help. Just a thought. Good luck!

September 29, 2018
0

found this helpful
Best Answer
I asked a friend what she used and she said hair-spray!
I have heard of using double-sided tape and inserts but using hair spray is a new one for me. Then I looked it up and sure enough it is one of the solutions suggested.
I like the cushions for the balls and even under the heel as they feel good and seem to do the trick for me.
Answer

this Question

I just bought a pair of Bass sandals. They're comfortable suede, but with each step I take, the air is compressed out of the footbed, making a squishy sound. Anyone know how to stop the sound?
EleanorN from Indiana
Read More

Answers

I have a couple of really comfy pairs of sandals, but have scratched the tops of them where I have accidentally dragged my toes along the ground whilst walking! They still have a lot of wear left, but the only part of the sole you can actually see is now all scratched. Any tips on how to cover this up?
Read More

Answers
The other day I got caught out in a heavy downpour while wearing a pair of suede sandals - Birkenstock style. Now they are all stretched out! Is there any way to shrink them back to their original shape?
Thank you for all of your help!
Anna
Answers

September 24, 2005
0

found this helpful
if you leave them in the car for a few days they will shrink, I found this out by accident when i left leather shoes in the car when I changed them between outing...that should do it...must be the heat in the car....
Answer

this Question
If you have a blown out flip flop, you may be able to temporarily thong to stay in place with a plastic bread clip. Use a bread tag for a broken flip flop for a quick and easy fix for your footwear.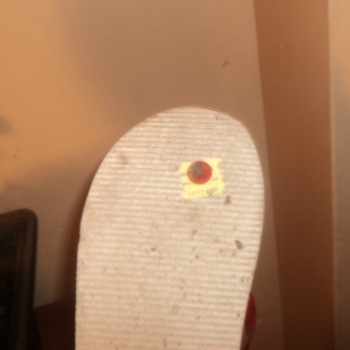 This is a page to fixing squeaky sandals. Squeaky sandals can be truly annoying to listen to and sometimes difficult to fix.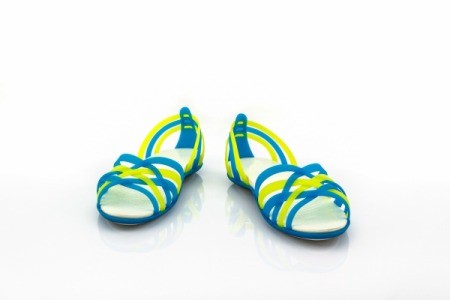 Published by ThriftyFun.
© 1997-2022 by Cumuli, Inc. All Rights Reserved.
https://www.thriftyfun.com/Repairing-Sandals.html