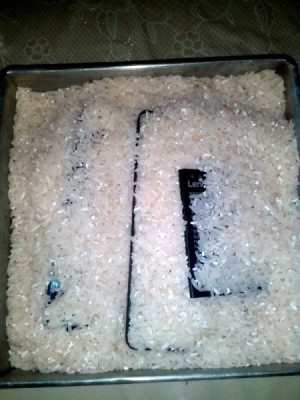 I had never been interested in buying a smart phone because they are too expensive and cheaper phones are more durable. I was afraid that I am too clumsy to have such a large and expensive phone.
I have dropped my Nokia 3310 many times, but who cares? The Nokia 3310 is well known to be one of the most durable phones. When it totally died after 8 years, I finally decided to buy a smartphone because of all the features they have. I still was afraid of dropping it on the ground, or even worse, dropping it in water.
My worst fears were realized when I dropped my smartphone in a tub full of water. I was frustrated and sure that there was no hope for my phone. I tried to wipe it with a cloth, but it shut down in a few minutes and wouldn't turn back on.
Just as I was accepting the demise of my phone, I remembered a post I saw online. An iPhone was found by its owner a week after being dropped in the snow. The iPhone was placed in a tub of rice grains overnight and it worked the next day.
So I buried my wet smartphone in a bowl of rice grains overnight. The next day when I tried to turn on my dead phone, it turned on and worked properly again.
If your phone gets submerged in water, remove the parts and take out your sim card. Bury the parts of your phone in rice grains and it will absorb water and may work properly again. I have heard blow drying your wet phone is dangerous. So instead, it's better to use rice grains to try to save your phone.