I brought a Coney Island merry go round 4 years ago. The girls were too young to have it. Now at 5 years old, it's been packed away in the box, the carousel won't turn. The lights and music work, but the table won't turn. Is there anyone who can fix it? I payed $150. for it. It's a beautiful item.
By Lorraine from Washington, DC
Answers

January 10, 2012
1

found this helpful
Best Answer
There is probably a speck of rust or dust interfering with the movement gears. The best thing to do with an item this costly is to take it to a jeweler for repairs, music boxes have such tiny parts that the specialised tiny jewelers tools (and repair skills) are what are needed to do the work.
If it were mine I wouldn't even try using a canned air spray to try to clean the insides because of the delicacy-too great a chance of dislodging a tiny vital piece, and possibly losing it altogether.

gem
Bronze Post Medal for All Time! 163 Posts
January 10, 2012
0

found this helpful
Best Answer
Check first to see if it has a stop somewhere. Then you may need to take it apart and see if all the solder is alright. I would recommend you take it to someone who knows how to repair soldered items.
I have one too and I love it but it can be very hard to care for. I keep plastic over mine when not in use. Good luck.
Answer

this Question

I've taken it apart and put it back together to find out what the issue was and it seems like it's missing something? When I first got it, the thing was wobbly. It's supposed to play music when I spin the lid but the horses and top just comes off.
I believe there's a piece missing and that's why it's wobbly. I found a video on YouTube and it's supposed to be a wind up. The top is supposed to allow it to be winded up.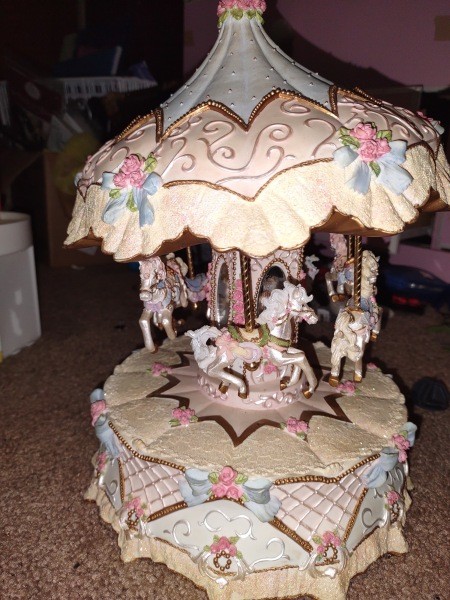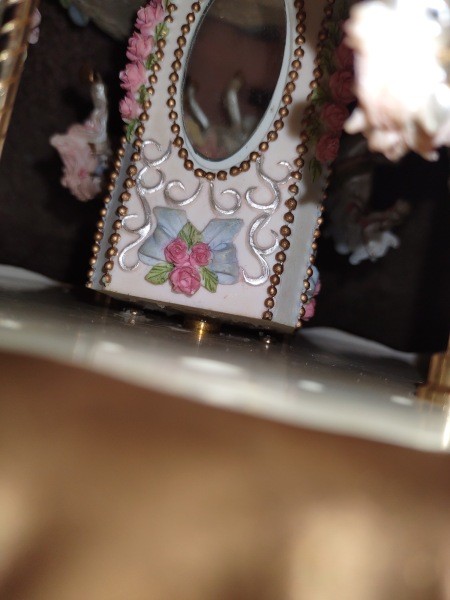 Answers

July 25, 2022
0

found this helpful
Best Answer
I have this exact same carousel sitting on a shelf in my office and it does wind by the top, which probably will make it difficult to repair.
There are several YouTube videos showing different segments of repair but I doubt these will help you. However, most of these sites have a contact link that you may be able to use to ask question.
At least it may be worth a try.
www.youtube.com/watch?v=Z8N9rv9Muvw
www.youtube.com/watch?v=tK029pEwPnI
The following site is a 'repair' site but they have this comment in their ad so you might try them also.
"Sometimes we can talk you through repairing a simple problem
at even less expense to you.
Don't hesitate to contact us:
Call 888 88G CLEF (888 884 2533)"
www.musichouseshop.com/.../music-box-repair-and-restoration...
Answer

this Question

I have a San Francisco Music Company Merry-Go-Round. The music works, but not all horses go up and down. I cannot remove the center post.
I can get into the bottom, but how do I remove the tent top and get inside where the horses poles operate?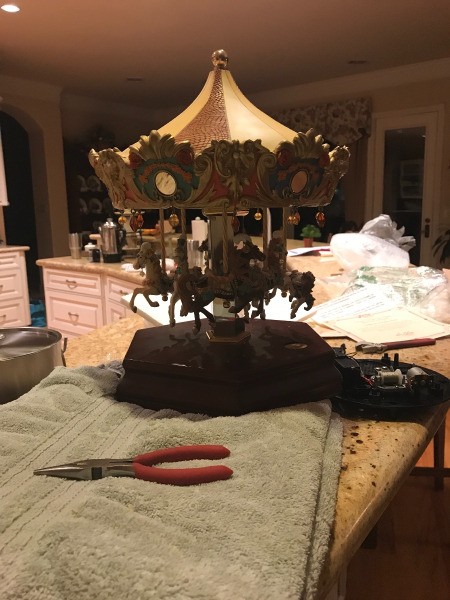 Answers

Judy
Gold Post Medal for All Time! 677 Posts
November 28, 2017
0

found this helpful
I would take this to a jewelry repair shop. They have the tiny tools needed to get into the mechanism.
October 12, 2021
0

found this helpful
The brass ball on top unscrews and allows the top to be removed. I was then able to remove small screws on the underside of the top. There were six gears with a small plastic spur gear pushed on the end of the shaft. The shaft is approx.
2.95 mm in diameter. The gears had an outside diameter of 7 mm. and are 5 mm wide with 12 teeth. I ordered them from China through eBay, 10 gears for $1.49 plus shipping. I found the original gears to be cracked and broken.

April 4, 2022
0

found this helpful
Do you have the link for the gears you bought on eBay ? Please email to elean66@gmail.com. Thank you
Answer

this Question