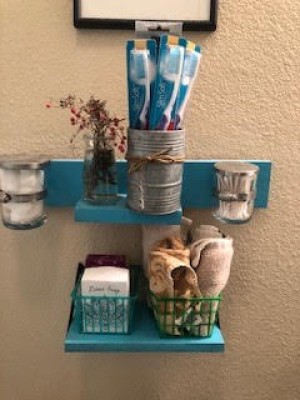 A year ago, I said goodbye to my older brother who felt he lost his sense of purpose in life. I dedicate this essay to his memory.
An artist at heart, my brother loved doing home renovations. He also loved teaching me the basics, like how to use a power drill. This skill has played an essential role in my frugal living. Many of my frugal habits center around repurposing. It is finding another meaning in something, whether it retains its current form or not, and whether it is carefully preserved or eventually discarded.
Although I do not recommend this to everyone, I sometimes acquire free materials off Craigslist. Using my power drill, I have been able to repurpose free wood into shelves for my kitchen and bathroom. I previously entered my apron holder in the ThriftyFunTM DIY contest, and the bathroom shelf is pictured here. I am especially proud of the bathroom shelf, holding many repurposed items. I have not had to buy containers for Q-tips and cotton balls thanks to repurposing empty candle jars. The vase was formerly a pudding jar. The tin can was also once a candle holder. The strawberry baskets are now soap and hand towel holders.
Another frugal practice, with no assembly required, is having clothing exchanges at my office. My coworkers and I bring unwanted clothes to exchange with each other. The rest is donated to thrift stores, where I also prefer to shop nowadays.
There is a rewarding feeling in salvaging items, and getting more than one use from them. It saves money, reduces waste and inspires creativity. When facing financial and many other hardships in life, I have found that the ability to repurpose, or find new meaning, is a philosophy to live by.