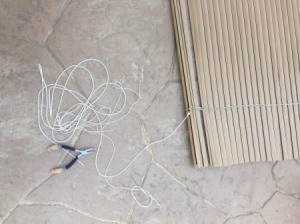 Our window treatments by Levolor are in pretty good condition, but the string to pull the blinds up and down recently broke on one of our windows.
Instead of replacing brand new window treatments, we repaired it ourselves. You need to purchase a string repair kit, or find the same like string. Before taking your string out, carefully examine the route of the string, or you can reference online for a diagram.
There was a lot of threading the string one by one but, all in all, it took us only 1 hour to re-string the Levolor blinds. We saved a lot of money by doing this and these blinds will last another 20+ years!
Optional: To save even more money, you can see if anyone remodeling in your area is tossing out their broken/bad window treatments and you could recycle the string.