Hubby thought I was nuts when I scavenged bubble wrap packing material to give to a buddy who has an eBay store. But he and his partner has just spent $50 on a roll of it at an office store, and that cuts into their profits. So since my friend is selling a few things of mine too, I think it's only fair that I pick up whatever recycled packing materials and boxes I can find. (CLEAN of course).
By pam munro from Los Angeles, CA
Now that many places are using recycled or green packing materials, we get lot of brown scrunched paper in the boxes when we order items online. If you unscrunch and smooth out that paper, it's often 4-6 feet long and 2-3 feet wide - absolutely perfect for kids to use to color, trace their bodies, draw pirate maps, or do various other fun crafty things with.
You can also ask newspapers for their discarded end rolls of newsprint.
By Emily from RI
I have a family member who sells very often on eBay. She is in constant need of boxes and package materials. I work as an in-store merchandiser and come into contact with many boxes and plastic bags which contain products to display in store. Instead of placing these items in the trash, I keep the boxes and bag up all the plastic into different size plastic bags. This is excellent material for her to protect her items when she gets ready to ship. It provides cushion and keeps items from rattling around in the boxes. And being very lightweight, it doesn't add weight and keeps her shipping prices lower. Not only it this being frugal and helping our planet, I also have a very grateful cousin. And it makes me feel good knowing how I am helping.
By Tricia from Ridgeway
I just recently moved, using a ton of paper towels to pack fragile items. While unpacking, I was making a pile up of perfectly good paper towels, and thought, "I'm too cheap to just throw them away."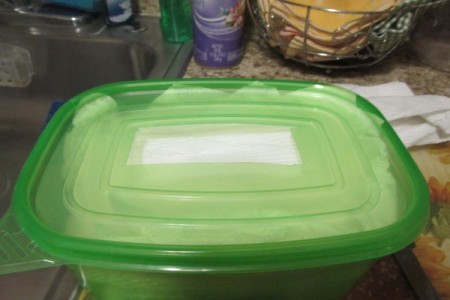 Read More...
I am looking for frugal uses for bubble wrap and packaging peanuts. Do you have any tips?

By Deb
Answers
April 13, 2001
0

found this helpful
I use packing peanuts to refill my kids' beanbag chairs - I have also made a new beanbag chair, stuffing it with peanuts (directions for making beanbag cahirs are at about.com, I think in the sewing section). If you don't have any beanbag chairs, you could ask a daycare center if they would like them for beanbag chairs or craft projects. The bubble wrap is a non-issue at my house, since my kids actually FIGHT over who gets to pop it!
April 14, 2001
0

found this helpful
Use packaging peanuts in the bottom of plants to let the water drain from the soil.
April 15, 2001
0

found this helpful
I use the packing peanuts to make pictures of snowmen with my kids. I let them glue the peanuts in and the we sprinkle salt on the glue to make them sparkle.
April 22, 2005
0

found this helpful
If you're thinking of making a beanbag chair for your kids, save those packing peanuts to use instead of buying the polystyrene beads they suggest. I recently made one for our kids for the cost of the material. You can also continue to refill as needed, for no cost at all.
Susan - Waverly, NY
By sam randall (Guest Post)
August 9, 2008
0

found this helpful
I work in the receiving area at the Hobby Lobby store in Kearney, NE, and save bubble wrap to give to people who are moving to wrap breakables in. Also had a customer ask for large sheets I take off furniture to put inside windows for insulation in the winter. You just go around the edges with box tape, then use double stick tape to seal it to the window. It still lets light in, but distorts the view of people looking in for privacy, especially good for bedroom and bathroom windows.
February 11, 2009
0

found this helpful
The cornstarch packing peanuts i use to wash my face, it takes all the oil off... i wet the end of the peanut and dab on my face & wash off with a washcloth. The plastic foam ones: kids can string them into garlands or doorway strands.
ALSO yes to using the large bubblewrap for window insulation, only don't tape it, just spray window with a little water and the bubble side of wrap will stick to the window. Very thrifty doable insulation.
January 4, 2014
0

found this helpful
I make door and window "doggies" that block out the wind (and dirt) when the wind blows here. Just make a fabric tube with one end and side sewn shut, fill with packing peanuts and sew other end shut with hand stitching. Makes the furnace and the a/c work for peanuts. LOL
March 27, 2014
0

found this helpful
I use the peanuts in the bottom of plant pots instead of rocks. It does the same thing (help with drainage) but is a lot lighter, especially in the big pots
Answer

this Question

...