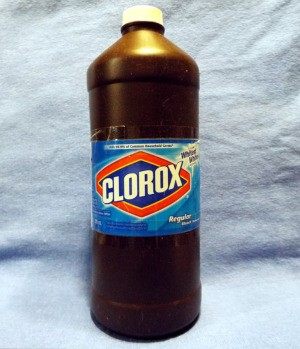 Peroxide is a great disinfectant with a lot of applications. It also removes a lot of stains, particularly organic stains such as blood. I buy the larger bottles as I use it quite often.
I've found a good use for the empty bottles. As nothing has been in them except peroxide, a thorough rinse and they're ready for most any reuse.
To save money, I buy a lot of household chemicals in gallon containers. Keeping these larger sizes under the kitchen sink would take up far too much room.
I cut labels from these gallon jugs and secure them to peroxide bottles with wide shipping tape. The wide tape keeps the label clean and readable.
Then I fill the bottles with liquid from the gallon jugs. A dollar dish pan from Dollar Tree neatly houses several of these bottles under the sink, all easily accessible and clearly labeled.
The gallon jugs go back to a utility shelf in a pantry. There, I always have a reserve and by making note of that reserve, I never run out.