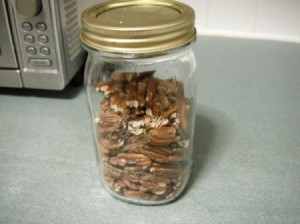 It's pecan season again and lots of people will be roasting pecans to munch on and use in recipes. It's easy to roast pecans but you have to be careful to not overcook them or burn them which I have done in the past.
I keep pecans in the freezer so when I want to roast some, I pour out what I need and let them sit until thawed and room temperature.
I was planning to make a congealed salad that called for pecans. Before I started roasting the pecans, I did a visual check to make sure I had all the ingredients needed. The pecans were cooling and I proceeded to make the Jell-O. When I took the Jell-O out of the cabinet, I discovered it was Lemon Jell-O Instant Pudding & Pie Filling.
I'm going to have to start wearing my glasses when grocery shopping. So instead of making the salad, as planned, we had pudding for dessert with some roasted pecans on the side. It was delicious.