This is a recipe that the DH learned from his southern great aunts Paige and Trudy from Selma, Alabama. These sweet spiced pecan halves are addictive.
Ingredients:
2 1/2 cups pecan halves
1 egg white
1 Tbsp. water
1/2 cup white or brown sugar (or 1/4 cup each)
1/4 tsp. salt
1 1/2 tsp. ground cinnamon
1/8 - 1/4 tsp. cayenne or black pepper
1/8 - 1/4 tsp. nutmeg or ground clove (optional)
Directions:
Preheat oven to 250 degrees F. Grease large cookie sheet with an edge.
Beat water and egg white with a whisk until fluffy. Stir in pecan halves.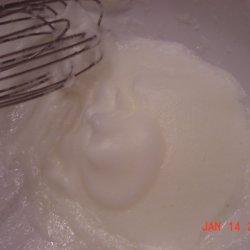 Mix remaining ingredients in a separate bowl and dust over pecans while stirring.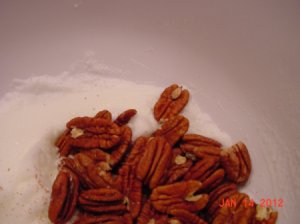 Spoon pecan halves onto cookie sheet using a slotted spoon, spreading evenly. Bake approximately 1 hour until crunchy and fragrant. Turn at 30 minutes, again at 45 minutes, and as needed to break up. Do not overcook.
Cool on the pan then store in an airtight container.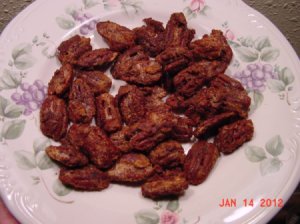 Source: Great aunts Paige and Trudy from Selma.
By Barbara from Bremerton, WA