Roast Chicken Tips and Recipes
Roast Chicken Tips and Recipes
Share on ThriftyFunCheck out these Roast Chicken Tips and Recipes shared by the ThriftyFun community! Have something to add? Please share!
When roasting a whole chicken, turkey or turkey breast use a "basting" cloth and roast breast-side down for a flavorful moist chicken/turkey. Roasting breast-side down keeps the breast moist because the juices will go down and keep the breast from drying out.
Read More...
To prevent a chicken from drying out while it is roasting, place a whole apple inside the chicken. When the chicken is done, just throw the apple away.
Read More...
When I roast a small chicken in a same sized roaster, I add about 4 cups of either chicken broth or boullion to the roaster with the chicken already in it. I rub softened butter or margarine on the chicken first and add a few shakes of poultry seasoning on top of it.
Read More...
Mix the butter, paprika, pepper, and salt in a bowl. Pat the chicken dry with paper towels. Loosen the skin of the chicken carefully and place 1/2 of the butter mixture beneath the skin.
Read More...
I never understood what exactly a fryer chicken was, until I read this explanation in our local newspaper a while ago: " a roasting chicken is a large fryer, relabeled and sold at a higher price.
Read More...
March 30, 2018
0

found this helpful
This is a guide about make roast chicken into multiple meals. Whether you roast one yourself or buy one on sale, a roast chicken can be divided up and used for several meals. Using small portions of the meat is economical and works well for casseroles, main dish salads, and more.

December 11, 2017
0

found this helpful
This is a guide about cooking time and temperature for roasting chickens. First cook the chicken at around 375 degrees F for about an hour, then raising the temperature up for a short amount of time to brown the skin. This will make a deliciously juicy chicken, that everyone will enjoy.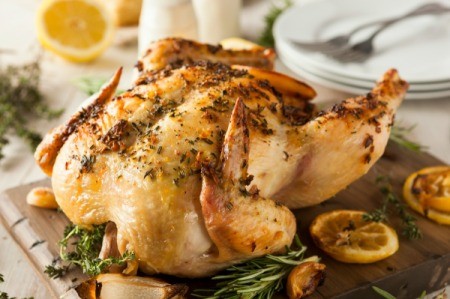 September 21, 2017
0

found this helpful
The sweet, savory flavor of this unique roast chicken will delight you and your family or guests. The surprise ingredients are berry jam and marmalade, tucked under the skin prior to roasting. This page contains a jammy roast chicken recipe.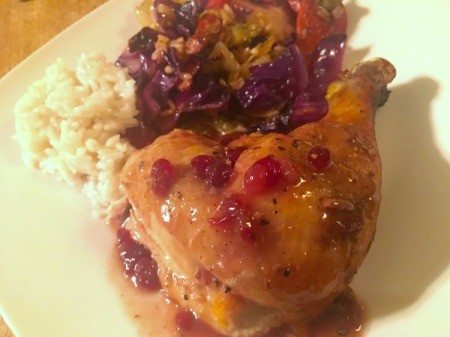 April 7, 2017
0

found this helpful
A vertical roasting rack is a nice alternative to the traditional type when making roast chicken. This way the entire outside is nice and brown and crispy. This is a guide about roasting a chicken using a vertical roasting rack.

April 6, 2017
0

found this helpful
If you like the skin on your roast chicken very crispy, then this is the recipe for you. This page contains a crispiest roast chicken recipe.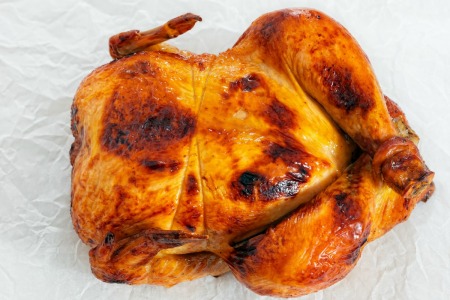 May 24, 2016
0

found this helpful
This is a guide about roasting a chicken in a slow cooker. Although it will not brown as it does in the oven, you can roast a chicken in your slow cooker.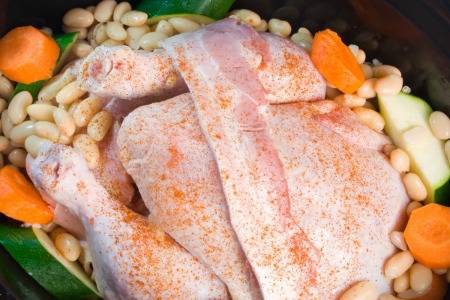 Yummy main dish. Preheat oven to 425 degrees F. Rub chicken with salt, pepper, and garlic. Place breast-side up in large roasting pan. Brush with 3 Tbsp. butter.
Read More...
Preheat oven to 350 degrees F. Rinse chicken; pat dry with paper towels. Place chicken, breast-side up, in 9x13 inch baking dish or roasting pan. Arrange potato, onion and carrots around chicken.
Read More...
Related Content