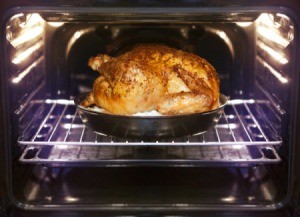 These are all mistakes I have made over the years. After 30 or so years of cooking and eating Thanksgiving dinners, I have seen these mistakes made first hand.
Cooking a Turkey That is Still Frozen
It takes 3 to 4 days in the refrigerator to thaw a frozen turkey. If you don't have that much time, fill your kitchen sink with water (cold) and place it there. As the water gets colder from the frozen turkey, keep letting some out and adding more water. When it seems that the outside is unfrozen, unwrap it so the water can reach the inside of the turkey. Many a turkey is still frozen in the center when being cooked.
Taking Out the Neck and Giblets Package
There is a package of giblets and a neck that are stuck into the breast cavity of turkeys. Make sure you remove them. Sometimes they are put into little plastic bags which makes for a nasty mess. You don't want your beautiful turkey to taste like plastic. If you are fast thawing your turkey, make sure you take these out because they will keep the turkey frozen longer. It's near impossible to get them out until the turkey is thawed some.
Worrying About Stuffing the Turkey
I put an onion and a piece of celery inside the turkey while it is baking. It gives the turkey the flavor of stuffing without sucking up all the juices. I make my stuffing and cook it separately. You can put it in with the turkey in the last hour.
I'm sure there are more of these. Please add your own rookie moves to this post to help those that are making their first Thanksgiving dinner.
Turkey Breasts
If you don't feel up to baking a whole turkey, the turkey breasts are a great option. They take much less time to thaw, give you lots of good breast meat and even have a gravy packet inside to help. If it is the day before Thanksgiving, unless you buy a fresh turkey, this may be your only option.
If you have any more tips for rookie cooks, feel free to post them below.
Susan from ThriftyFun
Comments

November 21, 2004
0

found this helpful
Top Comment
Cover your turkey while roasting until the last hour (then you want it to brown). If you don't, the skin will become very dry and over-brown long before the turkey is done.
Don't put absolute faith in the pop-up timer - they are often wrong. Judge your cooking time by the weight of your turkey, and use a meat thermometer to be certain the internal temperature is hot enough to be safe (180 degrees in the thigh, 160 degrees in the stuffing). As a loose guideline, allow 15 minutes of roasting for every pound of turkey (stuffed).

November 21, 2004
0

found this helpful
Top Comment
Before putting your turkey in the oven, soak a piece of cheesecloth which has previously been washed in whatever basting liquid you would normally use (oil, melted shortening, margarine, or butter). Cover the turkey completely with the cheesecloth, and though you may not need to baste it, you may do so near the end of the cooking cycle. Look for cheesecloth at your local fabric store.
Lucille
By Tcaruso (Guest Post)
November 21, 2004
0

found this helpful
Top Comment
When I have had to "fast thaw" a turkey I put it in a cooler underneath the water spigot in the back yard. Luckily we don't live where it is really cold. I fill the cooler with water close the lid and then dump it out every 45 min. to one hour and refill it.
Before I begin, I wash the cooler out with bleach and water. This needs to be done on a day when you are going to be home because it takes about 5-6 hours to do a 12 lb. turkey.
Also, the best way I have found to decrease cooking time and have a beautiful golden skin and moist breast is use a brown in bag. Works great. Plan to take Turkey out of oven about one hour before you want to eat, let him sit to seal in the juices. You can open up the brown in bag and have plenty of lovely broth to make a delicious dressing.

November 25, 2014
1

found this helpful
Top Comment
A word to the wise is sufficient. I enjoy having people over during the holidays. One year I was cooking for 15 people. I thought I'd ease the stress and to as much prep work as I could ahead of time.
The crock-pot was the perfect vessel for which my famous mashed potatoes would stay warm. I must say my mashed potatoes are awesome. That year was no exception! Dinner was ready. I was so pleased that I'd put the effort into planning ahead.
Everything looked yummy. My guests circled around my carefully orchestrated feast. My perfectly mashed potatoes were waiting for the first guest. The lid of my crock-pot was oh so gently lifted revealing potato SOUP...LOL! a pure rookie move on my part. It had not occurred to me that covering the magic vessel would result in liquified potatoes. I was devastated. My guests got quite a chuckle.
There was a happy ending by the time it was time for 2nds. Once the lid was off, and the crock-pot put on high-my spuds were back in pristine form.
Read More

Comments