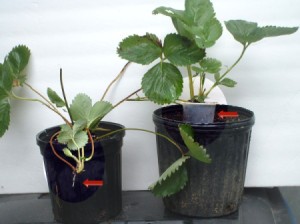 Several people have posted a tip on ThriftyFun suggesting the use of pudding cups for starting seeds and cuttings. My opinion was that they were too small to allow adequate root formation prior to transplanting. Well, I have found the perfect use for that lowly pudding cup: rooting strawberry runners.
I use scissors to cut drain holes in the bottom edge of the cup. Then, I fill the cup with a good, moistened medium. I place the cup along side the parent plant. I make a wedge in the medium just large enough to accommodate the aerial roots of the new plant and a bit of the tiny crown.
I use a small, fine wire such as a twist tie, bent in the shape of a hair pin and placed firmly into the medium where the runner meets the crown. This will secure the new plant in place. Then, I water the plant.
After a week or so, I check the new plants. When roots have grown to the bottom of the cup, I sever the plant from the runner and repot it into a larger container.
I use to lose an occasional plant when I just cut the new plant from the old. Since allowing further root development in the pudding cups, I've never lost a plant.