EllenB
Gold Post Medal for All Time! 858 Posts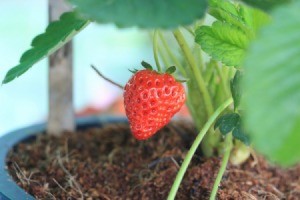 Many varieties of strawberries grow wonderfully in containers, including barrels, drums, or bags. Many seed companies and garden centers offer pouches or bags, complete with plants, for growing them vertically on walls and fences.
Personally, I like them in hanging baskets. With their green leaves, red fruit, and delicate white flowers, they're actually quite pretty. And when the juicy red fruits cascade down the sides of the basket, they are practically screaming for you to come over the pick them.
Like the growing bags, baskets save on patio space and keep the fruit up off the ground and away from mold, insects, and birds (mostly). Another idea is to grow them in planter boxes attached to railings or under sunny windows.
When planting in containers:
Use a well drained potting soil mix and plant the crowns 10 to 12 inches apart.
Keep the developing runners pruned the first season to focus the plant's energy on bearing fruit. You can also remove the first set of blossoms to boost the plants size if necessary.
Keep your strawberries moist (not wet) and plan on fertilizing them regularly (organic fertilizers include bone meal, fish emulsion and blood meal).
Strawberries grown in containers are usually treated like annuals and discarded at the end of each season, but if protected over winter, they may last a few seasons before production falls off.
Comments
Read More

Comments