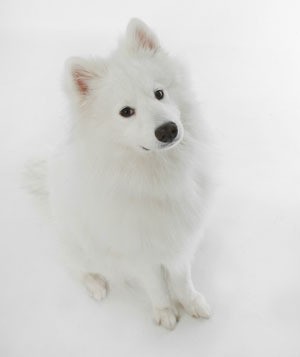 Breed Description:
First developed by the nomadic Samoyed peoples of Northern Siberia, the Samoyed dogs were valued family members used to hunt, herd reindeer, and haul sleds. This strong and vibrant breed is still easily recognizable by its magnificent thick, white coat designed to protect it from the bitter climate of its origin. Today the Samoyed makes a loving and faithful pet and is still respected for its proficiency in sledding, herding, and pulling.
Group: Working Group
Purpose of Breed: Herding Reindeer
Country of Origin: Siberia, Russia
Average Size: Ranges from 19-23 1/2 inches and 35-65 pounds depending on the sex.
Color(s): Pure white, off white, and yellow-white.
Coat Type: A double coat of thick, coarse, straight hair.
Grooming: This breed is a seasonal shedder (spring and fall) and requires brushing daily. This breed requires standard care for eyes, ears, pads and nails.
Exercise Needs: Though Samoyeds can live happily in a country or city environment and have adapted well to life in warmer climates, they are an active breed that needs plenty of exercise and are not suited well to confinement. They can live outside, but they much prefer to be indoors where they can spend time with their family.
Temperament: To look at a Samoyed's face you would get the impression he is smiling. He probably is. This breed is friendly and intelligent and thrives on human companionship. They make wonderful therapy dogs. Samoyeds are inquisitive, loving, and a bit mischievous. They prefer the company of their family and are miserable without their company.
Common Ailments: Prone to hip dysplasia, diabetes and skin allergies.
Life Expectancy: Averages 12-15 years.
Trivia: The Arctic suns and snows have bleached the harsh coat of the Samoyed and tipped the hairs with an icy sheen. The correct pronunciation of the breed is SAM-A-YED.
More Information: Samoyed Club of America, Inc.