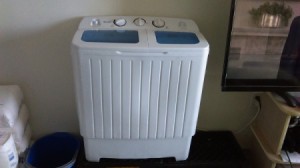 Here you will see a Costway mini washer. It's great for anyone looking to save water, soap and the light bill. I run my washer all hours of the day and night. I save money because it's good on everything. You only use two buckets of water and about two tablespoons of soap gives you a machine full of bubbles. The whites are so bright, I rarely use Clorox.
My advice would be to get a hanging rack because they come out so dry you're not going to need a dryer. The reason I say get a Costway is because Amazon has it the lowest for $88 and it's the biggest 11lb machine I've seen.
A good video is on amazon about the Costway machine. I bought three for my loved ones already. They are up to $125 on ebay. They are so good for small units and those who have no washer hook ups. My machine, as you see, is standing on two milk crates. It's plugged into the bedroom outlet and the bucket is to the left.
How awesome for a spare room, right. Good luck.