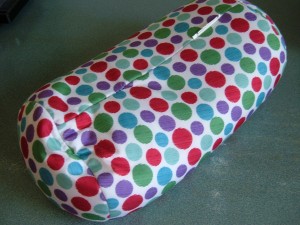 I have purchased several little pillows that are stuffed with tiny beads. I think the beads are Styrofoam. After several months of usage, the beads start to break down, leak out of the seams, and the pillow begins to go flat. Because of this, I have thrown some away which I felt was a big waste. The thought of saving the casing finally hit me.
After feeling the seam, I discovered that the casing has a tube in it that's used to get the beads inside. I opened up the loose stitches and pulled the tube out. The tube is sewn together so there were some more stitches to be removed before getting the beads out.
To remove the beads, which will fly everywhere if not careful, I inserted a paper towel tube into the pillow tube. A toilet tissue tube would have worked well too. My husband helped me get the beads out of the casing by holding a plastic grocery bag around the paper towel tube while I maneuvered the casing so the beads would fall into the bag. After removing the beads, I washed the casing.
I cut most of the tube off and stuffed the casing with Poly-Fil Crafter's Choice Dry Packing Fiber Fill and hand sewed the slit back together. With a 20 ounce bag, I have stuffed 3 pillows and all are different thicknesses for different uses. They come in real handy. Stuffed with this filling, they should last a long time and be washable.