October 26, 2007
1

found this helpful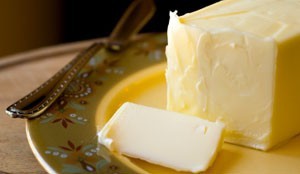 Tips for saving money on butter from the ThriftyFun community.
Whip Butter To Make It Go Farther
Whip your butter after softening it at room temp. The air will make it go further, or combine equal parts butter and margarine and whip together so you get the flavour and stretch the spread.
Post by Thriftmeg
Whip Margarine With Buttermilk and Oil
You can buy the cheap block margarine, soften to room temp, whip with 1 cup buttermilk, 1 cup canola oil and 1 tsp. butter flavoring. Good stuff and you end up with about twice as much margarine that tastes like butter, spreads easy and better for you.
By KellyCajun
Whip With Olive Oil
Whip it with olive oil. It will be softer and easier to spread too!
By Cathy from Townsville, QLD
Buy On Sale And Freeze
So many different qualities of butter, some of us call any form of bread spread "butter". Anyway, they can all be gotten on sale, often without a limit. They all freeze well. Shed Spread comes in 3# containers, I put into cup sized tupperware containers. I buy salt free for some recipes, store brand for others, for my own desires and diet musts, another brand not meant to bake with (olive oil/canola mix, sunflower spread, etc) But they all freeze. Some whipped will have excess of water content, that's what the whipped factor is about. Just drain your container. Doesn't hurt anything.
By Joyce
Costco Has Great Butter Prices
The cheapest place I have found to buy butter is at Costco. You get four boxes (four sticks each) for about $7.00. That is where I always buy mine. I take one box and put it in the fridge and put the other three in the freezer. Then I just take out each box as needed and put in fridge. Also, watch at your local grocery stores for sales on house brand butter, but it's still not quite as cheap. Also, if you are in the military and have a military base in your town, purchase it there. It is about a dollar or two cheaper than Costco. Never compared prices at Sams, but Wal-mart grocery stores are always less expensive on items than your regular super market. Good Luck and God Bless!
By Recyclequeen'
Buy Bulk Butter
If you are planning on baking and need a lot of butter for your recipes, a good way to go is to buy bulk butter. I have seen them in 1 lb. cubes at Costco for cheaper than the regular package (4 cubes = 1 lb.).
By Jess
Butter, Not Margarine
I love butter. I never use margarine. I watch for sales and buy it up when it is cheap. It is affordable if you only buy it on sale and freeze what you will not be able to use in the next week or two. Make sure you put it in an ziplock bag so that it doesn't pick up smells. Stores usually have it on sale before any major holiday. If you have dietary restrictions or use it for baking, buy the unsalted kind.
By Susan from ThriftyFun
Post your ideas below!
Answers
By (Guest Post)
October 26, 2007
0

found this helpful
Great idea. I always use butter, even for baking.
October 26, 2007
0

found this helpful
It is against regulations to buy from the commissary if you are not in the service. You could cause a lot of trouble for somebody if you ask the to purchase it for you.
tdgranny2
usaf wife
Editor's Note: We have changed our article. Do not ask military people to buy for you at the commissary.
By Granny Marcia (Guest Post)
October 26, 2007
0

found this helpful
I agree. Do NOT ask a military person to get you anything on a military installation. It can cause more legal problems than you can imagine. On top of that, those are benefits EARNED by those that sacrifice so you can go to Costco, live on soil that is free of blood shed and affords you all the other freedoms. Sorry, my blood is boiling over this. Some soldier could end up losing their rank, being forced to move off of post, losing commissary privileges and more. DO NOT ASK A SERVICE PERSON TO RISK THEIR LIVELIHOOD!
Granny KNOWS!
October 27, 2007
0

found this helpful
We only use butter in our household. It's what I was brought up on. Margarine tastes BAD! Anyway, I always watch for sales or I get a pkg of 4 or 5 lbs at Sam's Club and freeze. We use butter up fairly quickly so putting 1/2 a dz or so lbs in the freezer works well for us. I put a whole or half stick out at a time in the butter dish and leave on the counter.
I have never had butter to go bad. As I am writing, I am enjoying a leftover biscuit from last night that I ran through the toaster and put butter and honey...yum....nothing like the taste of butter!
Oh and I've never found much difference in different brands. Butter is butter so I buy whatever brand is a good price.
By Pam (Guest Post)
October 27, 2007
0

found this helpful
Sam's Club has even better prices on butter than Costco. It freezes really well, also. It doesn't pick up odors in the freezer and when thawed still tastes the same.
By Nicole (Guest Post)
July 25, 2008
1

found this helpful
Many grocery stores have great sales on baking products and butter before major holidays such as Thanksgiving and Christmas. Buy in bulk and freeze until needed.
March 25, 2016
0

found this helpful
Actually, I found Walmart to be more expensive and purchased butter from Wegmans consistently less expensive by .50 cents a lb. Lando lakes is almost a $1.00 more at Walmart.
October 14, 2018
0

found this helpful
I think the OP was referring to people who are in service/families that live on base.. I really dont think they intended on bakers running to their nearest commissary to buy out their butter.. But thank you for clarifying how it may have been taken.
Answer

this Question

...