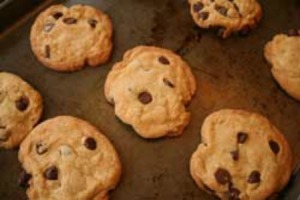 Tips for saving money on cookies as suggested by the ThriftyFun community.
Cheap Cookies After Holidays
Supermarkets with bakeries in the store, regularly mark down cookies. After a holiday is especially good, they seem to be cheaper. Store them in the freezer. If you want a snack, who cares what holiday they look like. If you want to camouflage the holiday colors, add some icing! This can be cheaper than making cookies from scratch.
By Syd
Cake Mix Cookies
You can make 5 dozen or more cookies out of one box of cake mix. I wait until the mix is on sale for $1 or less and then buy enough for a month or two. (I bake once a week - cookies out of cake mix - and brownie bites: brownie mix with a bit more water than required baked in mini-muffin papers, making 6 dozen). This way it costs me $2 or less to provide snacks for the whole week. I used to make the brownie bites without the papers, but then they'd be gone in one day. The paper slows them down and makes them last at least 3 days.
Cake mix cookies: Mix the dry mix with 2 eggs and 1/3 cup cooking oil. Form into 1 inch balls and place on lightly greased cookie sheets. Flatten skightly. Bake 8-10 minutes at 375 degrees F.
The best flavor we've had so far is German Chocolate Cake. My daughter did not like the "funfetti" mix, but I liked it, so I think you'll have to just try flavors out and see what you like. The spice cake mix is good for quick holiday baking.
By Allison Dey
Freeze Homemade Cookies Before Baking
It doesn't matter how much the supermarkets mark down cookies, you will still save money by baking your own. Find your favourite recipe and make as large a batch as you can handle. Roll it into evenly shaped 'logs' and cover with cling wrap. When somewhat frozen, carefully unroll and slice. Rewrap and freeze. Whenever you want cookies, just thaw out a sliced log, arrange slices on a cookie sheet and bake.
By Cathy
Buy Ingredients On Sale
Buy the chips, nuts, sprinkles, and such either in bulk or after holidays. Flour and sugar also. When baking, do two cookie sheets at a time, having two more ready to go while the first two are baking. Freeze them between wax paper in container or bag.
I've done the cookies from cake mix and they are delicious! Can also do the same with mix from scratch using the 2 eggs and 1/3 c. oil. For less fat, I've even used applesauce for the oil with good results.
By Thkgranny
Buy Tins of Shortbread Cookies After the Holidays
My husband likes those buttery plain shortbread cookies, that I've found at a local pharmacy in their food section, just after Halloween. I waited till the day after Christmas to stock up, when they were marked down (red and green wrapped package). I got them much cheaper then, and got a full shopping cart full of nothing but them. They keep well and hubby has them for his lunches for several months to come!
By badwater
Freezing Cookies
Save money by storing cookies in the freezer. Here's a guide for freezing cookies.
Baking Cookies
Click here
for cookie recipes submitted by ThriftyFun readers. Be sure to submit your favorite cookie recipe!
Comments
Read More

Comments