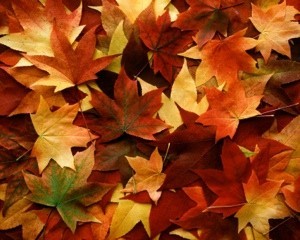 Why are people raking or blowing their leaves to the street for the city government to collect? Leaves are a type of free fertilizer, and yet we pay our cities to haul our free fertilizer away every fall, and then buy unnatural, non-organic chemicals, or organic fertilizers in the spring to replenish our lawns.
Why are we doing this? This has been bothering me for years. I garden; and, because we all need to "think green," (before the mulching mower) I would rake all the leaves up, and dig a huge hole in the garden, or vice-versa, and rake all of the leaves into the hole I created in the garden, then back fill all of the dirt into the hole.
The first spring, when I dug into that tree leaf back fill, I was surprised by some of the darkest, most lovely soil I had ever seen in my life.
I truly feel that deciduous trees are trying to give back to us in the fall everything they accumulated from the sun, rain, and soil that spring and summer.
Yet, without thought, so many of us rake those leaves up, waiting for the city to come take them away, and we devoid our own property of those nutrients, replenishing them in the spring with other nutrients - organic, or not.
In the years that have passed, I've gotten married, and we now own a mulching lawnmower. I really like the idea that the lawnmower mulches the fallen leaves; however, the mulching lawnmower uses gasoline.
For ourselves, and those that are here, and those to come, let's "think green." Really, what are we doing to our own properties when we give the city our leaves, and devoid our own land of those nutrients?
Source: Myself. I was inspired to write this today, after I heard a noise outside and asked my husband what that noise was. He replied that it sounded like it might have been a leaf-blower, or even a leaf-mulcher.
By Carol Rodriguez from South Bend, IN
Read More

Comments