My husband and I live a simple and frugal life in all the ways that we can. We grow our vegetables and fruit, and we keep hens. We jam, pickle, brew, and freeze for the less productive times of the year and always cook from scratch, never wasting anything.
There is much I could write about what we do but I want to concentrate on one of my favorite hobbies, knitting. In fact knitting is more than a hobby, as I see it as another important part of our simple life. It's a wonderfully productive way of using spare time, I can even watch TV at the same time if I want to.
I knit for the home, for members of the family, old and young, and make most of our gifts for Christmas and birthdays. In addition to this, I love knitting for charity, churning out scarves, hats, mittens and various other items for homeless people and other people in need.. Yarn is now very expensive so my knitting has to be frugal too. Here are some of the things that I do to enable me to knit to my heart's content within budget :
Yarn: I buy yarn from discount stores, charity shops, coffee mornings, or similar. I am given yarn, I swap it, and even unpick sweaters if they are good enough. For example a recently unpicked cotton jumper provided me with several very colorful dishcloths. I search the internet for bargains and discontinued lines. In the last couple of weeks, I have knitted a toddler's jumper, 3 pairs of socks, a doll, 2 cupcake pin cushions, 2 scarves, several pairs of mittens and a sleeveless jumper. All for just a few pounds.
Patterns: These have been inherited, are swapped, or come free from internet sites. I cut them out of knitting magazines that are passed on to me and I've collected many over the years. They are neatly filed in plastic envelopes in ring binders to lengthen their life.
Buttons and Zips: No clothes are recycled until they are inspected for buttons and zips. Charity shops are another source.
Needles: Inherited, borrowed if necessary, or charity shop if lucky.
The fact that the yarn I use isn't always the most up to date and doesn't cost much, if anything, doesn't detract from the effort and love that goes into the items I knit or their quality. I subscribe (free) to blogs that provide lots of ideas to keep knitting fun and my enthusiasm going. Best of all I attend a Knit and Natter group every week where for one pound, I meet with fellow knitters who share my love of knitting and produce a great deal of items for charitable causes as well as being an inspiration and a source of knowledge. and materials.

By consolslel from Devon, England
Do you have a frugal story to share with the ThriftyFun community? Submit your essay here: http://www.thriftyfun.com/post_myfrugallife.ldml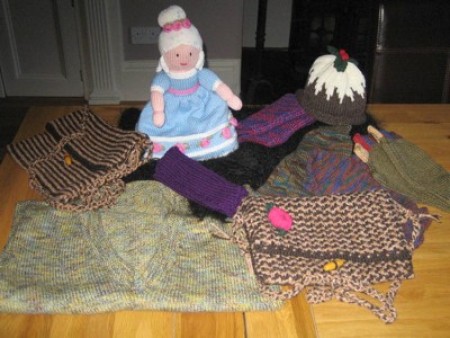 Comments
Read More Comments