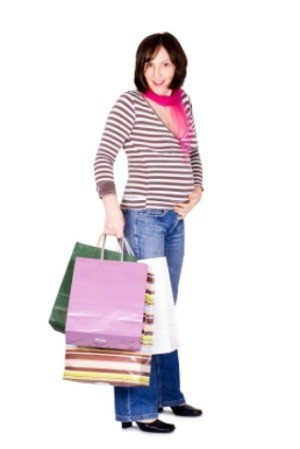 Buy a jean-jumper and you'll be able to wear most of your non-maternity tops throughout your whole pregnancy, saving you hundreds of dollars and giving you countless options and different looks.
When you first start to show, a regular non-maternity denim jumper from the thrift store will work, but after you get larger, you'll need to invest in a maternity jumper. This one item, bought at a maternity store may be a little pricey, but believe me, you will get your money's worth! If you can sew, you can make your own with about 3 yards of lightweight denim. It's nice to have two, one in blue denim and one in black so you can wear one while you are washing the other.
With a jean jumper, not only can you change your look by wearing a different shirt or sweater underneath every day, they are super-comfortable and we all know how comfort is what really counts! Buy it in lightweight denim and you'll be able to wear it year-round. In the winter, you can wear warm and comfy leggings with it and in the summer just a tank top.
This one tip made it possible for me to look nice at little cost during my pregnancies, does anyone else have any great tips for saving money on maternity clothes?
By Cyinda from near Seattle-Tacoma