Saving Money on School Clothes
Solutions
Share on ThriftyFunThis guide contains the following solutions. Have something to add? Please share your solution!
For back to school clothes, I have an extra dresser in my home office, each drawer (or two) with a particular size. I usually "inventory" at least 2 sizes in this dresser, sometimes 3. When I come across a SUPER Clearance Sale, I purchase clothing (clothes, underwear, pajamas) for my son in larger sizes for the following year, usually for cents on the dollar.
When summer/school season arrives, I inventory the clothes and then pick up items that he may require (usually not much, if at all). This method also comes in handy when a quick gift is needed. Brand new clothes, ready to be wrapped!
I've found that I spend less money purchasing brand new, name brand clothes than if I went to GoodWill and purchased second hand. I save anywhere from 60%-90% on my son's clothes every year by utilizing this method.
By Denise from Upstate NY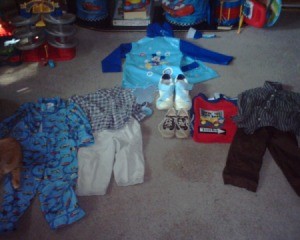 We all know shopping at thrift stores is a great way to save money on things, but I have found that I save even more if I go in late in a season to look for clothes for the next season. I found my son's fall raincoat in the end of summer for under $2, and I noticed that in the middle of fall when it was rainy and chilly, coats that were very similar were priced at about $4-$5. Not a gigantic savings by itself, but save $2-$3 on just 8 items a year and you have $24 in your pocket.
I got all the items in the picture in late summer and it only cost me about $10 for all of them. I combined shopping in summer for fall stuff and a 50% off coupon for the thrift store. I still would have only paid $20 for all of those items, when at the mall, I would have probably only been able to buy one, maybe two of them for that price.
By Shannon from Lakewood, OH
August 8, 2008
2

found this helpful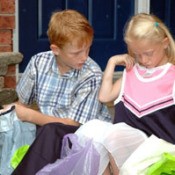 It's back to school time again. Here are some tips and advice for saving money on school clothes.
Take Stock
Before school starts we take inventory on what clothes are needed before we even go shopping. Because we bought various shirts during the summer at garage sales and such for our son and his jeans all still (miraculously) fit him and are in good shape, we discovered that all he needed was a pair of shorts, some socks, underwear and new shoes for his ever-growing feet. I find that doing the same for school supplies (I keep a stockpile), lunch boxes and backpacks also helps us to save money.
By Michelle
Crafty Ideas
My husband, mother and I all sew. So before school starts we collect materials and make my daughter various items we know she can wear and we don't care if they get dirty, torn or stained. We make biker shorts for under her dresses. Regular slip on shorts for the early fall and later summer days and we make skirts or dresses that can be mixed and matched.
I also take her old jeans and jackets add fabric paint and beadazzle the pockets, sides and bottoms to change the look from the previous year. You can add lace, buttons, patches and jewels to just about anything. I am fortunate to have another friend that has a girl my daughters size and we trade items from year to year so the girls wear something new and different (to them.) I also have a younger sister that is tiny and single so she gives us all her upbeat fashion clothes and I just take up the hem or tack the tops so they are age appropriate for my girl. Money saved. Fashion enhanced and good to go.
You can also put an ad in your local Craigslist, Pennysaver or other circulating paper/website and ask for clothes or offer a trade. Moms groups are great for finding deals too. =)
By anita
Thrift and Consignment Stores
I frequent thrift and consignment stores to keep an ever surveying eye on what comes in. Our proof that this works is my husband goes to work wearing carhart jeans and shirts, Levi's and other brand names for pants and shirts. Our son wears clothing in great shape and even brand names that we could never afford on our budget! Sometimes, as with yard sales, if you check in the more expensive places to live you may be amazed at what you find. I also shop for new clothing off season and find great deals, sometimes even cheapear than thrift or consignment prices!
Yard Sales
We also take inventory before school starts and get them sized up. I even tell the kids wear something you can slip right into at the store over your clothes you are wearing! I hate waiting for dressing rooms! If we are a yard sale I know they can slip them on and off, so my daughter wears her swimsuit and my son his shorts and it all works out!
But we do thrift stores and yard sales, we don't have many consignment shops in my part of Maine. but we do have some thrift stores, a couple that are not too high in price, otherwise we are always at a good yard sales.
By Lynne
The Boy's Department in Cheaper
My children wore uniforms to school when they were small. Dark Blue/white shirt, khaki pants. You know the drill. Unless it was a skirt, I brought all the clothes in the boys department. It was 2-5 dollars cheaper. Nobody could tell the difference. Saved me a lot of money and headaches.
By Georgetta Ruth
Hand-Me-Downs, Birthdays, Clearance Sales and Ebay
Checking out thrift stores and yard sales is great advice! Even though this is going to be my son's first year at school (kindergarten), he's attended preschool part-time since he was a baby. Here are a few things I've always done to be frugal when it comes to his clothing:
I have a coworker whose son is a year older than my son. She's always willing to give me her son's outgrown clothing, so that's a big help! I'm not too proud to accept hand-me-downs! If there's clothing left over that I won't be using for my son, I donate it to a local homeless shelter (assuming that my coworker doesn't want any of it anymore either).
My son's birthday is near the end of summer, so if anyone asks me what to get him for gifts, I always mention that he could use some new clothing or underwear. This year he got about three new outfits, which I'll put away for school. (Don't worry though, he still gets plenty of fun gifts too!)
I'm fanatical about clearance sales! This summer, one of my local stores had "boutique" clothing for 75% off. I bought a few "big name" shirts for under $5 each, and those were also put away for school. Also, here in WI, it'll probably still be fairly warm when school first begins. I'll take advantage of clearance sales in the stores, and buy some low-priced short sleeved shirts that my son will be able to wear for a while--if it gets too chilly for the short sleeves, I can always have him wear a long sleeved shirt beneath them for a layered look, or put a sweatshirt over them!
I sign up for store e-mail lists. I just got a certificate in the mail a few weeks ago for 15% off of my total purchase at one popular children's store. They just had a big sale, so I was able to get a double discount! Yay!
I'm also an eBay fan. I sell on there, and the proceeds from what I sell, I turn around and use to buy some clothing for my son. Often, you can find some great deals on new clothes--you just have to look!
I hope some of these tips will help somebody else as much as they've helped me through the recent years! Good luck on a frugal start to the school year!
By Lisa Kless
RE: Saving Money On School Clothes
I love this one as I have always bought all these types of things on a year round basis rather than just when needed. I watch the sales! I buy when when items are on sale as opposed to just buying when needed. I also put $5.00 per week on the side to save for unexpected items.
By Denise
August 18, 2006
0

found this helpful
Tips as suggested by our ThriftyFun community: My daughter has three children in school. She visited our local Goodwill Store, got 6 pair of boys jeans, 2 skirts, and 12 blouses for $100.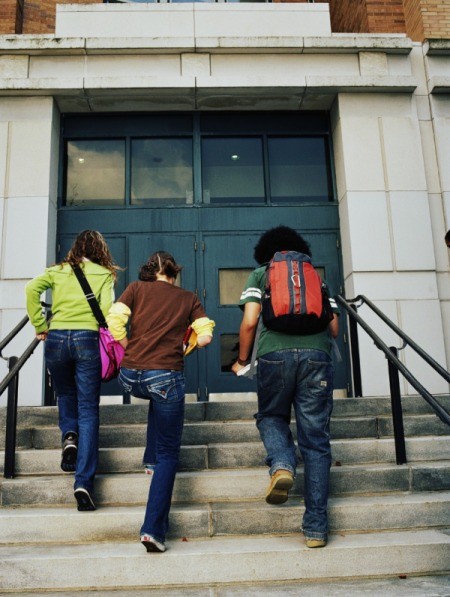 Read More...
We go through catalogs, ad flyers, and find the latest "styles". Then with favorite colors and sizes written down, we go to our local thrift store or goodwill. My kids love doing this, knowing they are helping mom save money, and it's fun!
Read More...
I'm a very big penny pincher; especially right now since we have only one person working full time. What I do is during the summer is go to garage sales, and discounted days at different thrift and consignment shops.
Read More...
We plan an all day trip to Reading, PA to shop at the Vanity Fair Outlets on a weekday or a Saturday. It is a beautiful scenic trip. We make a list of all the clothing, shoes, sneakers, and school needs, etc. and spend most of the day there. We'll eat there and shop.
Read More...
Questions
Ask a QuestionHere are the questions asked by community members. Read on to see the answers provided by the ThriftyFun community or ask a new question.
I have moved to a very small town that only has a central school, butcher shop, supermarket, pub, garage, oval, hall, caravan park, police station, and small doctor's building and a river just outside it. The nearest town is 40 km away and that only has a park, corner shop, op shop, farming gear place, the court house, and hospital. It is 4 hours to Adelade.
I am moving to get away from my ex husband and the kids love it, but where am I meant to get their clothes, when the only place nearby is the op shop? Is it wrong to get clothes that other people have worn and maybe even died in? I have never shopped at an op shop, only discount shops. I don't know what to do. I don't want my kids to get picked on at school for wearing dead people's clothes, pass me downs, or stuff that is too big or went out of fashion like 2 years ago. However, I don't want them to have to wear the same thing everyday. What do I do? Please help they're starting school in two weeks.
By mc4lifes from Sydney, NSW
Answers
June 11, 2012
0

found this helpful
Best Answer
Not sure where you are but sounds like you are not in America, said with a smile. Here in America, people thrift shop like crazy. Nobody thinks a thing having second-hand clothes and shoes, etc. In fact it is a way to own designer clothes and purses and shoes at a fraction of the cost.
My favorite shoes are Eccos, which are $130 plus shoes new, but I bought my pair (not apparently worn, either) for $6 in a thrift store. I dread the day they wear out and I am serious! My kids wore second hand clothes and clothes that I made.
My daughter's Brownie Leader asked me once where I got all the cute clothes she worn and I smiled and told her "yard sales, thrift stores, etc". She was amazed and it was a testament to the fact that you can dress well with second hand clothes. Now I don't know about these "op" shops, but anyway, I would say not to worry about "dead people's clothes"...because when you wear leather shoes or clothes you are wearing something definitely dead and besides you don't know the clothes are for certain from dead people.
You have plenty of other major things to worry about being a single than to worry about them wearing 2nd hand clothes. You / they, don't have to tell a soul where they came from, anyway! I never bought anything junky, old, too big or too little, etc. One other thing, you will be teaching your kids about economy, bargain-shopping and living humbly (so to speak). By humble, I mean, all the rest of their lives they will know that they can do whatever it takes to survive and thrive!
Answer

this Question

...
Related Content