My cactus fell over and broke where the orange mark is (I was moving it a bit). It didn't completely get severed. Is there any way I can save it from dying? I've had it since it was 4in., it's now about 24in. big. Please help. This happened Jan. 30, 2008.
Fran from Canada
Answers:
RE: Saving My Broken Cactus
Not sure I have the answer, but I suggest re-potting it. The clue with cactus is, let it dry for a couple days, so it will root better! Cactus will start its own new root system.
About 3 years ago I harvested some "wild cactus" while on a trip to west Texas. It rode in the back floorboard, wrapped in newspaper, for a couple days before I was home to pot it in a sandy-type soil. But it "took" and it worked!
Also, I have a cactus plant that a friend shared some pieces of his with me. It was suggested by an older and much wiser friend to let the cactus dry out for a couple or three days, come to think of it, similar I suppose to what actually happened to me on that trip I mentioned above with THAT harvested cactus.
I took that advice, and this has become my very favorite cactus of them all, it's very beautiful and it rooted wonderfully and is thriving well!I really think you should repot it and let it make its own brand new roots. I simply do not think it will rejoin itself to the broken portion of your cactus. Good luck! (02/11/2008)
By themusiclady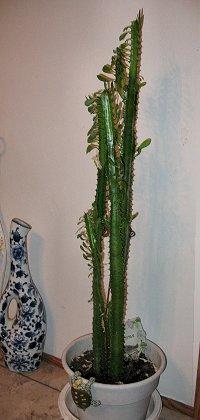 RE: Saving My Broken Cactus
I would really need to know how far up the cut was from the roots and how much was broken, like was there a 1/2 in cut in the side. If its almost in half best thing to do is cut the rest off, let the top half dry for about a month. Where the top half was cut will form like a big scab which is what we want. Then you can plant that again, leave the other part that was plant alone as it will furnish you with "pups" when they are of good size you can cut them and plant. Where ever you cut let it dry out before planting. (02/11/2008)
By Sally E. Greer
RE: Saving My Broken Cactus
I truly appreciate everybody's feedback. I will try to apply your advise. I have a better way of understanding cacti now. Thanks. Fran (02/12/2008)
By Fran From Canada.
RE: Saving My Broken Cactus
Definitely let the broken-off section callus over and then plant in some good soil, a mixture of sand and some good potting soil or you can buy soil that is meant for cactus at Wal-Mart or any other nursery.
I've got several cactus plants just like yours and when they get too top heavy I cut them off and repot and like the person in one of the other posts said pups will appear on the base plant at the cut, which has happened on mine and then I cut those off. I know you probably were distressed because it broke off after it grew so tall, but look at it as gaining more plants.
My rule of thumb with any cactus or succulent plants is that if it has a secretion (pencil cactus has a milky white substance) or it's fleshy when cut to always let it dry out or callus over before planting. I don't know if you have any Sanseveria (mother-in-law tongue plants) or kalanchoes, but I've taken the blades of the Sanseveria and put them long ways half way in dirt and you will have plants spring up on the side of the blade and you can cut and pot them. With kalanchoes or any other kind of succulents (mother hen and chicks) with fleshy leaves, I've pulled them off of the plant and stuck them upright or sideways in the soil (best to use a mainly sandy soil) and that will produce another plant, some will produce roots and another plant with just lying on top of the soil. I've even bought succulents from the nursery and to my surprise I've had other plants in the pot starting from a fallen leaf on the soil.
Sorry, this got to be so lengthy, but I guess you can tell I love cactus, even though they're not so user friendly with the thorns. One more tip -- I use newspaper folder over several times and wrap it around the cactus which helps for the most part to keep you from getting pricked too bad.
I think your cactus will be just fine. Good Luck. (02/14/2008)
By yakaback
RE: Saving My Broken Cactus
This happened to me, too - you should be able to take a clean knife and cut it off just above where it broke, let it dry for a day then place in some new cactus mixture, not very deep. Do not overwater and give it lots of light. This worked for me. Good luck. (02/17/2008)
By Judy