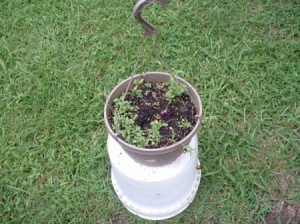 Here's a picture of a hanging basket of viola. I bought the sad looking markdown last fall at Lowe's for 50¢. I nurtured it a little and enjoyed a full basket of blooms all winter and spring.
The heat finally got to the flowers in late May. All the plants either died or died down to the top of the soil. It's at this point that most people throw the basket away, but there is plenty of life still here.
This is when I move the basket to a cooler, shady place. Those plants that did not die completely will begin to revive. Not only that, the plants dropped and set seed during the spring. Those seeds are now emerging.
By late fall, the basket will again be full of blooms and it can be moved to an area with full sun. A 50¢ bargain you can't beat with a stick!
If I don't forget, I will submit a picture of the same basket again this winter