Scrubbers Using "Scrubby" Yarn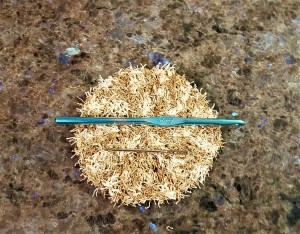 There are so many cool crafts supplies out there anymore. I recently wanted to make my cousin a "scrubby" and found the perfect yarn.
I hope you like it.
Total Time: 45 minutes
Yield: 1
Source: Just a simple circle.
Supplies:
2 oz scrubby yarn
size J hook
darning needle
scissors
size K hook if you want to make the stitches a little bigger.
Steps:
The first step was to chain 2, and make 10 more single crochets in the first chain from the hook. Join and chain 1.
You might wonder why "10 more" and not 9, for a 10 stitch row. I like to cover the first stitch, to keep the stitches tight. Row 2 is now 2 in each around for 20.
For the third row, make a single crochet in the first stitch, then 2 in the next. You are going to increase each row by 10, so this gives you thirty.
Rows 4 and 5 will repeat this pattern. For row 4 you will have 40, making a single in stitches one and two, then 2 in the next. The last row is a single in stitches 1, 2, and 3, then 2 in the next. Once you finish row 5, you can gauge if the scrubber is the size you want. Increase by another row or two if you want, but I like this size. It's about 3" and a good size for ladies with small hand. There are some cool patterns on the back of the sleeve, but my advise is look on their website. My eyes can't read gray small print on white background so I choose to see it in 'old lady eyes' mode! N-JOY!!
Now, make another this same size, and leave a 2' tail. Sew them together working in the tails. If you want, you can also sew the centers together using a running stitch. This might prevent your scrubber from "poufing" up a bit. One skein will make about 2, or 2 with a bit left over. I have not made another one yet. But I had a considerable amount of yarn, so I think it's a good bet you will get two out of it. N-JOY!!
Published by ThriftyFun.
© 1997-2020 by Cumuli, Inc. All Rights Reserved.
https://www.thriftyfun.com/Scrubbers-Using-Scrubby-Yarn-2.html