(Guest)
Gold Post Medal for All Time! 846 Posts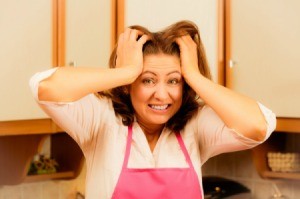 This really isn't a tip, but everyone's answers will most likely end up giving some sort of tip or two for others to learn from and I think this would be a really fun share between our ThriftyFun Family :-) Please share one (or two) of your worst cooking disasters, along with the outcome and what you learned from the experience. I promise I have one with a good outcome and another one where the meal went straight down the disposal to share with you, but you have to tell me yours first - LOL!
By Deeli from Richland, WA
Editor's Note: Great idea, Deeli! Please leave your worst cooking disaster in the feedback to share with the rest of the ThriftyFun community.
Comments

August 27, 2010
0

found this helpful
Top Comment
This is a baking disaster. I have a very simple banana bread recipe that I have been making for many years. Recently, I have been making mini-muffins. A few weeks ago, I hurried home from work with a million things to do and decided that I would use up the 3 brown bananas on the counter. I put the recipe together while doing other things. For some reason there wasn't as much batter as usual. But, the muffins seemed to bake up just fine. The next morning, I found the margarine in the front window where I had put it to soften. There are only 7 ingredients in this recipe and I had left out an important one! I told my husband that they were a little different since they were low-fat muffins. He thought they were great. I thought they were a little bit heavy but since they were so small, they were quite edible.

August 27, 2010
0

found this helpful
Top Comment
My worst cooking disaster was the first Thanksgiving after my exhusband and I were married. We had invited his mom, dad, brother and sister to dinner. I bought a turkey and cooked it with some help from my grandma, who was a wonderful cook. She told me to baste the turkey with white wine, but did not tell me how. much. I cooked the turkey in my brand new oven for 6 hours and looked wonderful until my father-in-law cut into the breast which was bloody.
My oven temperature was off so my turkey was underdone. We finally ate after cutting the turkey and putting it back in the oven at a higher temperture. The gravy did not taste like turkey, it tasted like white wine. That was the last time I used wine to baste a turkey.

August 28, 2010
0

found this helpful
Top Comment
As a new bride, I was so excited to make my husband a real "grown-up" meal: steak, mashed potatoes, salad, green beans, and rolls. The "recipe" for the mashed potatoes said to sprinkle paprika on top for a nice "pink" touch; I didn't have paprika, but I did have cayenne pepper, and it was sorta pink, so I sprinkled it very generously over the potatoes.
My poor hubby's eyes were pretty bugged out after eating those potatoes, and he could hardly talk, but he didn't say anything negative because he didn't want to hurt my feelings! We laughed about that meal for many years!

August 29, 2010
0

found this helpful
Top Comment
I had a favorite brownie recipe, and it was one where you mix all the ingredients that you bake it in. We were having very important company for dinner who just happened to be a chef in the navy.
I got out the ingredients and made the brownies from memory. My Mother made a lemon meringue pie, too.
I forgot the baking soda in the brownies and they turned out like red rubber. You couldn't cut them, the knife just bounced back from the surface.
and when we finally got them out of the pan, even the dogs wouldn't eat them, and my Mother's pie filling didn't thicken at all. So it was like lemon sauce and meringue in a crust!
The moral of that story is always follow the recipe. Do not go with just your memory!
And always have a back up plan, just in case.
Read More

Comments